Daredevil: Born Again villain rumors lead to spike in sales of a surprising Marvel comic
Speculators are seeking out the first appearance of serial killer Muse, first appearing in Daredevil #11 by Charles Soule and Ron Garney.
What comic fan wouldn't love a mint-condition copy of Action Comics #1, Detective Comics #27, or Amazing Fantasy #15? If you're part of the speculator market, it's your job to be on the lookout for comics like these: special issues that introduced original characters to pop culture. One of those speical issues is currently enjoying a serious spike in sales, albeit from a surprising source.
That comic is Daredevil #11; written by Charles Soule, drawn by Ron Garney, colored by Matt Milla, and lettered by Clayton Cowles. It's part of the 2015-2018 Daredevil run and introduces a twisted villain: Muse. If it's not a villain you're familiar with, don't worry. The character hasn't shown up in too much other media.
Rumor has it, though, that's about to change.
According to entertainment journalist and frequent scooper Daniel Richtman, Muse will appear in the upcoming Disney+ series Daredevil: Born Again. The serial killer, says Richtman on his Patreon, will serve as one of, but not the main, antagonists in the show. Take this news with a grain of salt, reader; Richtman has shown to have somewhat reliable sources in the past regarding Marvel Studios, although some do indeed prove to be errant (and in some cases flat-out untrue).
True or not, if you're a speculator, you have to act when a story like this comes around. And act they have. According to Covrprice, a resource that tracks what's hot in the comics market, sales for Daredevil #11 have shot up 363% after the Muse rumor, with one copy selling for as high as $65.80. Also skyrocketing are sales for Daredevil #14, the first comic to feature Muse on the cover. It's pictured here: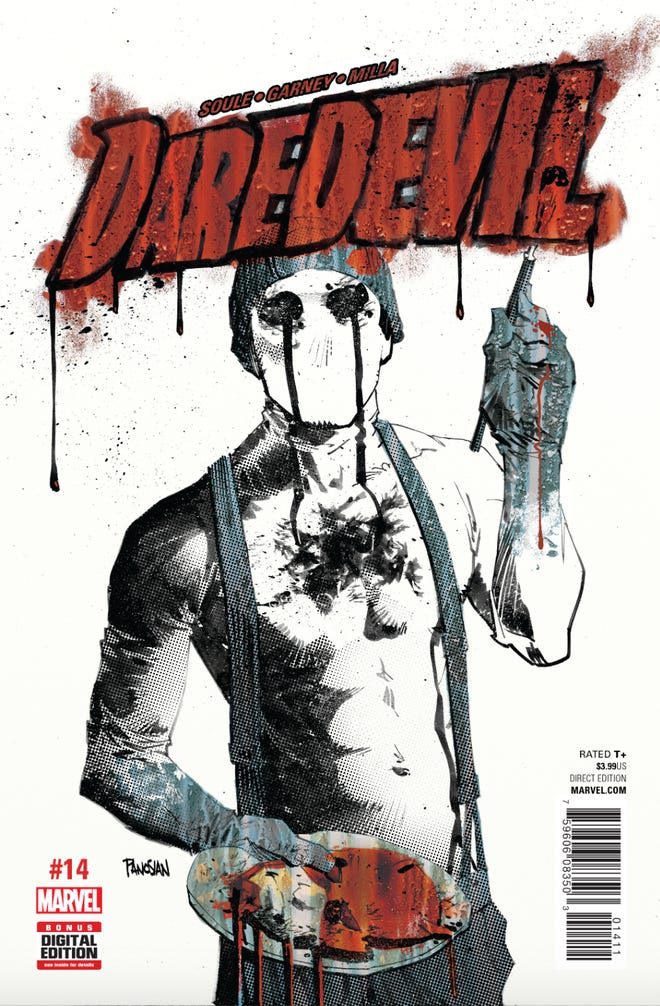 Pretty gnarly, right? That's not strawberry jelly on his paintbrush. And therein lies a huge question about the veracity of this rumor: Will Disney allow such a dark villain on one of their Marvel shows? For folks that don't know - Muse's shtick is using human body parts in pieces of "art." Sounds pretty drastic for the House of Mouse, no?
But here's the other thing: there's also talk that Daredevil: Born Again will go that dark. It will keep the MA rating from the Netflix iteration of the show, says the rumor...
...which comes from Daniel Richtman.
---
If this has you interested in reading more Daredevil, check out Popverse's 10 best Daredevil stories you'll find in comic books.