Take an exclusive first look at David Mack's variant cover art for Boom!'s The Seasons Have Teeth
The first issue of the series hits shelves in April
Back in January, Popverse exclusively unveiled the next big Boom! Studios series, The Seasons Have Teeth — now, ahead of its release next month, we can exclusively reveal David Mack's cover artwork for the issue.
The four-issue series from creators Dan Watters and Sebastián Cabrol is set in a world where seasons are personified by monstrous, awe-inspiring creatures who bring their particular time periods to life in an especially overwhelming way — something that a retired war photographer seeks to capture on film as part of what he hopes might be his ultimate redemption after a life surrounded by carnage, pain, and death.
Accompanying the initial announcement of the series, Watters — who's made a name for himself at DC on titles such as Lucifer and Arkham City — said, "I'm overjoyed to be writing this book for Sebastián. From the dark depths of winter to the joys of summer, he brings such wonderful nuance to both human emotion and monsters — and in The Seasons Have Teeth we are bringing you both in abundance."
When we first announced the book, we shared covers from Qistina Khalidah, Duncan Fegredo, and Sebastian Fiumara, and noted that the series would feature covers by "other artists to be revealed at a later date." Now, we can share the identify of the other artist: David Mack, who provides two covers for the first issue — well, one cover image that is being released in two treatments, with the "white background" version seen below being printed with foil stamping.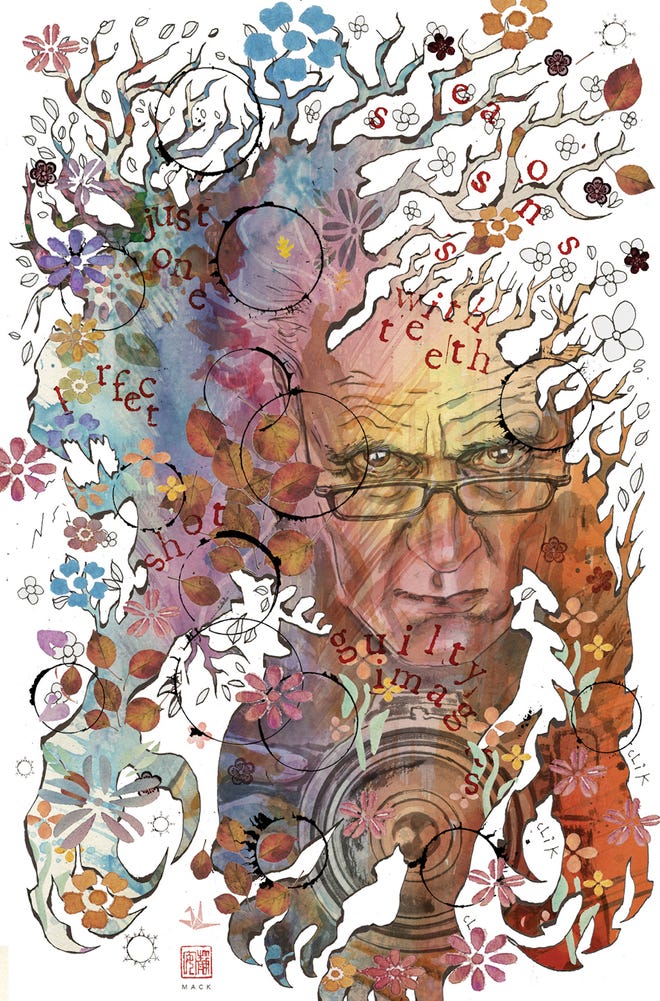 The Seasons Have Teeth #1 will be released April 2023.
---
Go back and revisit our initial announcement for the series.