Nikolas Draper-Ivey on Static: Shadows of Dakota, co-writing with Vita Ayala, and upping the stakes
Co-writer and artist Draper-Ivey chats about his return to Static
Static is back in Static: Shadows of Dakota, the follow up to 2022's Static: Season One. This time, the creative team has changed a bit, with Nikolas Draper-Ivey taking on co-writing responsibilities alongside Vita Ayala, as well as serving as artist.
The official description for the series from DC reads: "Static is back! Though Virgil and his friends might have been able to stop the government's off-the-books prison operations in Dakota, a powerful new threat lurks in the shadows. The mysterious Ebon is cutting a bloody swath through the underworld on a single-minded quest to find his brother. Against this backdrop of exploding violence, innocent people are finding themselves in the crossfire. The breakout creative team of Nikolas Draper-Ivey and Vita Ayala have returned to make Static's life, and Dakota City, very complicated indeed-you've never felt shocks like these!"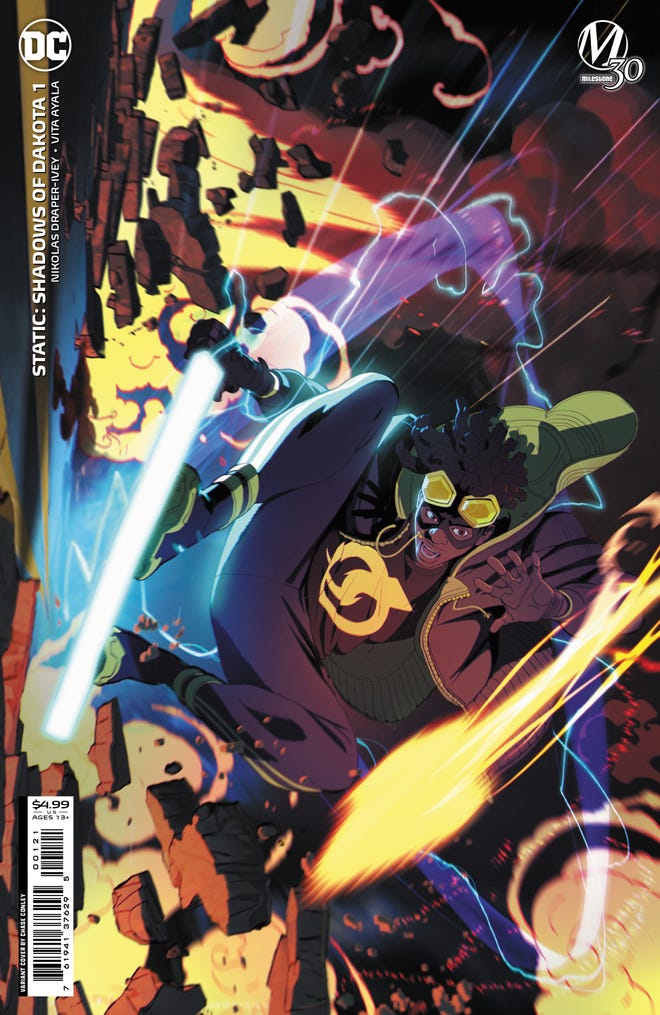 Last week, Popverse had a chance to take part in a press roundtable with Draper-Ivey to talk a bit about writing with Ayala, as well as the more complicated challenges that Static faces in this new arc.
Popverse: This is your return to Static after season 1, this time as co-writer as well as artist. What has it been like co-writing with Vita Ayala?
Nikolas Draper-Ivey: Oh, it's been great. They've been very encouraging, and it's cool because we're very different but we're very similar in some ways.
They hate this comparison, but I'm like the younger sibling that has the action figures and is like 'Oh! Then we do the cool stuff!' But Vita is the person that's more well spoken, well mannered... If I have an idea, they don't really shoot it down. They [say], 'Okay. Why do you want to do that?' And then they ask me to make sure I know why I want to do it. When I explain it to them, they're like, 'Okay, you got it.' Or I'll come with an idea, which I might think might be too much, and they'll kind of be like, 'Well, we could do that and' and expand on it,' so it's been really fun. Vita's been great.
This first issue of Shadows of Dakota seems to be themed around consequences, especially tied to the events that happened in Season 1. Can you tell us how this new arc draws from the events of the earlier arc?
Without giving too much away, we're challenging Virgil and putting him in situations that really shine a light on that optimistic can-do attitude of his. Is he fighting for something that could actually be a problem? You know, he's young, and he thinks he's doing what's right. But are there other nuances to it that he's not quite seeing yet? We just put Virgil and we put the reader in really tough spots. And then, when Ebon comes up, it's made even more complex because you're like, 'I kind of side with him too.'
So there are consequences for Virgil trying to take matters into his own hands in the first season and the ripple effect of that. It's going to be a wild ride.
---
Check out preview pages from Static: Shadows of Dakota in the gallery below.
---
Static: Shadows of Dakota #1
goes on sale February 7. Buy a copy from your local comics shop.
---
Looking for new comics to check out? Here's a list of 10 comics by Black creators you should read.