A massive Wonder Woman bronze statue unveiled by DC, City of Burbank, and writer/director Patty Jenkins
This statue of Wonder Woman will be on permanent display at the entrance of the Warner Bros. Studio Tour
A seven-and-a-half foot tall bronze statue of Wonder Woman was unveiled today outside the entrance of the Warner Bros Studio Tour. A collaboration between the hospitality association Visit Burbank, DC, and Warner Bros, the statue,consisting of around 600 pounds of bronze, was based on a design by artist Jenny Frison and created by Burbank's American Fine Arts Foundry and Fabrication. American Fine Arts Foundry and Fabrication was represented at the event by chief collaborator Brett Barney and production manager Angel Meza. According to Barney, the statue took over a year to create, from model to final production.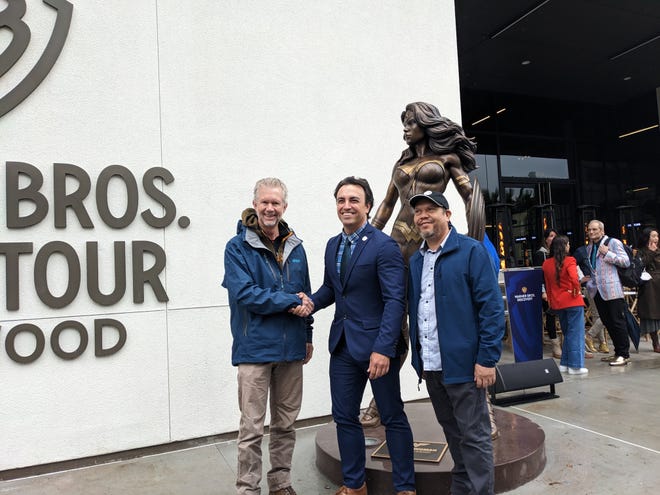 The statue unveiling kicked off with an introduction from director of the Warner Bros Studio Tour Department, Danny Kahn. Kahn was followed by Burbank mayor Konstantine Anthony, who spoke about the relationship between Warner Bros and the city.
Next to speak was Warner Bros. president of global brands, franchises and experiences Pamela Lifford who spoke about the enduring legacy of Wonder Woman and her role in the company's history, saying "As we kick off the Warner Bros. 100th Anniversary - Sharing Every Story, Wonder Woman is part of this company's story and legacy. Not only is she a prominent fixture of the Studio Tour, she will now be a permanent fixture as our story continues for the next 100 years."
Lifford was followed by DC Comics chief creative officer and publisher Jim Lee, who spoke about the how Wonder Woman continues to bring fans together, saying "Since she made her debut in the pages of All-Star Comics #8, Wonder Woman has been published all over the world and has inspired millions of fans around the world who saw themselves in the action-packed pages of the comic books, as Lynda Carter in the TV show or Gal Gadot in the movies... Her real, secret super power is that she continues to bring fans together around something they love."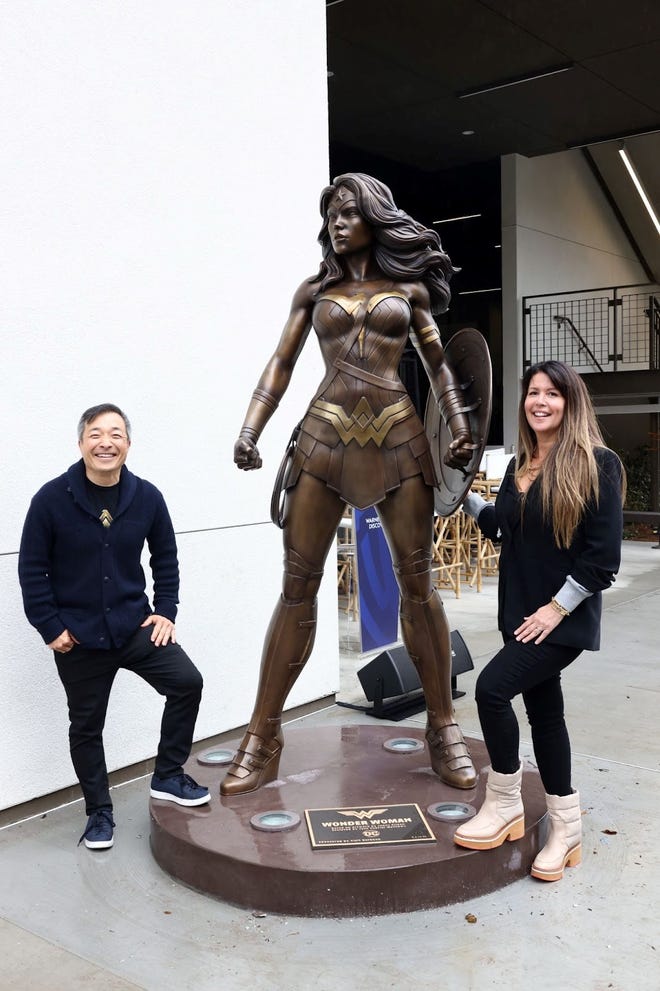 The statue was then unveiled by Lifford, Lee, and Wonder Woman director Patty Jenkins.
About Burbank's newest bronze resident, mayor Konstantine Anthony told Popverse that he was "so proud to have this historic icon representing Burbank's partnership with Warner Bros. Wonder Woman represents strength and leadership, and it's such a powerful reminder of what can be accomplished, especially in these uncertain times."
To coincide with the statue unveiling, Visit Burbank has released for the first time in print, Wonder Woman: Agent of Peace, a comic written by Amanda Diebert with art from Aaron Lopresti.
The new Wonder Woman statue is located directly outside the entrance to the Warner Bros. Studio Tour Hollywood at 3400 Warner Blvd. Burbank, CA and is now available for viewing 24 hours a day.
---
Wonder Woman and the Flash race to new #1s, and Steelworks gets a surprising writer in new Dawn of DC announcements.