Wonder Woman and the Flash race to new #1s, and Steelworks gets a surprising writer in new Dawn of DC announcements
Oh, and there's also a new Hawkgirl series and a new freebie comic released in May, too...!
The Dawn of DC keeps traveling across the comic book DCU this June, with new creative teams announced for two of the company's most high-profile titles, a surprising creative team announcement for an all-new book, and a series reveal that isn't quite what fans might have expected.
The Flash and Wonder Woman hit #800 and get relaunches
Both Wonder Woman and The Flash will hit their 800th issues in June, with the latter seeing the return of some of the hero's biggest writers to celebrate: Mark Waid, Geoff Johns, Joshua Williamson, and Jeremy Adams will all be contributing stories to the 800th issue of the series, which will also introduce the new creative team for the series moving forward: Si Spurrier and Mike Deodato Jr., who'll be steering the book towards what DC is teasing as "cosmic horror" when it gets relaunched in September. Yes, relaunched — the book will disappear for July and August before a new The Flash #1 arrives in September; that might sound like a big deal, but it's worth remembering that DC has already announced that Knight Terrors will be overtaking the entire DC line with a number of two-issue miniseries in July and August…!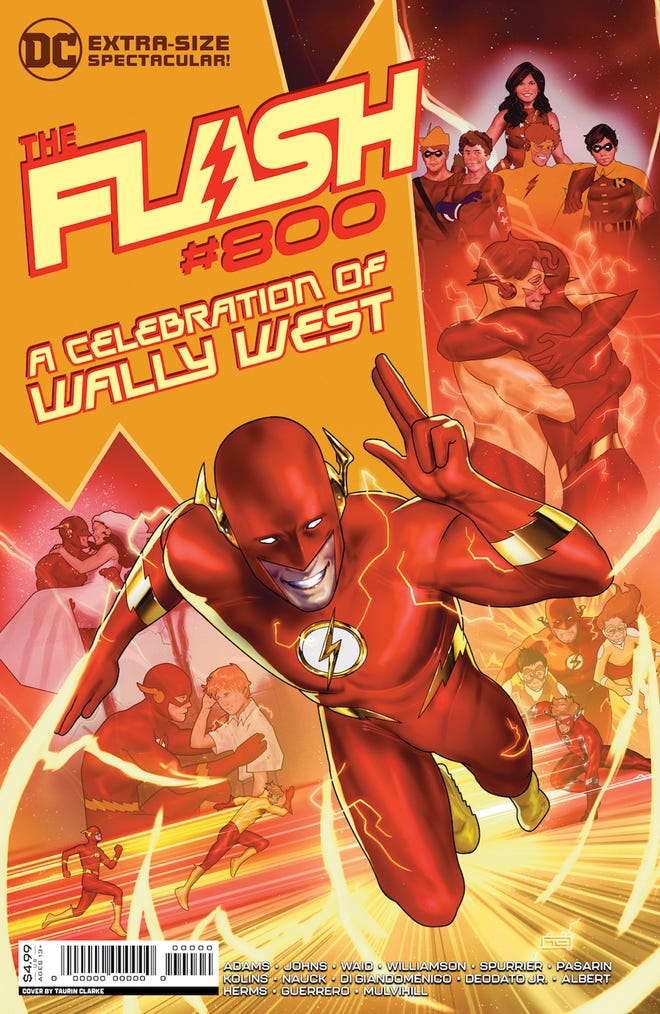 Wonder Woman, too, is similarly ending with June's #800, before a September relaunch. The 800th issue is by the current writing team of Becky Cloonan, Michael W. Conrad, alongside artists Joëlle Jones and Jen Bartel, as well as the duo helming the fall relaunch… Tom King and Dark Crisis on Infinite Earths artist Daniel Sampere, who take over the book entirely with September's new Wonder Woman #1. If The Flash is becoming a cosmic horror book, where is Wonder Woman heading…? Well, out of the U.S., perhaps; the new status quo will see Amazons outlawed in the country after a terrorist event, leaving Wonder Woman's very presence in her adopted home in doubt. The story has a prelude in June's WW #800, then gets started in full the following September.
Steelworks series gets a surprising creative team
That's not all when it comes to big DC news for the month: the publisher has also revealed the creative team for the previously announced Steelworks series mentioned in the initial Dawn of DC announcement back in January, and it's honestly unexpected: Sami Basri, who's worked on Action Comics, Aquamen, Harley Quinn and more at the publisher, is drawing… and Michael Dorn is writing. Yes, "Worf from Star Trek: The Next Generation" Michael Dorn. He's also, more importantly for the purposes of this story, the voice of John Henry Irons in two episodes of Superman: The Animated Series back in 1997… and the man now tasked with bringing John Henry into the spotlight for the first time in decades.
Speaking of unexpected, a January Dawn of DC teaser graphic appeared to tease a new Hawkman series, with the Hawkman logo subtly visible in the timeline of the rollout — turns out, it was actually a marker for a new Hawkgirl series, by Jadzia Axelrod and Amancay Nahuelpan. It's Axelrod's first DC work following last year's graphic novel Galaxy: The Prettiest Star, and the new series will actually include Galaxy as a supporting cast member.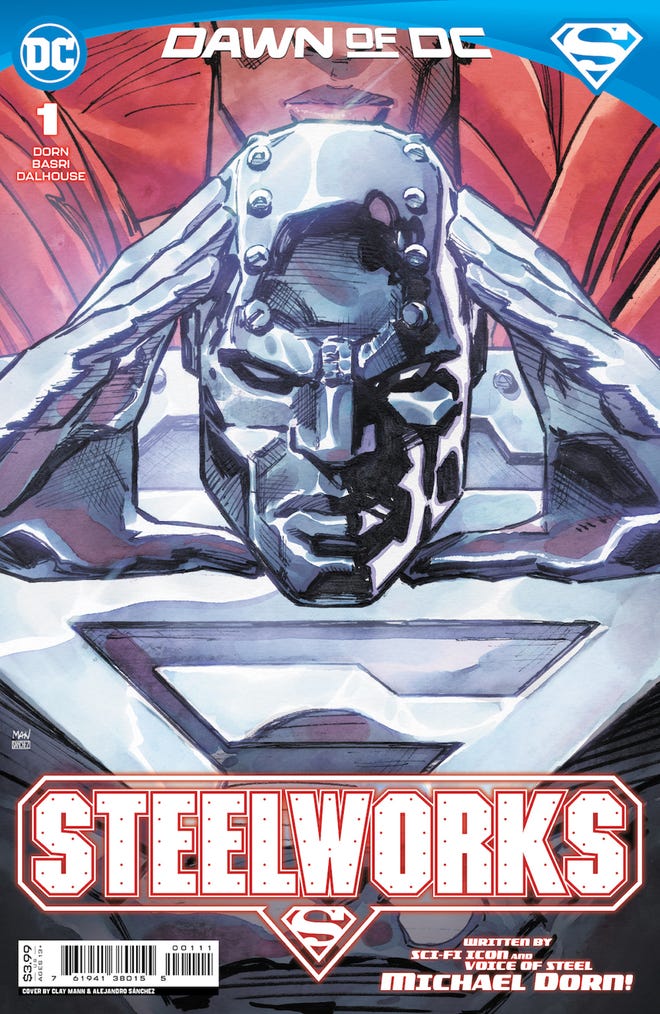 Knight Terrors coming for Free Comic Book Day
As if all of that wasn't enough Dawn of DC news, DC has also officially announced news that was initially broken at the comic retailer-only convention ComicsPro last month: the Dawn of DC Primer initially announced as DC's Free Comic Book Day release for 2023 — since replaced by a Knight Terrors prelude — will be released to stores on May 15, featuring an all-new story by Joshua Williamson and Leandro Fernandez, building on one of the climactic teases from last year's Dark Crisis on Infinite Earths #7: just what is Amanda Waller up to, anyway…? And why is she building a secret army of allies to do her dirty work once again…?
New Dawn of DC timeline graphic
That's a lot of big DC news — and it's only halfway through the year. What is lying in wait for the second half of 2023, and the expansion of the Dawn of DC? To mark the new announcements, DC has released a new updated timeline graphic, too: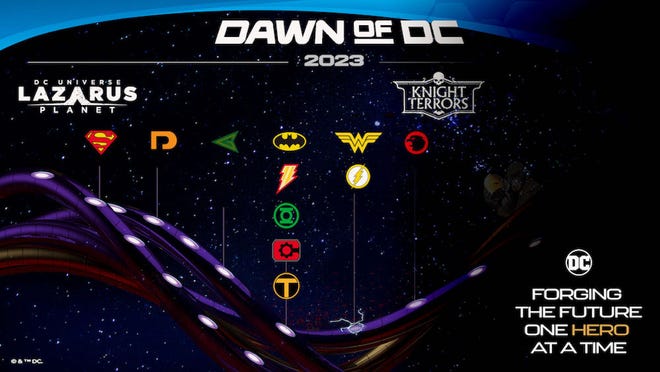 There's something hidden in the details of this new graphic, and we delved into it here.
---
Go back and revisit that first Dawn of DC announcement from earlier this year.