Dawn of DC: The big books, the big creators, and the big stories of DC's upcoming wave of comics
Want some new Green Lantern, Doom Patrol, Shazam, Green Arrow, Cyborg, and Batbooks? They're coming.
December's final issue of Dark Crisis on Infinite Earths was announced as teasing something called the Dawn of DC — but as 2023 unfolds, it becomes clearer just how significant that dawn really is - and how widespread it is across the DCU as a whole.
What is Dawn of DC?
Post-Dark Crisis (and the subsequent Lazarus Planet event, which ran through January and February of 2023, spinning out of events in Mark Waid's Batman vs. Robin and World's Finest series), DC is launching more than 20 new series with superstar creative teams, bringing fan-favorite characters back to the fore after the events of the past few years.
In a statement accompanying the announcement of the initiative, DC publisher and chief creative officer Jim Lee said about the new initiative, "After the near-Multiverse-ending events in Dark Crisis on Infinite Earths and DC Universe: Lazarus Planet, the DC Universe will be heading toward the light. With brand-new series and story arcs from some of the top creative members in comics, Dawn of DC is one of our most ambitious initiatives ever and is a chance for us to tell bigger and bolder stories across our line."
The Dawn of DC comic book titles (so far)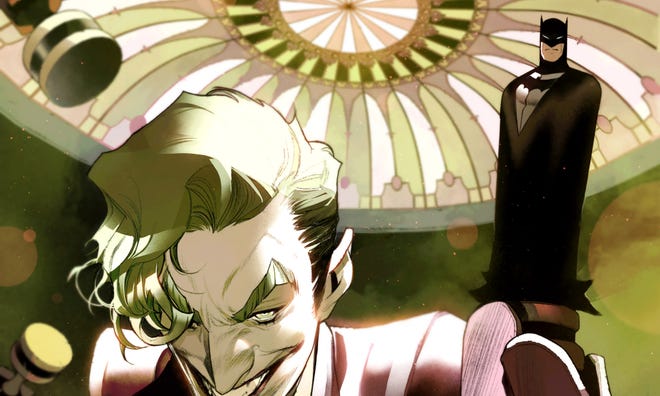 As part of the Dawn of DC, DC will be launching the following all-new series:
Superman by Joshua Williamson, Jamal Campbell, and Nick Dragotta, as DC's flagship character leads the way into the brighter future of the DCU. (February)
Unstoppable Doom Patrol by Dennis Culver and Chris Burnham, spins out of events in Lazarus Planet and sees the reborn DP seek to save the world by standing up for the monsters. (March)
Adventures of Superman: Jon Kent by Tom Taylor and Clayton Henry, wherein Lois and Clark's kid is revealed to be the one thing that can stop a multiversal slaughter of Supermen… even if it means a rematch against Earth-3's Ultraman. (March)
Superboy, Man of Tomorrow by Kenny Porter and Jahnoy Lindsay, the DC Round Robin 2022 winning title following Conner Kent on a journey of self-discovery in a reality that isn't his own (April)
Green Arrow by Joshua Williamson and Sean Izaakse, following the search for the missing Oliver Queen as the result of events in Dark Crisis (April)
Titans by Tom Taylor and Nicola Scott, featuring the former New Teen Titans as they step into the role previously occupied by their mentors. (May)
Green Lantern featuring a Hal Jordan story by Jeremy Adams and Xermánico, and also a John Stewart strip by Phillip Kennedy Johnson and Osvaldo Montos (May)
Batman: The Brave and the Bold by Tom King, Mitch Gerads, Guillem March, Gabriel Hardman, Dan Mora, Rob Williams, and more, in an anthology building out the core of the DC Universe anchored by a new Batman strip each month. (May)
Cyborg by Morgan Hampton and Tom Raney, sees the hero return to Detroit longing for a simpler life... not that he'll get it. (May)
Shazam! By Mark Waid and Dan Mora, featuring the return of Billy Batson (May)
Hawkgirl by Jadzia Axelrod, Amancay Nahuelpan, and Adriano Lucas, sees Kendra Saunders' attempts to build a new life for herself disrupted by the arrival of a new villain with a mysterious connection to the Nth Metal that makes up her wings and weapons. (June)
Steelworks by Michael Dorn and Sami Basri, featuring both John Henry Irons and his niece Natasha as they rebuild their lives and their core mission in the heart of Metropolis. (June)
The Penguin by Tom King and Stefano Gaudiano sees Oswald Cobblepot forced back into organized crime by… the U.S. Government…? (June)
Wonder Woman by Tom King and Daniel Sampere, in which Diana has to deal with the aftermath of a terrorist attack that has led to all Amazons being outlawed from U.S. soil. (September)
The Flash by Si Spurrier and Mike Deodato Jr., which explores the darker side of the Speed Force in a title that's being described by its creators as "cosmic horror." (September)
Batman and Robin by Joshua Williamson and Simone Di Meo, which brings Bruce and Damian back together to fight crime in Gotham City as the one, the only Dynamic Duo. (September)
Green Lantern: War Journal by Phillip Kennedy Johnson and and artist to be announced, which continues and expands the John Stewart back-up strip from the Green Lantern series into a standalone miniseries. (September)
DC has released covers for several of those titles, which you can see here:
More titles will be revealed soon, according to DC. (It's worth noting that we're still missing a Justice League book as of this round of announcements; we'll see how many of the other books tie in with classic DC stories from the past beyond that...)
When does Dawn of DC begin?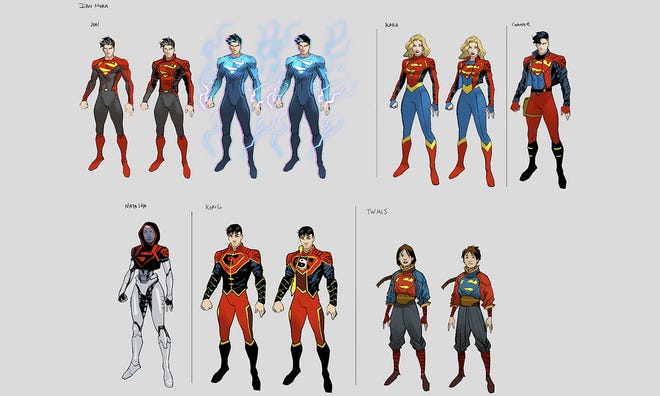 The news of Dawn of DC comes shortly after DC announced the DC Universe Infinite Ultra subscription tier, which makes DC's monthly output available on its DC Universe Infinite subscription service just a month after initial release. In theory, this extends the potential reach of the Dawn issues throughout the year.
Dawn of DC officially started rolling out with January's Action Comics #1051, which lead into a new status quo for the Superman titles (including an all-new Superman series)… but that's clearly just the beginning of a whole new status quo for the DCU moving forward.
Take a look at the Dawn of DC Superman artwork released so far here:
DC has also released a number of repeatedly updated visual timelines for the first six months of the year and beyond, hinting at what's to come from Dawn of DC. (As well as teasing potential secrets and spoilers of what's to come...)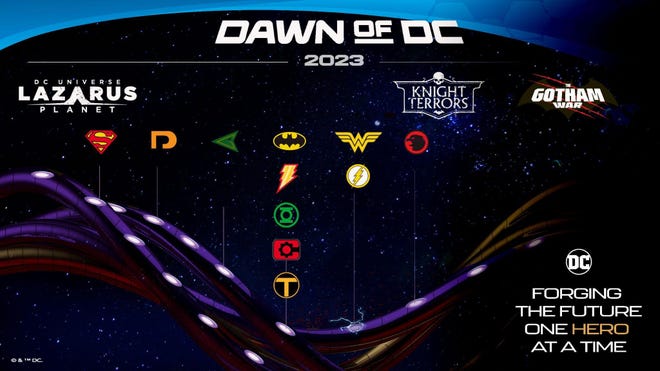 There's even a Dawn of DC trailer that will air during AEW in May, as well as on HBO Max:
Keep tuned to Popverse for the latest on this new era for DC as new information becomes available.
---
It's time for a new team. Check out this in-depth interview with Tom Taylor and Nicola Scott as they chat about how they plan to unveil their plans for DC's Titans.