Is the newest Dawn of DC timeline teasing a new Batman event later in 2023?
Also, what is going to happen to Wonder Woman this summer?
Accompanying the reveals of the creative teams for the previously announced Cyborg and Green Lantern series, and the announcement of an all-new Titans title, DC released an update to the Dawn of DC timeline Wednesday — and in the process, offered a couple of new teases about what to expect from its superhero line in the second half of the year.
The new timeline graphic looks like this: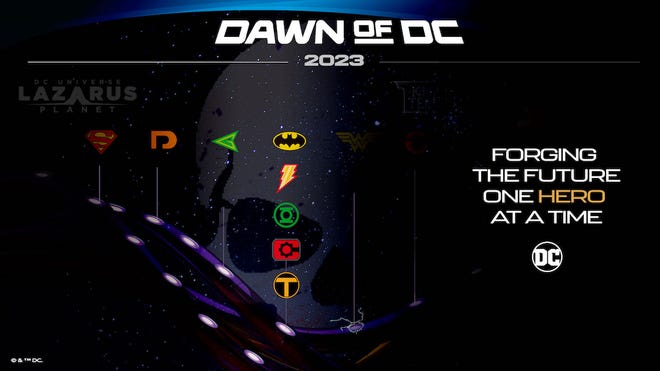 One thing that's immediately obvious from looking at it is the new logos for the next couple of launches: there's the Wonder Woman logo, and also a Hawkman logo. Wonder Woman's series has been running pretty much continuously for years now — meaning we're either about to get a relaunch, or perhaps a spin-off series; maybe Nubia or Wonder Girl are due a new book? But Hawkman has been out of commission since November 2020, when his last series came to a close.
Let's take a closer look at that segment of the graphic, though, for two reasons.

Firstly, what exactly is going on with the Wonder Woman logo and the lightning bolt…? That remains to be seen, but it's worth noting that the placement on the timeline suggests that it'll come in May or later, which means it'll follow the conclusion of Lazarus Planet: Revenge of the Gods, the four-issue miniseries that teams Wonder Woman with Shazam… who does have a connection with lightning… Hmmm. (There seems to be a lot of space between the line and the WW logo, which might suggest a missing insignia there, too…)
More importantly, though… what is that logo above the Hawkman logo? Maybe we need to brighten things up to get a better look. Computer, enhance…
Okay, so it's two words, one of which starts "KN" and the second starts "TER." Given the fact that its DC and DC loves Batman, the first word is almost certainly "KNIGHT," but the second..? The brain trust here at Popverse believes it's most likely TERRORS or TERMINAL — so, Knight Terrors or Knight Terminal — but… what would that be, exactly? A Batman-centric event? A crossover? An all-new ongoing series? Something else altogether…?
One thing's for sure, even as everything else seems open to interpretation and speculation: judging by this new timeline, Dawn of DC has more surprises up its sleeve than we might be expecting across the remainder of 2023.
---
While trying to crack the code of this new timeline, why not revisit what we already know about Dawn of DC, updates and all.