DC expands the Sandman Universe with a new Nightmare Country series in 2023
James Tynion IV and Lisandro Estherren return for the six-issue Glass House
The nightmare isn't going to end anytime soon. DC has announced a second Sandman Universe miniseries by James Tynion IV and Lisandro Estherren, continuing the story started in the critically acclaimed Sandman Universe: Nightmare Country series.
Following September's conclusion of the first miniseries — which featured the appearance of another familiar face for fans of Neil Gaiman's original Sandman series — April 2023 will see the launch of the second of what is currently planned to be three Nightmare Country series, again featuring the same creative team.
The Sandman Universe: Nightmare Country was originally announced as an ongoing series, but Popverse understands that it has since been retooled as three distinct six-issue miniseries, each by the same creative team.
For this second mini, the Corinthian is going somewhere arguably scarier than he's ever been before: into the heart of California's tech industry.
In a statement, Tynion said, "I'm thrilled to announce that Nightmare Country's follow-up miniseries, The Glass House, is coming early in 2023. The Corinthian is going to be making his way to Silicon Valley, where he will go head-to-head with angels, demons, and a breed of creature far more terrifying that anything he's faced before—Venture Capitalists. Lisandro and I are excited to continue this nightmare tour through modern America and can't wait for you all to see what we've got in store for you."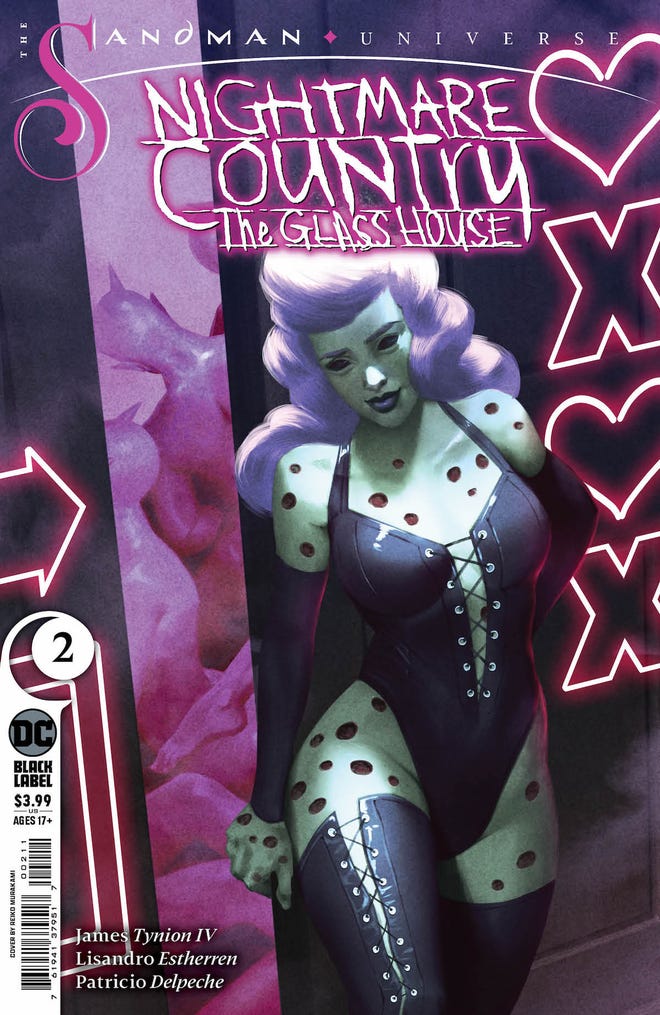 (Now we have a better idea what DC was teasing to retailers earlier today.)
Accompanying The Sandman Universe: Nightmare Country - The Glass House #1 in stores will be the collected edition of The Sandman Universe: Nightmare Country, which will be available in two different formats: a softcover edition featuring cover art from Reiko Murakami and available exclusively through comic book retailers, and a hardcover with cover art from Alex Eckman-Lawn that will be packaged with an exclusive print featuring the character Death, illustrated by Jenny Frison. Both editions — and the first issue of The Glass House — will be available April 4, 2023.
Also announced by DC are new variant covers for The Sandman Universe: Nightmare Country - The Glass House #1 and this December's The Sandman Universe: Dead Boy Detectives #1, featuring connecting artwork from Yoshitaka Amano, who collaborated with Neil Gaiman on The Sandman: The Dream Hunters in 1999. Look at the artwork below.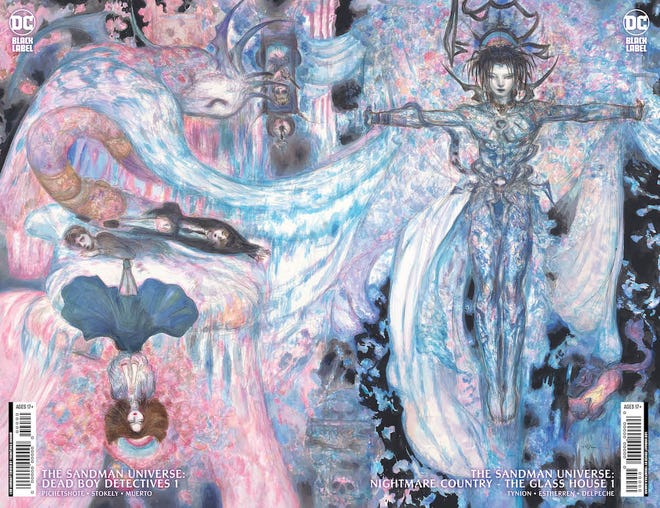 ---
Adapting the Sandman: changes from the DC/Vertigo pages to the Netflix screen