DC's new Fire & Ice series is a "superhero Schitt's Creek," says writer Joanne Starer
Also, it features Hot Lobo on the variant cover to the fourth issue (You're welcome)
Fire and Ice were mainstays of the beloved late 1980s run of DC's Justice League, but they've never quite managed to make their mark in superheroing beyond that — something the new miniseries Fire & Ice: Welcome to Smallville aims to fix.
The pair's lack of success outside of the team is one of the central ideas behind the series, writer Joanne Starer explained during her appearance on Enter the Popverse this week. Of course, when an attempt to change that goes awry, the two end up relocated not entirely willingly to small-town Smallville… which is where the fun (and the series) really begins.
"I don't remember how we ended up in Smallville," Starer told host Ashley V. Robinson. "The initial idea was that we were going to use it as a kind of superhero Schitt's Creek. That was kind of the [original] premise of the book, was that a small town was where they were going to go, and how they were going to interact with locals and how they'd make a mess of things… It just made sense that Smallville was the perfect place to be our Schitt's Creek."
"I knew from the beginning that sending them to a small town would make Fire insane. If you were to take these two characters and turn their whole lives upside down, you'd have to take them out their natural environment and their everyday situations… If we were going to take Fire and send her to, like, Norway, that might do it, where Ice is from, but really sending her to Smallville is just going to turn her whole world upside down."
You know what might help, though? A visit from an unexpectedly hunky Lobo. Ladies, gentlemen, and everyone else: appreciate David Talaski's variant cover for Fire & Ice: Welcome to Smallville #4: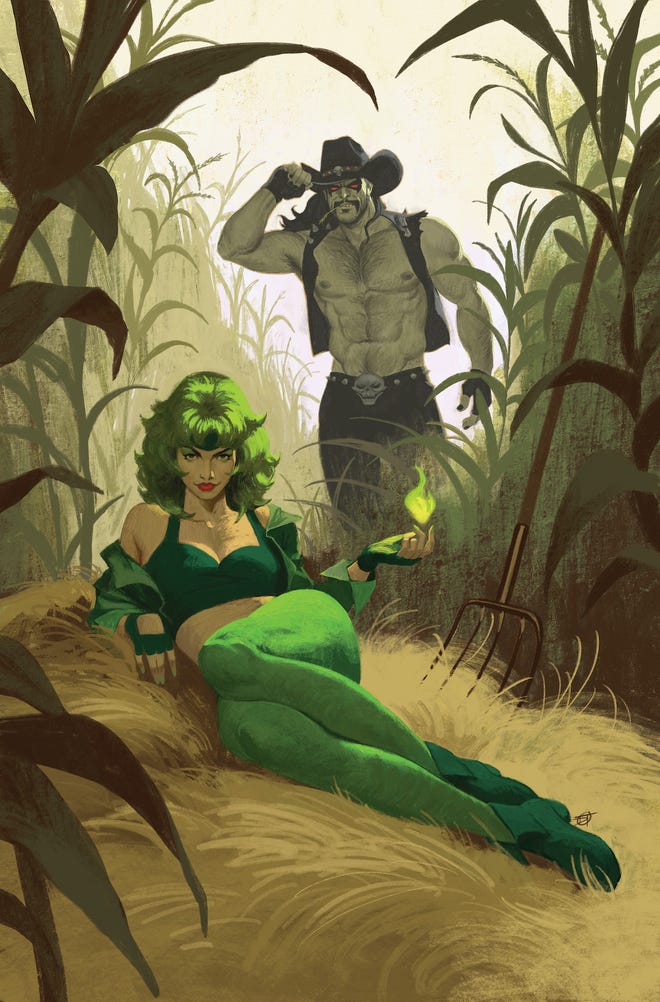 Take a deep breath, everyone. This cover made its debut on Enter the Popverse, with Starer offering the advice that maybe we should have zoomed in on Lobo's abs. Lobo's appearance in the series is part of Starer's grand plan for the book to reference not just the character's JLI history, but that of JLI co-creator Keith Giffen in general, she revealed.
"I think it's already come out that Ambush Bug is going to be visiting Smallville," she said. "We've got Ambush Bug, we've got Lobo, L-Ron is firmly part of the series." Oh, but that's not it for DCU guest stars, it turns out. "Jimmy Olsen visits, stops by Smallville and tries to do a story and the girls have to hide all kinds of chaos from him. King Shark makes a little appearance in the first issue… There's a lot of old characters [that] may pop up."
Fire & Ice: Welcome to Smallville #1 will be released September 5, from team Joanne Starer, Natasha Bustos and Tamra Bonvillain, and is pretty much exactly the book that old school JLI fans have been waiting for. Watch Joanne Starer's full interview — which also surprisingly reveals Enter the Popverse's international reach! — in the full episode right here, or watch below.
---
Enter the Popverse is also where Tom King teased new details of what to expect from his upcoming Wonder Woman run. It is, as host Ashley V. Robinson would say, kind of a vibe.