DC's Tom Taylor and Tom King in Conversation
DC's top toms - Tom King and Tom Taylor - come together to talk Mister Miracle, Nightwing, Grayson, Injustice, and more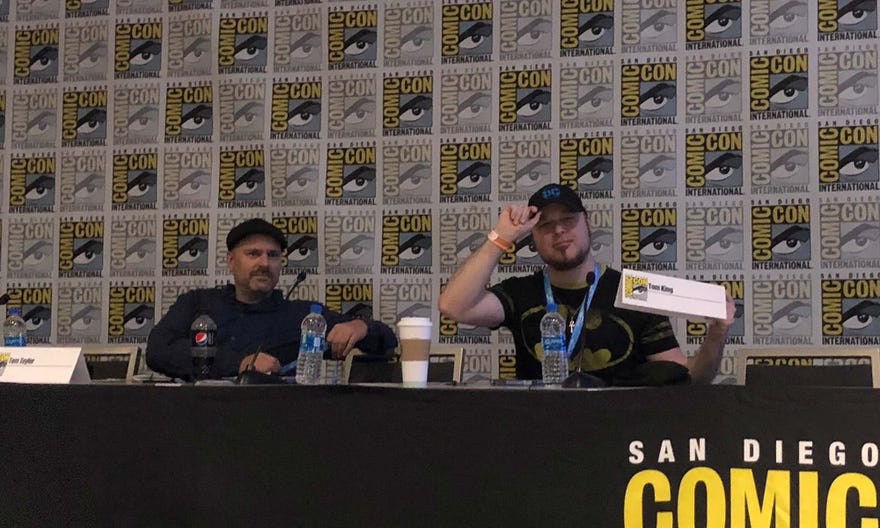 There's a joke on social media - based on actual events - of superhero comics writers Tom King and Tom Taylor being mistaken for one another. Maybe it's that they both are known for writing Dick Grayson. Maybe it's because they're both written Superman. But its more likely because their first names are both Tom.
Although no one would need an excuse to put these two top-tier comics writers together on a panel here at Comic-Con International: San Diego 2022, the name connection brings it over the tom (cough, top) - Tom King, Tom Taylor... tomfoolery? Between the two writers, they've written some of DC's biggest comics in the past five years, from Grayson and Nightwing to Injustice and Mister Miracle, and many things inbetween, they have a lot to discuss - but what will come of them being put together in one room, on one stage?
According to DC, they'll be talking about "what's in store for the future," with "a few surprise guests" also joining them. Our question: will they also have the first name Tom?
Popverse will be liveblogging this panel as it happens, so bookmark this website and follow along or return at the end to read the play-by-play. Keep track of this and ALL the news from this weekend with our Comic-Con International: San Diego 2022 coverage round-up.
Our live coverage of this event has finished.
The room is filling in for the Tom Taylor and Tom King panel
The two Toms are playing on their Twitter joke by sitting in the wrong seats. Tom King is the new Tom Taylor and vice versa.
Tom King and Tom Taylor are joking with each other before the panel starts. Tom King says, "I can't believe they are going to kill Nightwing. The dog is going to be Nightwing"
The Toms have even switched their iconic hats.
The lights have turned on and the panel is officially beginning.
There will be some exclusive art shown during this panel and an announcement (a new series)
Tom King has his own Australian shirt on to celebrate the panel
King and Taylor writer very different comics. Taylor belives in mankind and King jokes that he doesn't.
Tom Taylor's first hero was Superman, which is why he writes about hope.
When Taylor picks up a comic he wants to be inspired.
Taylor says with our job we can make things happen that we want to see happen in the world.
King feels like a Gen X writer - there's just doom and gloom in the end.
Taylor asks King, "Why do you want us to cry all the time?"
Taylor's favorite thing is to hear that people cry reading his comic on public transporation.
King, "I would write a Tom Taylor book if I knew how"
King, "I would write a Tom Taylor book if I knew how"
DC didn't want King to write the Superman, Batman, Lois, Catwoman carnival issue
They've switched gears to talk about Human Target.
They're doing a Human Target special that will have different artists taking on the story to give the main artist a break to do more
Dceased was always planned to be a trilogy.
Dceased is "Darkside Isn't"
Supergirl will be in Dceased! This is the first time she's been in it. Unlike her original story, she didn't end up on Earth but a new planet. She has now landed on New Genesis.
Blue Beetle and SUPERMAN is back. Taylor really didn't want the Superman part to be revealed.
Taylor gets to write Guy Gardener again.
Bruno Rendondo makes a surprise appearance on the panel.
We're getting a comic con exclusive pin for the panel. You can collect them all if you go to different DC panels.
Taylor says, "Bruno and I complete each other on the page."
Batwoman and Maggie Sawyer will be in Nightwing…that will be interesting.
Bruno, "I wanted Nightwing to work on a solo book" Tom shows a page with characters ranging from Stephanie Brown to Cyborg.
Bruno and Taylor have worked together for a decade! They're each other brother in comics.
They wanted to make Nightwing an A-lister again. Bruno has stayed commited to be on this book to create an omnibus.
"A lot of the things you are doing we were not allowed to do. You are the right people on this book." -King
Tom King announces that he will be working on Gotham City: Year One
What can he do that he hasn't done before? He wants to change the Bat mythos forever with Gotham City: Year One. It will be as big as Grant and Scott's changes to the Bat mythos.
It's about Batman's grandparents. How did Gotham become a hell hole? It's a dark noir story.
"It's us doing Sin City within the Bat universe." -King
It will redefine how you look at Batman.
Tom King has already written all of it. He writes his comics like novels. He changed that during covid. He's been done with Human Target for 2 years now.
Taylor would love to write Green Arrow, but would only do it with Bruno.
For more on Tom King and Phil Hester's Gotham City: Year One, check out this article: https://www.thepopverse.com/gotham-city-year-one-tom-king-phil-hester-batman-c
He's never had more fun than write Gotham City: Year One.
Taylor is a procrasinator. He doesn't finish his books as quickly.
Tom Taylor writes his comic on a treadmill now. He started doing it during covid.
Taylor will write endings before his beginnings a lot of times.
Mitch stayed up for 87 hours straight to get the final pages turned in for King's Riddler book. It's the best book that King has ever given him according to Mitch.
Riddler doesn't give clues anymore to kill in this book and that annoys Batman.
Tom King was shown Killing Joke by his older brother for the first time.
"The Riddler is the most frightening Batman villain of all time because he's smarter than Batman." -King
When King turns in 6 panel pages, sometimes Mitch will turn it into a 9 page grid at this point.
Dick and Barbara are getting closer and closer over time in Nightwing.
Bruno and Taylor love Dick and Babs and just love having them happy.
At the time when King wrote Dick and Babs together DC said that they would never be together again.
"Every single time I write Nightwing I'm happy. It's easy." -Taylor
Taylor and King both write full scripts for their frequent collaborators.
There is a big Blockbuster and Nightwing fight coming up that Bruno drew without Taylor having to write those pages.
As a massive fantasy and superhero fan Taylor is so happy to work on Dark Knights of Steel
There are so many places to go with Dark Knights of Steel when this maxi is over.