Black Adam outperforms expectations with a $67 million opening weekend, according to estimates
Dwayne Johnson's first outing as DC's new anti-hero has changed the hierarchy of his career, if nothing else, earning the star his biggest opening weekend yet
Black Adam soared into movie theaters this weekend, with Dwayne Johnson's anti-hero finally arriving after literal years of hype and teases. Audiences, it turned out, were ready for him: the Warner Bros. movie grossed an estimated $67 million in its opening weekend — a new record for the Artist Formally Known As The Rock.
Initial estimates had the movie expected to earn around $65-70 million in its opening weekend, although that was revised downward to $60 million in light of early reviews, which even still would have put it at the top of Johnson's opening weekends outside of the Fast & Furious franchise, alongside 2019's Jumanji: The Next Level (which earned $59 million in its first weekend). The $67 million haul domestically — with an additional $73 million internationally — means that the movie has outperformed expectations and defied critics alike, with the movie receiving mixed-to-negative reviews. Moviegoers apparently disagree, with the movie currently scoring a 90% Rotten Tomatoes Audience Score at time of writing.
For context, this makes Black Adam the tenth biggest opening for a DC superhero movie; 2016's Batman v Superman: Dawn of Justice continues to hold the record for the company, with an opening weekend of $166 million domestically. Close behind are the concluding two chapters of Christopher Nolan's Batman series, with 2012's The Dark Knight Rises opening to $160 million, and The Dark Knight at $158 million. Outside of Batman-related movies — DC's fourth biggest opener was this year's The Batman, with $134 million — it's surprisingly 2016's Suicide Squad that takes the win, with $133 million. 2013's Man of Steel comes next, with $116 million, followed by 2017's Wonder Woman, with $103 million. (2017's Justice League takes 8th place, and the follow year's Aquaman takes ninth… maybe; at $67,873,522, it might yet be pipped by Black Adam once final figures for this weekend come in. Math is hard.)
Of course, opening weekends aren't definite signifiers of the overall success of a movie: Wonder Woman ended up outperforming all of the above movies with the exception of The Dark Knight across its theatrical run, thanks to strong word of mouth, bringing in $412.5 million in the U.S. alone. Time will tell if Black Adam shows similar longterm success, although the surprisingly strong Rotten Tomatoes score is likely good news for Warner Bros.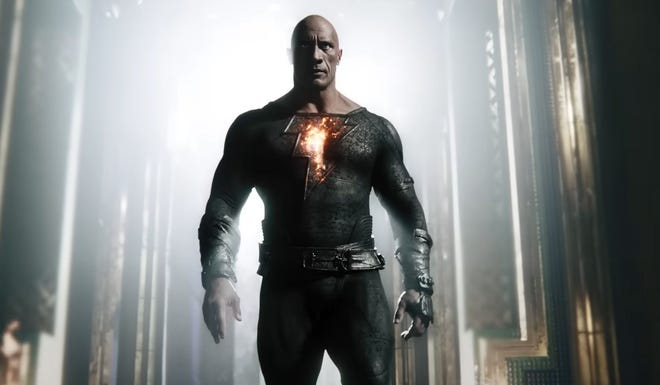 Black Adam's opening was in line with other superhero movies opening at this time of year, especially those that aren't sequels. Last year, Marvel Studios' Eternals opened November 5 and made $71 million in its opening weekend, for example; Shang-Chi and the Legend of the Ten Rings, which opened two months earlier, made $75 million.
Yet, the opening weekend isn't the end of the story, but just the beginning. Next up, watching how well the movie holds up across the next few weeks, and finding out if there's a significant audience out there for Black Adam stories moving forward. Something worth paying attention to, however: Marvel's Black Panther: Wakanda Forever is out in a little over two weeks, and likely to dominate the box office in a way that even Kahndaq's mightiest defender can't withstand.
Watch the newest Black Adam trailer here:
---
If you still feel like you need to know more about Black Adam beyond how well it performed this weekend, we've got everything you could want to know about the movie right here.