DC's Lazarus Planet event adds an all-new sequel event, Lazarus Planet: Revenge of the Gods
Wonder Woman and Shazam headline the four-issue miniseries launching in March
Lazarus Planet is bigger than we thought.
Originally announced as a two-month event, DC has revealed that DC Universe: Lazarus Planet — the magic-themed storyline spinning out of the current Batman vs. Robin miniseries — will actually continue in March, courtesy of a new four-issue bi-weekly miniseries titled Lazarus Planet: Revenge of the Gods, by creators G. Willow Wilson and Chan Tormey.
Spinning out of the events of the main storyline, Revenge of the Gods sees the various deities of the DCU decide to finally take matters into their own hands once and for all, and take down the superheroes they'd previously relied upon to save the day. Only Shazam and Wonder Woman are willing and able to stand up against them, but… considering that both rely upon gods for their own powers, their battle might be lost before it's even started.
Revenge of the Gods is, in itself, a crossover event, with the storyline spilling out into Wonder Woman #797 and #798, by Becky Cloonan, Michael W. Conrad, and Amancay Nahuelpan — both of which will not only feature Revenge of the Gods material in its main story, but will also feature Mary Marvel tie-ins in the back-up strips, courtesy of Josie Campbell and Caitlin Yarsky.
Lazarus Planet: Revenge of the Gods begins March 14 with a 40-page first issue, featuring covers by Guillem March, Simone Di Meo, Michael Cho, and Daniel Sampere; the next week, Wonder Woman #797 is released, with Lazarus Planet: Revenge of the Gods #2 following on March 28. Check out covers to each of those three issues in the gallery below.
The core Lazarus Planet event runs through January and February, beginning with Lazarus Planet: Alpha #1 by Mark Waid, Gene Luen Yang, Billy Tan, Richard Federici, and more, on January 10. A revised checklist for the entire event, including Revenge of the Gods, is below.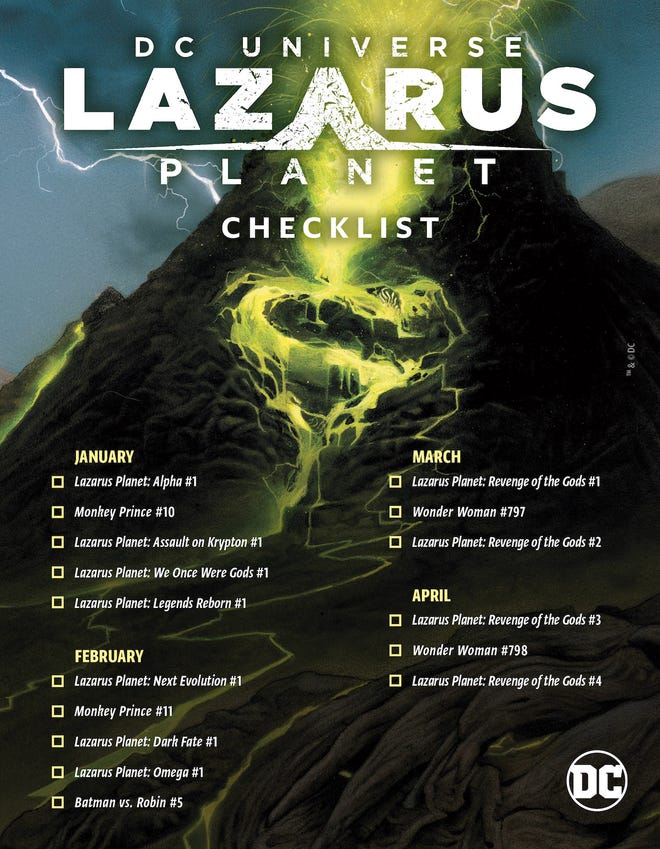 ---
Want to know more about Lazarus Planet? Check out the announcement of the event, from New York Comic Con this October.