Christy Carlson Romano remembers (and sings!) the classic Even Stevens song 'We Went to the Moon in 1969'
How a silly moon song changed Disney forever
For San Diego Comic-Con 2022, I only had one dream. I was determined to sing 'We Went to the Moon in 1969' with actress Christy Carlson Romano. It might seem like an oddly specific dream, but Comic-Con is all about moments like that. If you've ever been to SDCC, then chances are you've had a weird dream like this as well, and if you're lucky, maybe it's come true.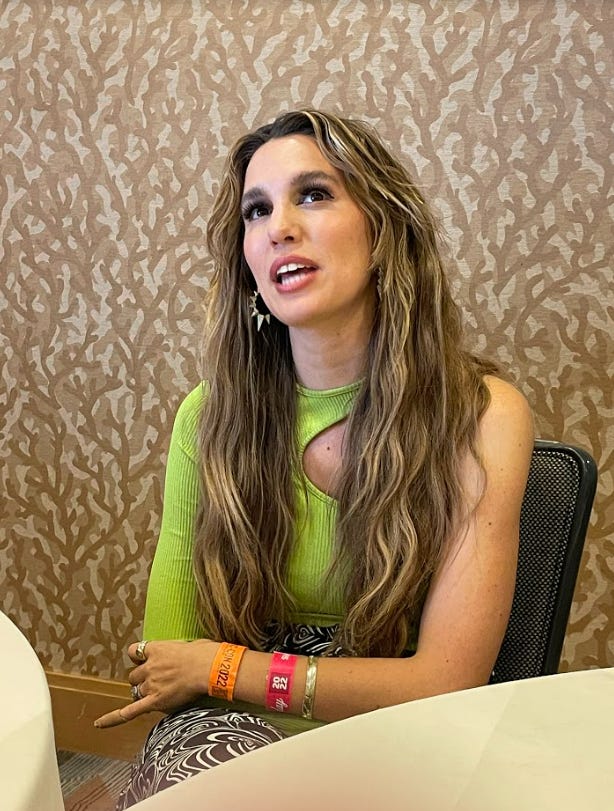 From 2000-2003 Romano starred as Ren Stevens in the Disney Channel sitcom Even Stevens. During the 2002 episode 'Influenza: The Musical,' Romano sang a piece of earworm called 'We Went to the Moon in 1969.' If you're a millennial, chances are you already know this, and now the song is stuck in your head. The premise of the song is that Ren has to do a report on the space program, but the only thing she knows is that NASA went to the moon in 1969, which she uses to sing an energetic song. Her teacher enjoys the number, but gives her a failing grade. While Ren Stevens received an F on her presentation, Christy Carlson Romano has never been able to escape the song. The actress has embraced the legacy of the tune, and even recreated the musical sequence on her YouTube channel to celebrate the 50th anniversary of the moon landing.
Shortly before San Diego Comic-Con, I received an invitation to interview Romano. She and voice actor Will Friedle (who starred with Romano on the animated series Kim Possible) would be hosting a press room to discuss their podcast I Hear Voices. Once I learned this, I immediately had a goal – we were going to talk about the song, maybe even sing it. I tweeted about this goal, putting that energy out into the universe.
The I Hear Voices press room was held on Sunday July 24th, the final day of the convention. I sat down with a group of reporters waiting for Romano, and it wasn't long before the song was stuck in all of our heads. If I'm being honest, I was partially to blame for that since I had been humming the tune. "Thanks to the song an entire generation of kids will never forget what year the moon landing was," another reporter told me.
Romano arrived and warmly greeted our table. When it was my turn to throw a question her way I didn't waste my opportunity. "On the subject of music, there are songs that stand the test of time. We've got Beethoven's Fifth Symphony, we've got the Beatles' Sgt. Pepper's Lonely Hearts Club Band, and the legendary We Went to the Moon in 1969. So, two part question - part one, tell me everything about the filming of that sequence, and the legacy of that song. Part two – my comic-con dream, can we sing the first line together?"
Her response did not disappoint me. "We could do that right now," Romano cheerfully said. The actress counted down, and the entire table sang the first verse of We Went to the Moon in 1969. Her co-star Will Friedle momentarily paused his interview to look over, and their publicist also gazed at us with curiosity. The entire table was having a magical moment, perhaps the greatest moment of San Diego Comic-Con. Romano appeared touched and thanked everyone. "I'm so touched. Thanks guys! I love you guys. And we're all aged now. I know all of your ages now," she said.
Video Credit: MC from Beautiful Ballad
How the song came together
Romano then spoke about the genesis of this classic television moment. "When you hear a lot of the old school D-Coms [Disney Channel Original Movies], and people singing and stuff, you assume that it's in this production booth," she began. Romano then spoke about some of the people responsible for the music. "The music that was created for Even Stevens' musical episode, our composter, our producer, a lot of our directors, like Paul Hoen. Paul Hoen is a huge D-Com director. I think he's directed all the Zombies movies, and like a ton of these movies. Paul's a great guy," Romano said.
Romano continued by talking about some of Hoen's friends and collaborators. "All of them were growing up together. Sean McNamara and David Brookwell were our executive producers, and they also did the Raven show (That's So Raven). They're huge Disney Channel, from that era, producers. They're the people that made it all happen. They were all in a band in Santa Monica/Venice. They were like the Beach Boys. And so what would happen was they would hire out a lot of their friends along the way that I guess ended up in the entertainment industry," she continued.
"Long story short, the guy that created all of that music, including that anthemic song that everyone cannot forget, or get out of their ears, I would not have thought it would of happened – He was our music scoring guy. He scored everything, and then he went into songwriting mode," Romano shared. That man was John Coda, who was also in Hoen's band. "I went and just performed it in his garage, and it was just really rag-tag thing that I didn't even think of. There was other times that I would sing on Even Stevens, like the Twitty Stevens Connection, and Sacramento Girl, and all these random things. I never took any of that stuff seriously," Romano recalled.
Legacy of the song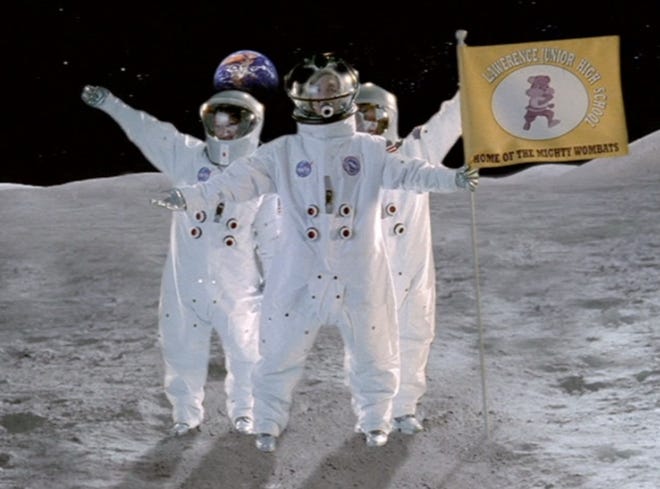 After talking about the genesis of the song, Romano reflected on its legacy, and how it changed the direction of the Disney Channel. "I think there's a generation that watched all of that musical stuff, and it was before High School Musical. So for them that was in a weird way their connection to music and Disney. Weird to me, very weird, because we all know Disney as being this very musical place. But it wasn't like that for a long time. There was no High School Musical," Romano said.
In fact, Romano surprised us all by revealing that there never would have been a High School Musical if it hadn't been for her silly little moon song. "When our musical episode tested off the charts for some reason, they started talking internally about doing High School Musical. That was verified to me by Gary Marsh. They had some milestone marker map that Disney brought out for some anniversary of Disney Channel, and that musical episode was part of the milestones for Disney Channel." This revelation shocked me, so I asked the next logical question. "You realize this means that if you had not sung that song Zac Efron would not have a career," I asked Romano. The actress laughed. "You can directly blame me for Zac Efron. It is my fault, but I guess he's not a bad guy," Romano playfully replied.
After taking a few more questions, the press session wrapped up and Romano departed. Needless to say, 'We Went to the Moon in 1969' was in my head for the rest of the day, but I didn't mind. After my press session with Romano, the song now had a deeper meaning for me. It would forever be associated with one of my comic-con dreams coming true. I also had the added appreciation of knowing how it changed the course of Disney history by encouraging the studio to return to musicals. Not to mention how the song indirectly launched Zac Efron's career.
Not bad for a musical number from a 2000s era family sitcom.
---
Steve from Blue's Clues, the hero no one knew they needed