Making something out of nothing: Diyorama Events Booth celebrates its 20th year at Star Wars Celebration
An oasis of peace and creation on the Star Wars Celebration show floor
On the very first day of Star Wars Celebration, when many fans are lining up to purchase their collectors exclusives or rushing to the biggest panels of the convention, a small group of passionate fans head straight to the Diyorama Events Booth on the show floor to start their builds.
Slightly separated from the noisy show floor and under a large banner that reads DIYorama, a couple dozen participants sit quietly with their paintbrushes and dishes of wall paint working on a piece of art that will be placed within a large Star Wars diorama (participants leave their name and phone number with their creations, which can then be picked up on Sunday for the creator to bring home).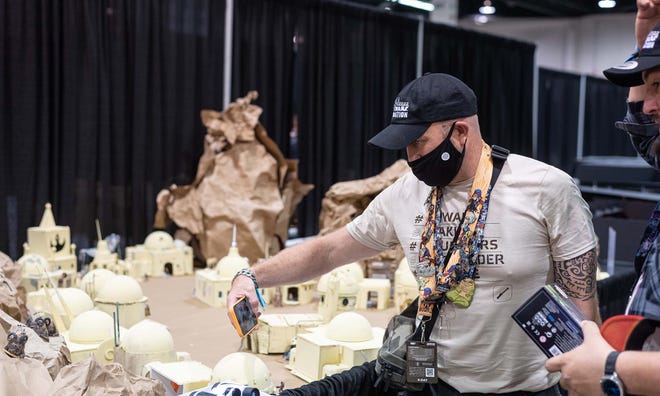 Sponsored by Atomic Mass Games and REED, this DIY-based diorama project is a completely free activity for Star Wars fans of all ages and makers of all skill levels. DIYorama is run by two co-directors Jamie "Silloff" Follis and Alissa D.Luepke Pier. I spoke briefly with Follis, and he shared that the idea of of the booth is to "make toys out of anything," breaking down a huge scene into small elements and then showing participants how to work with bits and bobs like bottle caps and styrofoam to build a scene.
Follis says that people treat the area as an "Oasis of bZen in a sea of insanity," a place where "anybody can be artistic." This collection of long tables and craft supplies really it is a bit of an oasis, but it's more than just a calm place to spend half an hour. Follis explains that "For some people, this is their Celebration." Now that this booth is celebrating its 20th year at Star Wars Celebration, some of the current adult participants had come in as children with their parents, years ago. It's become tradition.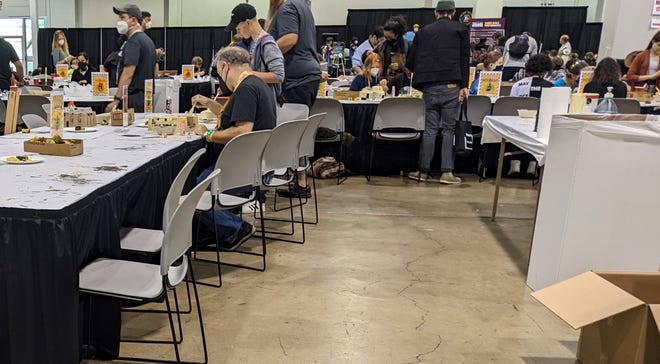 This year's large diorama shows scenery from Disney+ show The Mandalorian. You might wonder how the bigger aspects of these fairly complex dioramas are designed and executed. It turns out that Alissa Pier is not only a co-director of this project, but she is also an architect. Follis happens to be a sculptor, so they both play to their own strengths, Pier laying out the dioramas with Follis focusing on the details. It takes over a year of work to put together something like this year's diorama, and the crowning achievement is all of the additions that are made over the long Celebration weekend, as participants stream in and out of the booth, creating something out of nothing.
Follis is quite proud to point out that this kind of creative work that so many Star Wars fans enjoy over the weekend "is what ILM [Industrial Light & Magic, the visual effects division of Lucasfilm] did." They would paint something mundane a surprising color, "and it becomes something new."
---
To read more of Popverse's coverage of Star Wars Celebration,
check out our coverage roundup.