Dune: Cosplay stillsuits, Atreides' Armor and more with these DIY tips
If you're wanting to cosplay from Dune, then here's some tips to aid your journey!
Dune is a sci-fi novel written by Frank Herbert in 1965 and considered to be the world's best-selling fiction novels. With such a high reputation, the task of bringing this classic to the screen has previously been met with budgeting issues and negative reviews.
But the new film, which arrived in theaters and on HBO on October 22nd, set out to end the curse of failed Dune adaptions by bringing in huge talent and a ridiculously large budget. Lucky for cosplayers, that means incredibly detailed and other-worldly costumes. Here's some tips and advice on cosplaying from the hit movie based on the images and information currently available.
Lady Jessica's Yellow Dress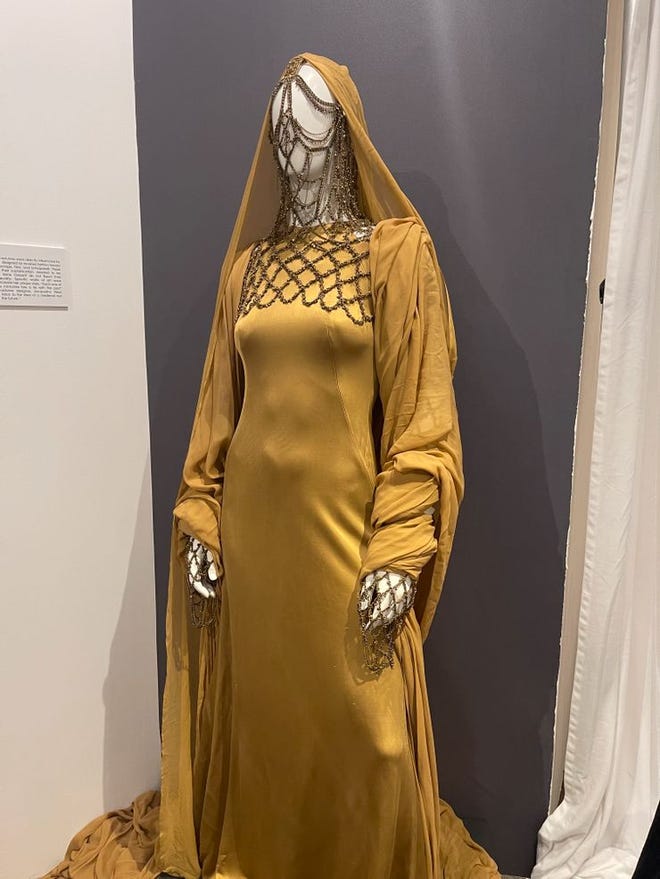 Lady Jessica has a number of gorgeous garments in the movie but the one that stands out, not only for its vibrant color but also the luscious fabric used, is her yellow dress with beaded headdress and face veil.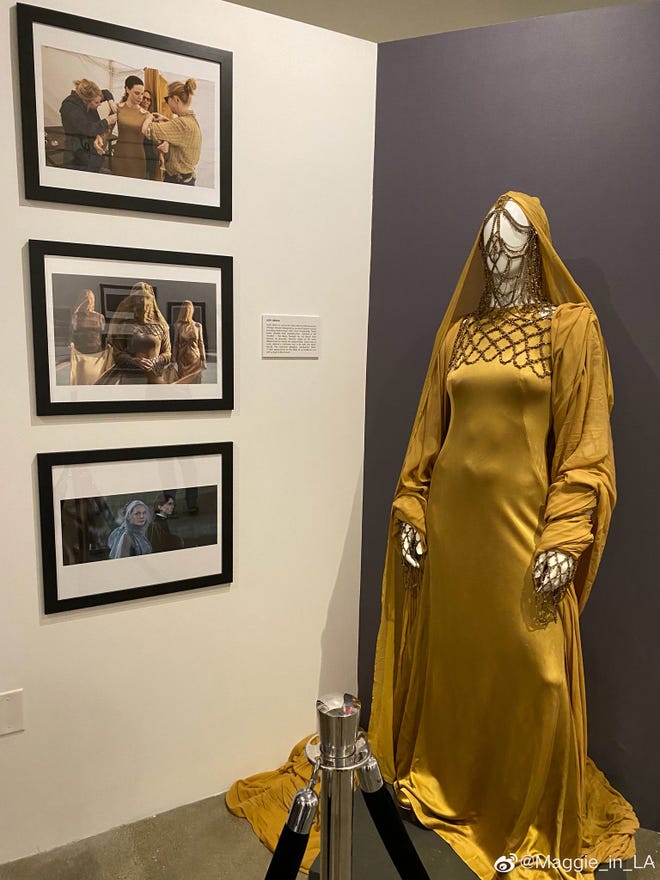 Start with a silky warm yellow to mustard yellow fabric, maybe a silk chiffon or silk charmeuse to match the delicateness and slight sheen. The gown is expansive, so expect to buy a large number of yards for the dress, shawl and cape. Some patterns for inspiration include Vogue V1656, V1374 or Simplicity 8330.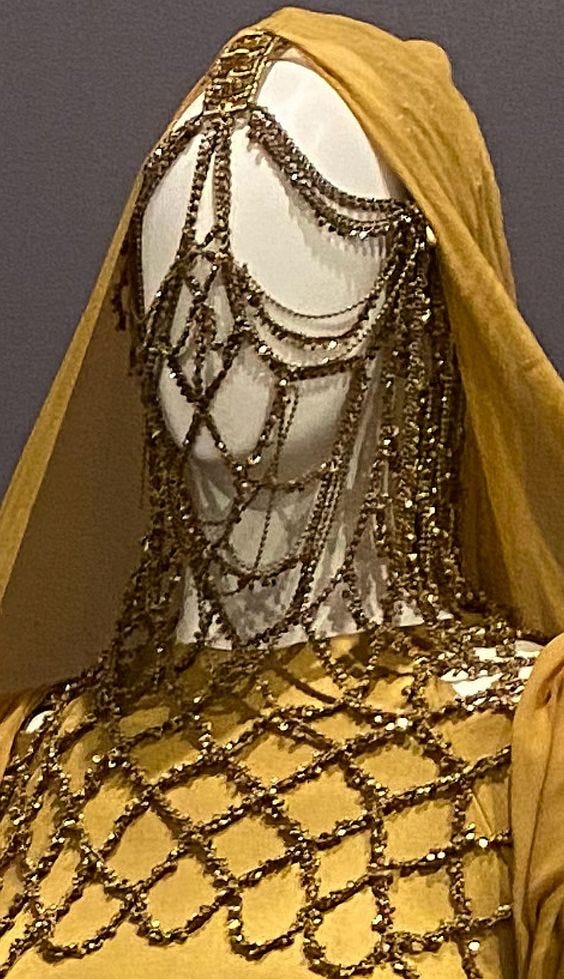 The beading and chain work starts at the headdress and extends down the chest. Its design is reminiscent of Afghan Kuchi jewelry, Middle Eastern veils and Indian bridal jewelry. The beads themselves seem to be more organically shaped and have a metallic sheen from the faceted sides. For jewelry making supplies online, I recommend firemountaingems.com.
Stillsuits (Liet Kynes, Chani, Paul)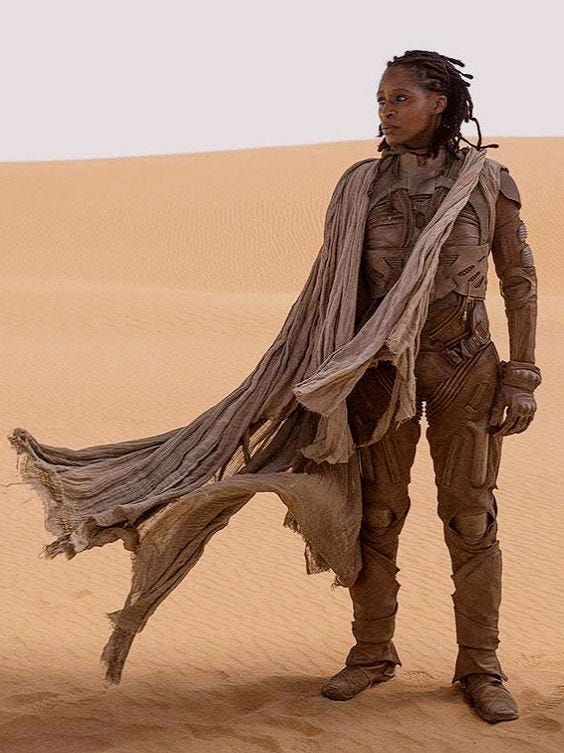 Stillsuits are meant to help the characters survive in the extreme weather of the world they are in and give cosplayers a challenge in armoring up. With a post-apocaplyptic feel to the suits, there's a lot of room for practicing various weathering technique on different materials.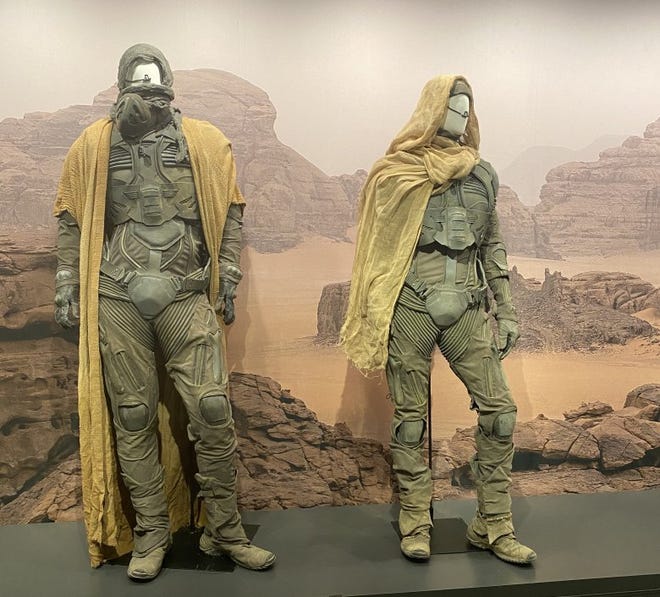 Thinner faux leather or latex look fabric can be used for the softer parts of the stillsuit, while other parts can be created from foam or worbla or repurposed from other items. Some of the armored parts can be made using existing parts from pilot or motorcycle gear and accessories. Try looking into military surplus stores for cheaper, used straps and armor pieces.
With the complexity of this cosplay, take on this cosplay one piece at a time so you don't overwhelm yourself looking at it as a whole.
Halleck or Atreides' Armor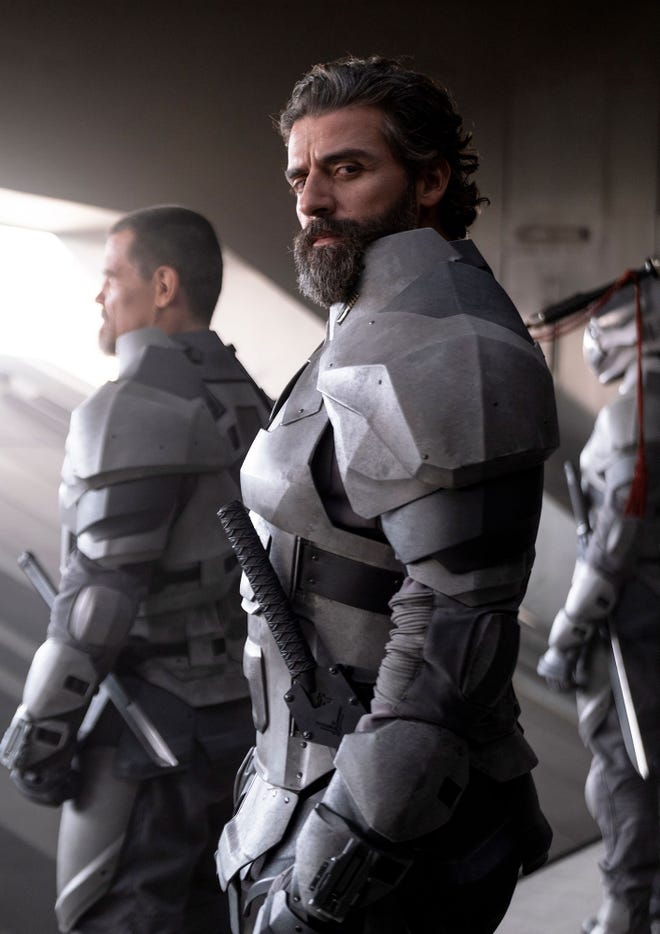 If you're looking for a foam heavy armor cosplay, check out the battle armor worn by Halleck or Leto. This would be an ideal cosplay for someone with beginner to intermediate foam crafting skills as the pieces are big, clean and not overly ornate. The straps holding each armor piece onto the body is exposed rather than hidden, making it easy to see how each part is attached. For those new to armor making, check out books available by cosplayers like Punished Props or Kamui Cosplay.
This is also an ideal winter weather cosplay since a motorcycle jacket and pants can be used underneath the armor to match the costume design and keep you warm.
Leto Atredides Dress Uniform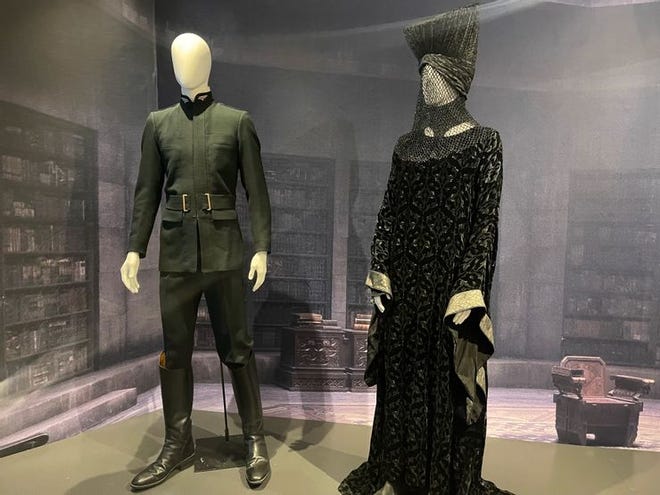 And for those that want a formal cosplay and to try their hand at suit making and tailoring, Duke Leto's military dress uniform is a perfect challenge. McCall's costume sewing pattern M4745 has an easily modified pattern that is perfect to match the vintage style of the uniform. Military dress uniforms are usually made of a Poly/Wool blend fabric, often made with worsted wool. This fabric is generally soft, wrinkle-resistant and strong enough to last through wear and tear.
The boots are similar to historical military boots or tall riding boots. A good pair can run anywhere from $50 to upwards of $300, so if you're cosplaying on a budget check thrift stores for cheaper options.
With the movie now out in theatres and HBO Max, there is plenty of closer looks at all of the additional outfits in the film and there are also hopes that the costumes may one day become part of a traveling exhibition. So enjoy the movie and finding your next favorite character to cosplay.