How to keep exploring the realms of Dungeons & Dragons: Honor Among Thieves after leaving the theater
Three separate books explain the backstory of Doric, Edgin and the rest of the crew
Good news for everyone leaving movie theaters wishing that there was more Dungeons & Dragons: Honor Among Thieves to enjoy — there is, as long as you're willing to do some reading and use the movie theater inside your mind. (It's not as weird as it sounds, I promise.)
Coinciding with the new movie, intended to bring the beloved fantasy game to a new audience (and a medium it hasn't traditionally had the greatest of success with in the past), there's a small publishing program telling the backstory of the movie's cast of rogues… as well as a couple of chances for fans to step inside the movie's fantasy realms for themselves. Here's the line-up of the things you need to know.
The backstory of the movie's druid, Doric, gets explored in this YA novel by New York Times bestselling author E.K. Johnson, who's most likely familiar for her Star Wars: Ahsoka novel from 2016, far pre-dating the character's live action revival as part of the Mandalorian continuity.
The book takes a look at Doric's beginnings with magic, as she has to discover new truths about herself if she is to save her adopted Neverwinter Woods elf family from capture… or worse. But what does it take to train amongst the Emerald Enclave, and is Doric truly up to the challenge? (Spoilers: probably, considering what we see in the movie. But the journey's the thing.)
"Enough about Doric," you say, "What about the rest of the crew?" Well, dear friends, author Jeleigh Johnson has you covered with this novel that tells the story of how Edgin Darvis got the team together in the first place. After all, it's not an easy life to be handsome, charming, and… well, little else. But thankfully, randomly running into Holga gives him an idea. Although that's not to say that all Edgin's ideas are good ideas… Still, who can turn down the chance to dress up and steal a lot of loot? Very few people, and when it comes down to it, that might be the problem.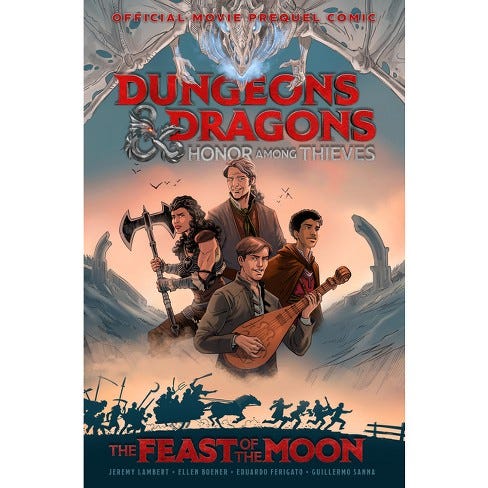 Unlike the previous two books, this is neither an origin story, nor prose; instead, The Feast of the Moon is a graphic novel from the fine folks at IDW, in which Edgin and his cohorts end up in trouble — of course — as they decide to promise a village to rescue them from the threat of the Bandit King and his goons. That might be a little more difficult than it seemed, however…
There's also a second story, in which Xenk comes up against the dangers of the Underdark when an oath to protect a rare artifact leads to more trouble than anyone expected. Jeremy Lambert and Ellen Boener write, Eduardo Ferigato and Guillermo Sanna illustrate, and you enjoy.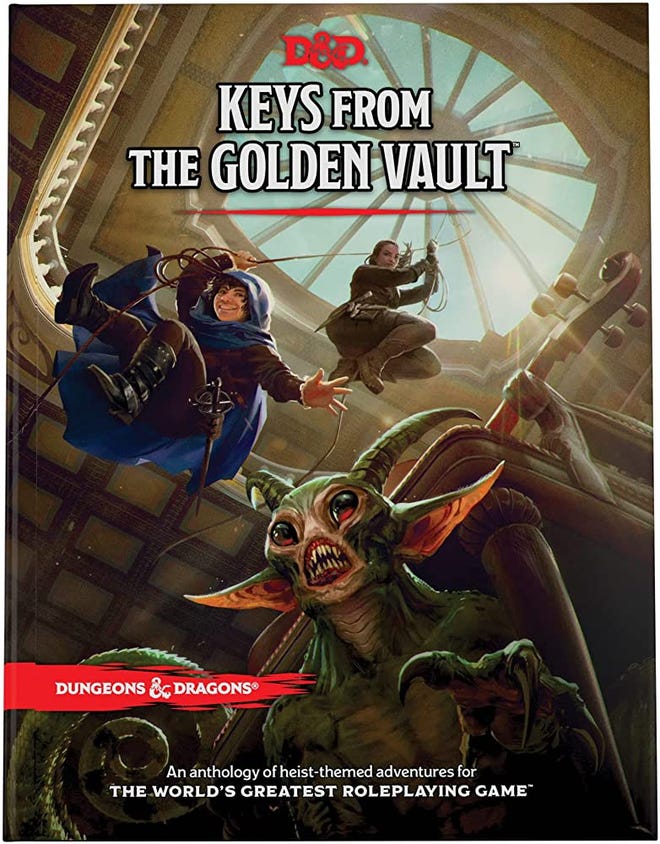 Of course, it wouldn't be Dungeons & Dragons if there wasn't the chance to play along, which is where this anthology of adventures comes long. Technically speaking, this is more of a tie-in to Honor Among Thieves than a spin-off, per se; one of the 13 adventures in this collection sees players get a mission from the Golden Vault — a mysterious organization that seems to excel in handing out heist-like assignments — that results in a visit to Revel's End, a location created specifically for the movie. (It has, however, also appeared in other Forgotten Realms material between its invention and the movie's release.) Think of this one as a somewhat tenuous connection, unlike...
Secret Lair X Dungeons & Dragons: Honor Among Thieves
...this new Secret Lair drop, which features all-new cards of six characters from the movie: Edgin, Holga, Xenk, Simon, Doric, and Forge. Finally, after the movie and all of the tie-in books, D&D fans will get the chance to do exactly what they wanted to all along: play as Chris Pine and/or Michelle Rodriguez. Or perhaps that's just me.
---
Dungeons & Dragons: Honor Among Thieves is in theaters now. Buy tickets on Fandango or Atom Tickets.
---
How did the cast of Dungeons & Dragons: Honor Among Thieves explore their characters before shooting? With a game of D&D, of course.