Marvel Studios' Echo TV show: Poster, release date, trailer, and more about the upcoming Disney+ show
Everything you need to know about Echo
Not so fast. After earlier announcing that the complete series of Echo — the original series spinning out of Disney+'s Hawkeye miniseries in 2022 — would drop simultaneously in November 2023, Marvel Studios has reportedly rethought its release schedule and pushed the show until January 2024. It's just a two month delay… which might get a little more difficult when you discover that the show might be more important to the MCU than was initially believed.
When is the Echo release date?
Echo will debut on January 10, 2024, and Disney+ and Hulu will drop all episodes of the show at once. (This is unlike other Marvel Studios shows, which have released weekly after an initial launch of two or three episodes.)
Where can I stream Echo?
Echo will be streaming simultaneously on Disney+ and Hulu. The entire season will drop on January 10, 2024, so you'll be able to binge the whole show at once.
What is the Echo plot?
Marvel's official description of the upcoming show reads: "Streaming exclusively on Disney+, the origin story of Echo revisits Maya Lopez, whose ruthless behavior in New York City catches up with her in her hometown. She must face her past, reconnect with her Native American roots and embrace the meaning of family and community if she ever hopes to move forward."
Who is on the Echo creative team?
The show was created by Marion Dayre and will be directed by Sydney Freeland and Catriona McKenzie and is executive produced by Kevin Feige, Louis D'Esposito, Victoria Alonso, Brad Winderbaum, Stephen Broussard, Richie Palmer, Marion Dayre, Jason Gavin, Amy Rardin, Sydney Freeland, Christina King and Jennifer Booth.
Who is in the Echo cast?
Echo will star actress Alaqua Cox as Maya Lopez a.k.a. Echo, reprising her role in the earlier Disney+ Hawkeye series. Other cast members include Chaske Spencer, Tantoo Cardinal, Devery Jacobs, Cody Lightning, Graham Greene, and Zahn McClarnon.
Perhaps most excitingly for longterm Marvel fans is the fact that the show will also feature Vincent D'Onofrio and Charlie Cox as, respectively, Wilson Fisk/The Kingpin and Matt Murdock/Daredevil — the first time the two have appeared as those characters in the same project since the end of the Netflix Daredevil series back in 2018.
It's rumored, but unconfirmed, that Murdock's plot in the show will be related to his search for a former ally… who will be revealed to be Jessica Jones. For now, take that last detail with a pinch of salt, but one thing's for sure: Echo (the show) is definitely going to help set up the upcoming Daredevil: Born Again series Marvel is working on.
Is there an Echo poster?
Yes! There is an Echo poster, and you can take a gander at it right here.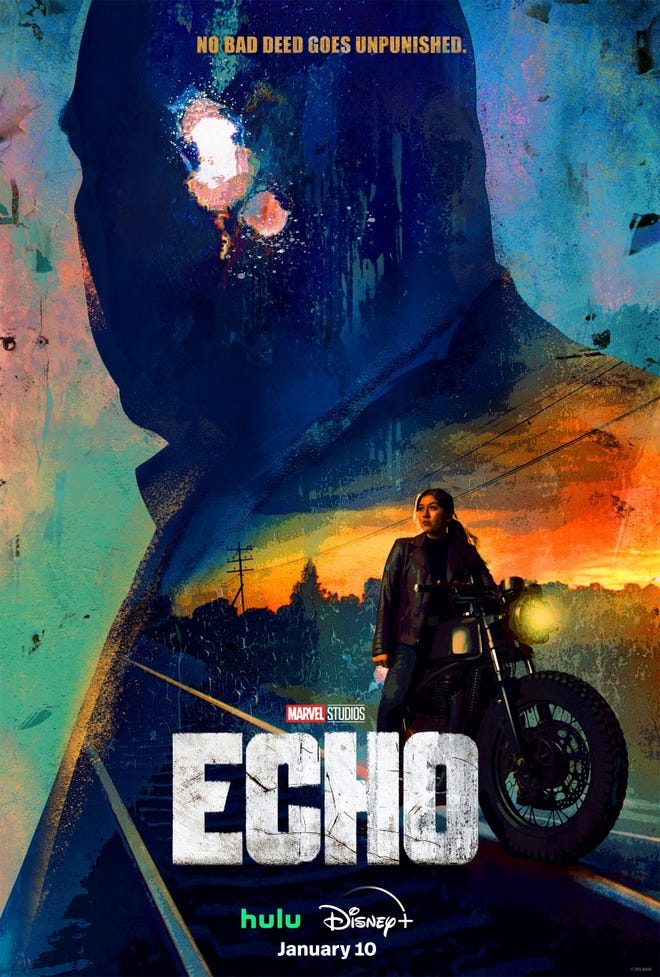 Is there an Echo trailer?
There is an Echo trailer! Watch it here:
---
Want to know what's coming up next in pop culture? Check out our guides to upcoming movies, upcoming TV shows, upcoming comics, and upcoming comic conventions. If you're looking for specific franchises or genres, we have all the upcoming MCU, upcoming Star Wars, upcoming Star Trek, and upcoming DC movies & TV for you. If you're a fan of superheroes and not specific to just Marvel or DC, we have overall guides to all the upcoming superhero movies and upcoming superhero TV shows (and new seasons) as well.