Eduardo Medeiros teases his new graphic novel, Open Bar
Two best friends turn business partners in Eduardo Medieros' Open Bar
Running a business with your best friend is a challenge no matter how close you are. Throw in dad issues, internet fame, and a beer recipe that's not necessarily orthodox, and running that business becomes an even stranger journey of ups, downs, and self-discovery.
It's that journey which sits at the heart of Open Bar, the upcoming graphic novel from acclaimed Brazilian cartoonist Eduardo Medeiros (Sopa de Salsicha, Funny Creek) about two longtime buddies who put everything they've got into a business they didn't ask for, and find they might be better at it than they thought.
Speaking first to Popverse about the book, Medeiros explained how the book's origins are tied to the foundation of his own business, the comics studio Stout Club which he co-founded with fellow creators Rafael Albuquerque, Rafael Scavone, and Mateus Santolouco.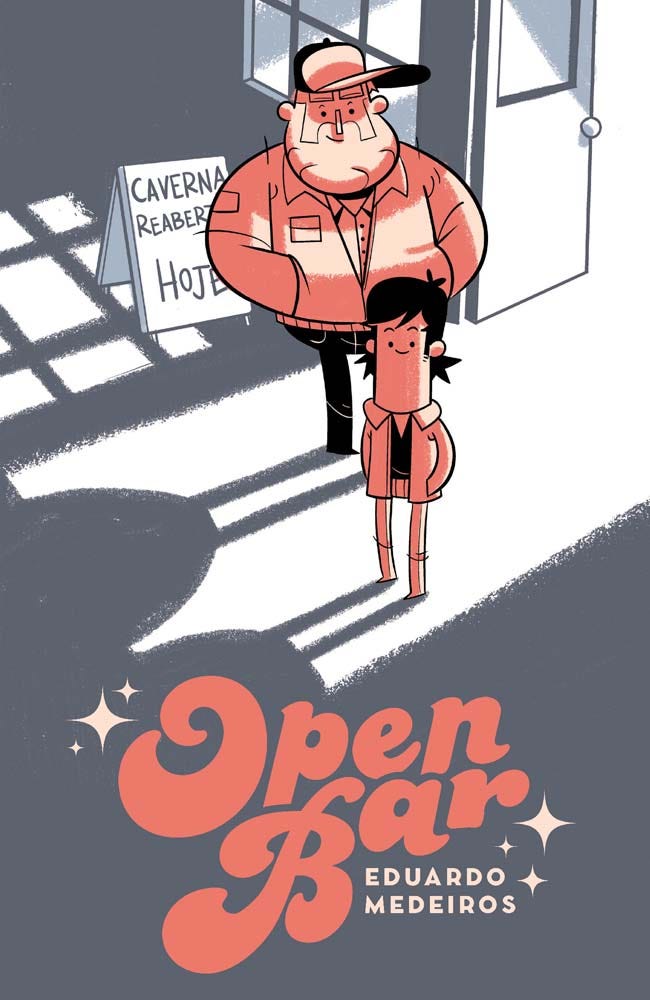 "Before our company became what it is today, we were an independent publisher here in Brazil," Medeiros explains. "Back then, in 2013 or '14, we were planning to do a weekly webcomic for our website and I started to juggle some ideas about these two friends, alone in the world and with a bar to run without any experience whatsoever."
Meet Lenny and Beardo
Those two friends are Lenny and Beardo, a pair of losers who decide to give small business ownership a try when Beardo's dad dies and leaves him his long-closed bar in the will. After sinking everything they've got into fixing the place up, Lenny and Beardo find that a secret beer recipe and the unexpected attention that comes from a 747 engine falling on their neighbor are enough to attract some positive attention to the bar. Then Lenny's ex shows up, success starts to get to them, and the duo have to make some hard choices about their future, as Lenny ponders fatherhood and Beardo tries to be the man his own father never could be.
Though the bar proves to be the center of numerous plot threads in the book, Open Bar is rooted in the connection between Lenny and Beardo, which meant Medeiros mined his own friendships, and his own personal concerns, to root the characters in real humanity.
"I used the Cave Bar as a background and inspiration, but certainly the story is led by Beardo and Lenny's friendship," he explains. "Mateus, Rafael, Scavone, and I have been friends since we became adults and I think our friendship is as close as Beardo and Lenny in the book. I can see a lot of myself in both of them too. I know it's a cliché, but it's true."
In the exclusive preview pages below, you can get a taste of what it's like for Lenny and Beardo to begin their journey as bar owners, featuring both an early morning inspection and a surprising revelation from Beardo's father's will.
Playing with expectations
For Medeiros, who's spent much of his career in collaboration with his Stout Club co-founders, Open Bar represented a chance to branch out as a storyteller, something that began with the art style.
"I was trying to do something more cartoonish than I usually do, more simple and clean," Medeiros says. "That was not only an aesthetic choice but also a choice aimed to create a contrast with the type of story I was telling. I like the idea that one can be fooled by the drawings and end up getting an extra punch by reading something completely different from what is expected from what the looks of the book suggest. I guess I like to play with expectations."
That sense of playing with expectations also extends to the narrative itself, a story of struggle, friendship, and hard lessons that Medeiros said represents his ongoing growth as a creator.
"I think I got a voice I didn't have back then," he says when asked what sets Open Bar about from his previous work. "Here in Brazil, I was 'known' for creating autobiographical comics. I used to have a webcomic (in the blog era) named Sopa de Salsicha (something like Sausage Soup in English) that was also published as a graphic novel by a big Brazilian publisher. I had a lot of readers thanks to those comics, but with Open Bar I realized that I could go further as a comic book creator."
Open Bar arrives October 12, complete with an introduction by fellow cartoonist Skottie Young. For Medeiros, it's the end of a long creative journey, one that he already considers a fond memory of hanging out with two fictional pals.
"Open Bar is pretty special to me," he says. "I miss these characters so much nowadays and I think everyone, in one way or another, will feel a deep connection to them as well when reading this book. At least I hope so."
---
Get ready for the season with our guide to
summer 2022 comics and graphic novels
.