Eight Billion Genies imagines a world where everyone gets one wish (and the comedic consequences)
What if the world had one wish to be granted? The new comic series Eight Billion Genies by Charles Soule and Ryan Browne answers that question
What if everyone in the world was granted one wish? What kind of madness would that look like! Well, Charles Soule and Ryan Browne, the same creative team that brought you Image Comics' hit Curse Words, return with the new maxi series, Eight Billion Genies, that tackles this and more.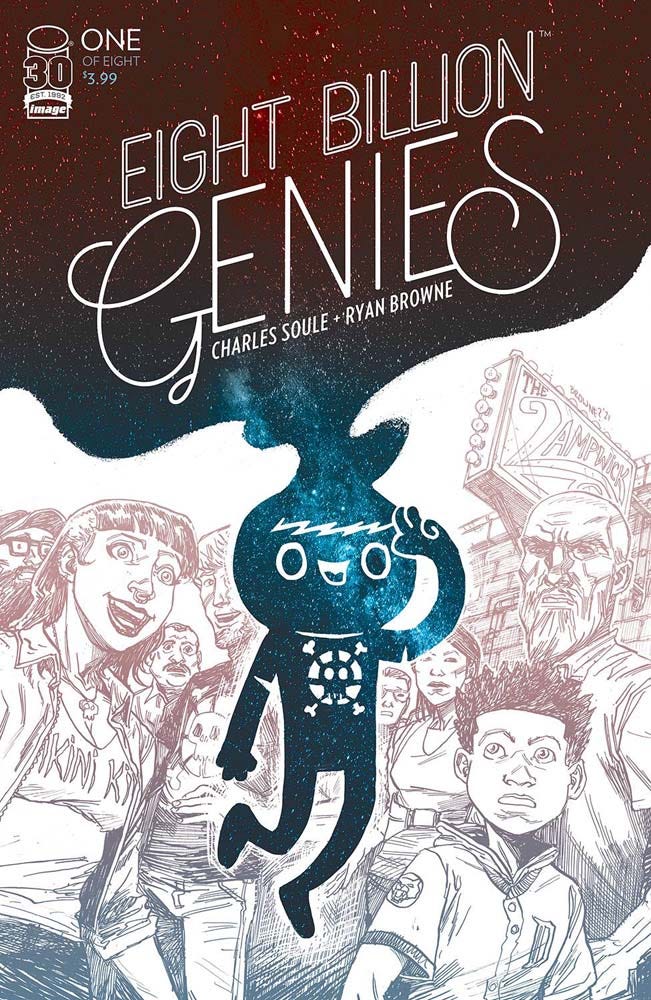 The brainchild for Eight Billion Genies actually came from artist Ryan Browne, before the duo even did any comic work together. Charles Soule told Popverse, "Eight Billion Genies (originally seven billion genies, but some babies have been born since then) was one of Ryan's 'impossible stories,' a book that couldn't be drawn, a tale that couldn't be told because it would end on page one when someone wished immediately for the world to end."
Soule continues, "I thought maybe there was something to it, though, and for years since then, all through our other major collaboration Curse Words, I never let it go. It took some time to figure out how it would work - how to build a framework around eight billion genies appearing, but it was just like anything else I write with a wild high concept. You get out the notebook, you start figuring out the rules and the characters, and either it works or it doesn't. Eight Billion Genies worked and then some."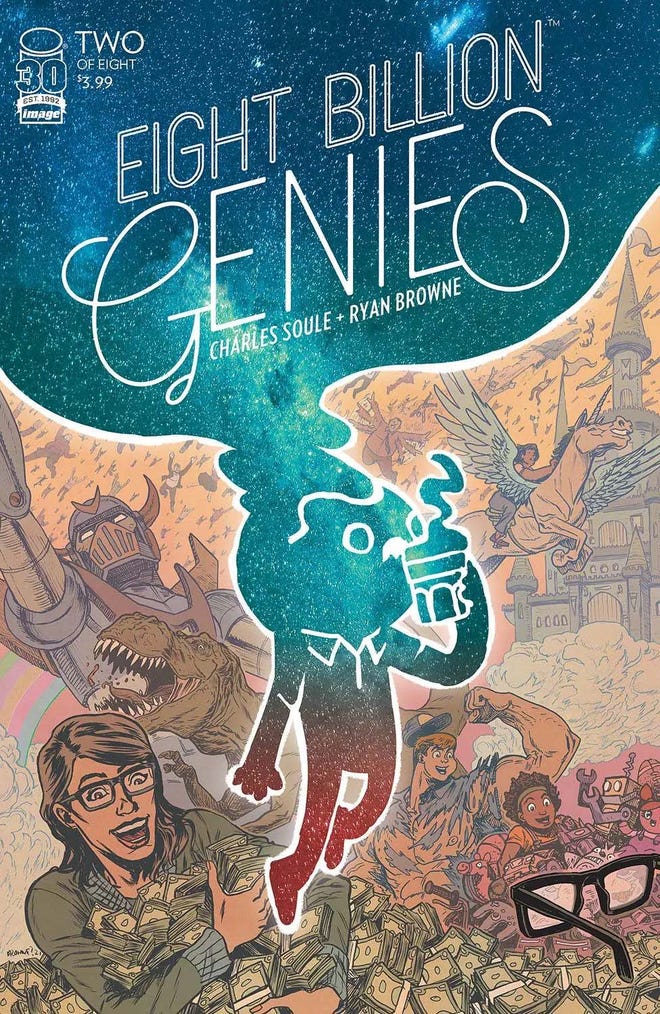 The first issue (which is available now) was all set up. Soule and Browne introduced you to a few local players, all building up to the exciting moment of the world getting their genies. But unlike many other narratives, there wasn't a true main character that was introduced. Soule said, "It's an ensemble piece! Everyone's journey is important. In a larger sense, I think you could say 'humanity' is the main character, since we're exploring what happens to the world when everyone gets a chance to bring their heart's desire to life, but that sounds insufferably writer-y. It's a bunch of cool people doing cool things and having cool adventures!"
When it came to the visuals of the series, Ryan Browne went in depth about how he came up with the series' look, "I wanted to do something that would set the look of the genies as being 'otherworldly.' I thought it'd be fun to have it be gritty and more toned down, darkening and muting the palette a bit so that when the Genies show up, they really pop like crazy. And then when they open the doors in the first issue to see the Genie filled world, it's a Wizard of Oz technicolor moment. I even thought about having the book be black and white until the Genies show up."
And there are going to be plenty of wishes the team will explore.
"From a visual standpoint, the look of the book really came together when I realised that children and dumb teenagers would have wishes, says Browne. "People with no perspective on this gift they have been given to have whatever they want. So, they might wish for a pet Dracula, or all food to taste like ice cream, or some video game character to be real. Dumb stuff, but the type of wishes that show up well visually when I have to draw a huge pile of chaos. A bunch of people wishing to be immortal or wealthy doesn't show up very easily as a visual."
"For my part," Soule adds, "it's been about thinking up the exact opposite kind of wishes from what Ryan just described. I like the really thoughtful wishes that expand the premise into new places, things that make the reader think about a wishworld in a new way. What I think both answers have in common is that they require us to kick our imaginations into high gear - it's a really invigorating challenge creating Eight Billion Genies."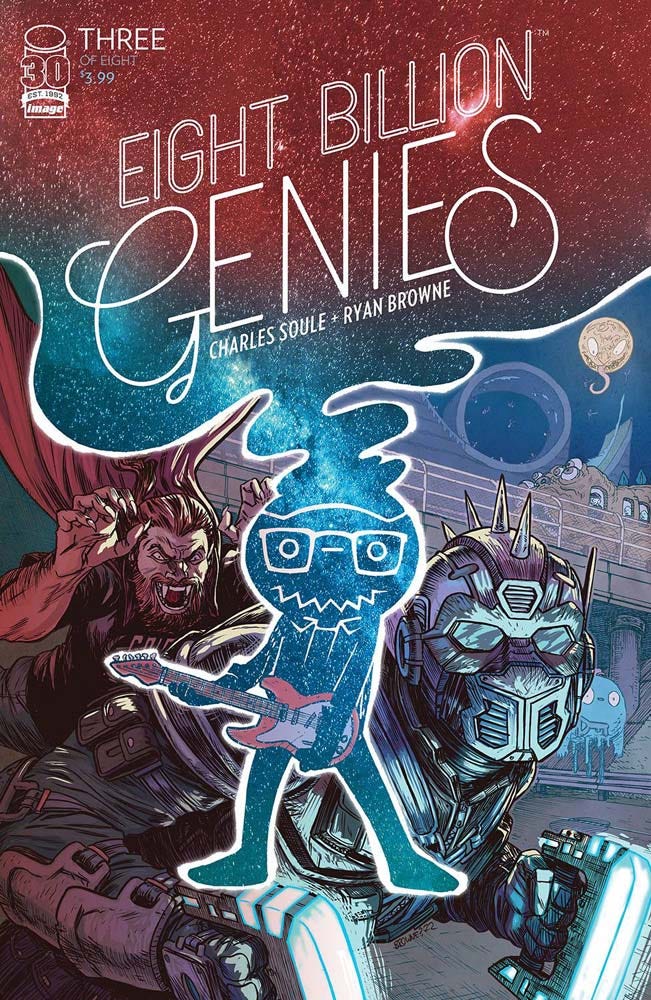 And for fans of Curse Words this is a must buy.
"The thing Eight Billion Genies and Curse Words have in common are the sense of boundless imagination, and the wry humor. Anything can happen in Eight Billion Genies, even more so than in Curse Words. There's magic, in a way, and pathos and horror and jokes so amazingly dumb you won't believe we actually went there. I think the two projects are perfect companion pieces - and Image just released a big hardcover omnibus collection of Curse Words on June 15, which has the whole series in it, so if you haven't checked it out there's no better time."
There are even Easter eggs from the creators' original team up. Browne teases, "All the visual Curse Words Easter Eggs I hid in this series. There are a lot of them! Also, my cat Simon is hiding in every issue just like he was in Curse Words. Lots to hunt for!"
The first issue is already on stands, but the creative team gave Popverse the low down for what's coming next. Browne told us, "Well with a strict eight issue series, it's hard not to spoil things. I find that showing the covers for future issues is hugely spoilery because there is such a time jump over the course of each issue. I will say that this book will be dense and each issue is very rewarding. That first issue was all setup, now you get to see what will happen over the next eight centuries!"
Soule concludes with, "I agree with that - every issue in this series flips the script, so to speak. Because each issue covers a different period of time from the moment the genies appear to give everyone one wish, we see humanity (and the world) evolving to vastly different places with each issue. It all makes sense, there's an internal logic to it, but the feel of each issue is purposely very different. Part of the fun of Eight Billion Genies is getting a new issue, being surprised at where it goes, and then thinking about it and being like 'oh yeah... of course that's what would happen!' You won't see this book's twists coming - but you'll be glad when you get them."
---
Get ready for this and all the big releases coming with Popverse's
summer comics
guide.