Drawing the line: The boundaries and joys of YA cartooning
The triple threat of the YA cartoonist panel at Emerald City Comic Con
It's no secret that the YA has slowly but surely taken comics as a whole by storm. Just over the last decade, children, middle grade, and YA comics have seen an increase in sales that is as impressive as it is encouraging, bringing entire new generations into comic books by way of representation, empathy, and most importantly adventure. It's no surprise then, that the people responsible for this sharp increase are some of the best in the business — which is to say a 'triple threat' combination of writer/artist/colorist that makes up for being a cartoonist.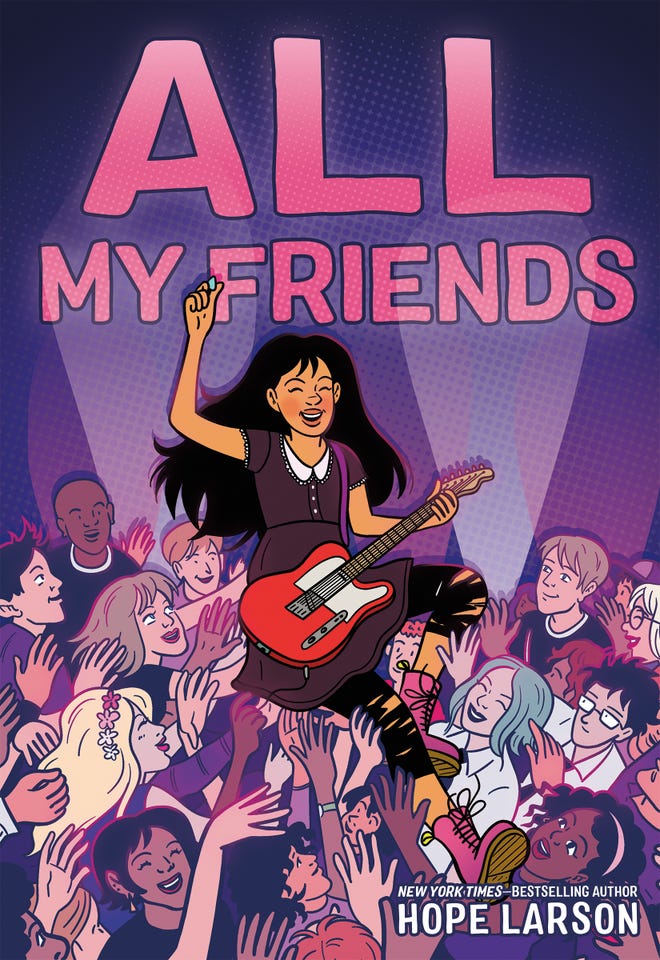 Among the many YA panels that were present at Emerald City Comic Con, fans were lucky enough to enjoy the YA Cartoonists panel on Saturday night featuring none other than cartoonist Hope Larson (Batgirl, A Wrinkle In Time, and All My Friends, amongst many other projects), and She Said Destroy and Star Wars cartoonist Liana Kangas. The late night panel began with a discussion about the artists' beginnings in comics, both reading initially outside the usual American comics sphere.
"I really liked manga growing up," said Kangas. "But I would sometimes see some single issues in the closets I was digging through, so I ended up in a lot of comic shops once I finally found them. It just started from there in high school and then I eventually started working in comic shops. Like oops, now my whole life is comics!"
Larson's experience was further outside the single-issue life of American comics; her childhood was spent immersed in European comics culture after her family had moved to France. "My dad was a professor and was on sabbatical while translating a book, so we moved to France for a year," explained Larson. "I didn't know any French but my parents chucked me into the village school anyway and had me learn by immersion. There's also a huge comics culture in Europe. In France there's BD —Bandes dessinées — so my parents were willing to buy me lots of comics like TinTin and Asterix and those sorts of things because they helped with my French comprehension. That's how I got so into adventure comics, which is still one of my favorite genres."
With Larson and Kangas both well-versed in creating adventures for kids, it only stands to reason that with a new generation comes new boundaries and new expectations. The moderator asked the panel what challenges writing YA stories presents as opposed to writing work within the more adult field. Kangas — whose work has largely been focused in the horror genre — remarked that sometimes the line is blurry, particularly when you take into account that these books are going to be picked up by kids of all ages when they're on the kids and teens shelves of a school or a library. Larson agreed with the sentiment that the boundaries of YA can be somewhat constricting, but that it is something that just makes you more aware as a creator.
"I have to take the extra time to think 'Well, if I put this thing in this book, is it going to keep it out of a library?' That's the line," says Larson. "If I'm going to put in a word or use bad language or something too scary, then am I going to be alienating readers? You have to keep the spirit of what you're doing while tilting it and pulling back just enough."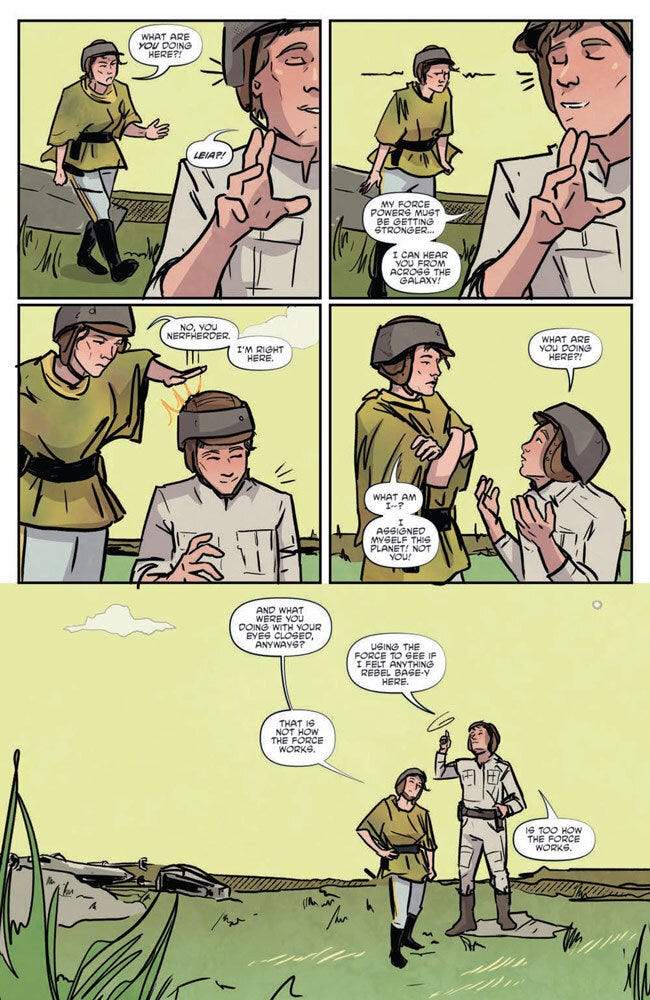 When it comes to finding that line for age ranges, there's no hard and set rule either, a fact that can sometimes make writing for young age groups something tricky – but also incredibly rewarding when it does land with the audience that it's meant to as well. According to Larson, the general rule among publishers seems to be that the age of the protagonist is tied to the age range of the book readers.
"If your protagonist is middle school age, then your book is going to be middle grade. If they're a little older, it fits into YA," Larson explained. "I did a panel with Jerry Craft [creator and cartoonist of the middle grade series New Kid] where he was saying that he wanted to have his character go to high school and was told no. He says that he just keeps crunching down the timeline!"
Kangas, however, shared their experience with the right audience finding the right book, saying that it was a high for them when a young reader reached out at a convention to thank them for their work on She Said Destroy.
"I think that was my first experience being thanked for that book — or maybe for my work in general," said Kangas. "There was a lot of queer representation in the book so it felt really powerful how much that resonated with them. It feels like all of those months of hard work pay off if you can connect with just one person."
While YA and middle grade publishing still has a long way to go in terms of inclusion and the ease of getting marginalized creators on the board, the overall feel for the industry is that YA is on the rise in the way that it should be. Though Larson and Kangas both admit that there's more growth to be had within the genre, the fact that they're still going strong at all — reaching new readers and resonating with audiences who can finally have their stories told — is the most important part of all.
---
Become a Popverse member and watch this full panel as Hope Larson and Liana Kangas talk about the writer/artist/colorist triple threat at ECCC
---
Check out this other Popverse writeup of a YA panel at ECCC-- Queer As In "More, Please": Discussing Queer YA at ECCC