ECCC '22 ends with an eye towards the future
Fans and staff at Emerald City Comic Con are looking forward to a new building, more late night programming, and maybe a solution to app issues, too
Opening the ECCC Team Spotlight that closed out Emerald City Comic Con this past weekend, ReedPop's VP of comics portfolio Kristina Rogers said, "We actually really enjoy doing these talkback panels even though they make us nervous." As it turned out, she needn't have worried; fan response to the show was overwhelmingly positive, with many eager to find out more as Rogers and team talked about what lay ahead for the show as it settled into its new home next Spring.
Before opening the panel – which also featured event manager Chris D'Lando, marketing director Fallon Prinzivalli, senior director of global sales Ryan Will, and content coordinator Camilla Di Persia – up to questions, Rogers wanted to share a couple of prebuttals to potential topics that she'd already seen raised on Facebook. Firstly, she was both aware of and apologetic for the lateness of confirmed information about both guests and panels at the show, something that she put down to current circumstances. "It is because we are running shows during a pandemic," she said. "If somebody's not feeling well, if someone's sick, they don't want to come." In the future, she hopes that ReedPop will be able to get information out earlier, but in the meantime, she thanked everyone for their patience.
Secondly, she wanted to let everyone know that next year's ECCC (taking place March 2-5) would actually be taking place at a new location, Summit – the expansion to the Seattle Convention Center opening in January 2023. "I am super pleased about that," Rogers said, adding that the ReedPop team actually toured the new location in advance of this year's ECCC, and calling it "absolutely gorgeous." Particular praise was given to the design of the new building, which "has been built with such a mindfulness towards accessibility," unlike the admittedly awkward six-floors-and-more-escalators-than-you-could-imagine current building. Rogers described it as the first time she believed that designers and architects had considered shows like ECCC when laying out buildings.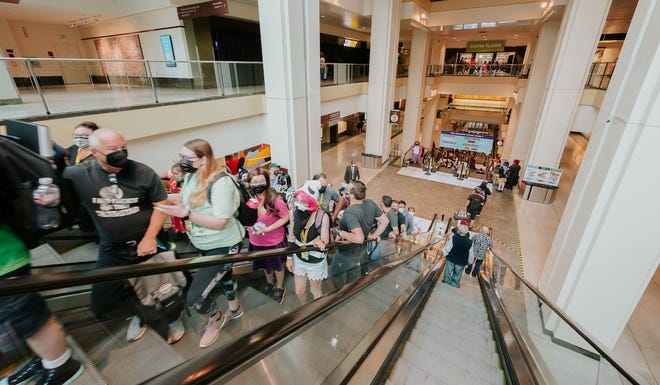 New Space, The New Final Frontier
Much of the Q&A session that followed centered around the new space, which may already address many of the complaints people had about this year's show. The very first question asked was whether or not the show would be more consolidated once it moves to the new building, as opposed to being split across two convention center buildings with additional panels at the nearby Sheraton Grand hotel, prompting Rogers to exclaim "Oh buddy!" in joy. "We will not be having off-site panels," added Chris D'Lando.
In response to another question, Rogers said that both the show floor and Artists Alley spaces are likely to be bigger in the new building, with organizers currently debating where everything is going to be placed. There is, apparently, a disagreement between Rogers and Ryan Will on this subject, although whether or not that was a piece of end-of-convention kayfabe is open to question; by the time both got into offering election-style promises to woo the crowd onto their team, things were getting just a little loopy.
Something that is really under consideration, however, is the potential the new space – and the new amount of space – offers to organizers in terms of reconsidering the placement of exhibitors on the show floor, with some changes in layout being something else under consideration; Will mentioned the possibility of playing up a more localized feel for the floor in the future.
While feedback was generally positive in response to D'Lando asking the crowd, "Wouldn't it be nice if you didn't need to leave to go to the main stage?," one fan did raise the fact that, with the big celebrity panels being held in a different building and far away from the show floor, it allowed for faster and easier foot traffic, freed of any autograph lines or queues for a well-attended panel. Everyone on the panel was aware of the issue, Rogers assured them, promising that the flow of movement is going to be continued in the new location.
The prospect of having a sizeable main stage in the new building – it was estimated at being roughly the same size as the main stage at the Javits Center in New York, if not slightly larger; that's a 3,300-seater, for context – prompted one fan to ask about crowd management in the future; would the room be cleared between panels, and would fans be able to leave the room and return without having to wait in line again? As plans currently stand, there will be wristbands to allow easy re-entry to the room for bathroom breaks, with the main stage only being cleared for the Cosplay Contest and paid private events, as in this year's 3 Worlds/3 Moons event.
The new space will also offer the chance to increase the number of after-hours events at the show, panelists teased, with D'Lando mentioning musical performances, karaoke, and even a beer garden as possibilities for next year's convention. "I really want to grow the late night [programming]," he said. "We're looking for reasons to convince you to stay at the show all day."
Also potentially on tap: burlesque performances. A fan specifically asked about that, and Di Persia said that organizers hoped to have that in place for next year. "We do it at our Florida event, and it goes down really well."
Security access for late night events, which had occasionally been a problem at this year's show, was something that the team was aware of and working on, they said. "Sometimes information doesn't flow fully," admitted Di Persia.
With the move already in place for March, one fan asked if the convention could possibly expand even further, and return to the existing Seattle Convention Center space in addition to the new building? "Maybe we can talk to this confusing building again in the future," Rogers affectionately joked. "As soon as we're ready to take it on, we [could] be expanding into these buildings again." That could take place as early as 2025, she suggested.
To Print or Not To Print
Another running topic across the hour-long panel was the way in which attendees receive information about the show itself. This was the first year in which the traditional print program was replaced by an app, and it was clear that not everyone was entirely convinced by the changeover – even if, as one person put it, "I'm not complaining, per se."
At issue were two separate, but related topics: firstly, that the app wasn't necessarily serving those who wanted to find information about, and directions for, the show, and secondly, that fans missed having the physical souvenir of the event that a print program provides.
On the former, Fallon Prinzivalli said that the third party vendor responsible for the app had just pitched a new design and build, with an eye towards improving accessibility moving forwards. "There's some things we can fix on the fly, and there's some things that we can't," she said.
Problems with the app weren't helped by a building that seemed at times to be actively fighting against wifi or cell connectivity. "I think that this building kind of threw out the app for a loop," Di Persia said.
Nonetheless, the app has an obvious benefit that print doesn't: it can be updated with up-to-the-minute information with ease. As Di Persia pointed out, because of the schedule changes that have resulted from the pandemic, the idea of a physically-published program guide is almost guaranteed to contain incorrect information. "The minute we print it, we're wrong," she pointed out. "Things change a lot."
Rogers also made the argument that there are both environmental and work-hours costs to the printed program guide that deter ReedPop from returning to that format: it takes roughly 55 hours of work across 12 different people to put the program guide together, with the majority of the printed versions discarded before the end of the show. "But we also don't like our mobile app," she added, empathizing with fans who have found digital solutions to be lacking.
Both Prinzivalli and Will brainstormed on potential solutions with audience members, including printing a significantly smaller guide (a tearaway map edition was suggested), or creating a digital edition that fans could print themselves at home if they so wished. Will argued that one problem with creating print program guides is that the majority of the audience isn't that interested – "At an event where people love free stuff, we can't give that stuff away sometimes," he shared – and asked the crowd, what would make a program guide more of a souvenir that they'd want to hold onto?
The lack of clear answer arguably demonstrated that fans aren't any clearer on the solution to this problem than organizers. (One fan did suggest the idea of creating variant editions of a program, geared towards different fandoms, however.)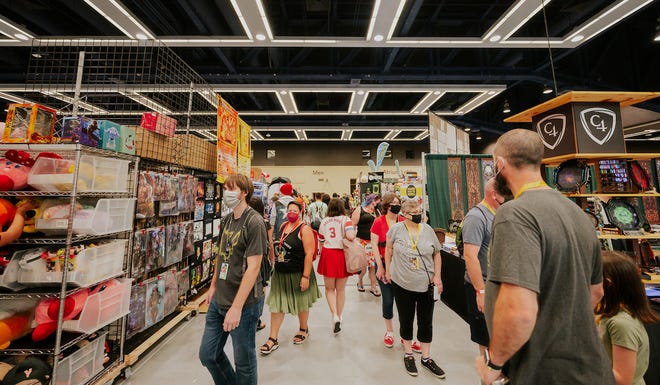 Mindfulness, Diversity, and Recovery
Elsewhere during the panel, organizers were lauded for their push towards diversity in terms of programming, exhibitors and guests, with Rogers crediting Di Persia for much of that effort. "Her approach to content is so mindful," she said.
It isn't all down to one person, though; a comment about a shift in demographics in Artists Alley away from white, male artists creating less "lewd" artwork of women prompted Rogers to talk about the "really excellent Artists Alley team" that puts the area together at each show; they work very hard at trying to create a space that's inclusive towards artists producing all kinds of work, with an eye to making as diverse a space as possible.
Not that there's anything wrong with "lewd" artwork, of course; Di Persia joked, "I love a lewd, but it's good to have balance," adding, "Make Emerald City sexy again." Let's make that the slogan for next year's show, please.
A fan in costume brought up their feeling that there was less cosplay content at this year's show, suggesting that it made them feel as if cosplay wasn't as welcome at the show as it has been in the past, something that was pushed back on pretty heavily. "I promise you that's not the case," Di Persia said, "Maybe our intention was maybe a little misrepresented." Organizers had attempted to focus all of the special programming – which included both Pop Asia as well as cosplay content – in one part of the convention center, in order to make it easier for fans to keep organized and focus, but they conceded that perhaps it had instead led some to feel ostracized, instead. Any reduction in cosplay-centric programming, however, was simply down to fewer submissions from fans for cosplay panels.
A comment about a lack of cosplay live streams or video was fielded by D'Lando, who said, simply, that organizers had prioritized other areas with limited equipment this year. "Cameras are really expensive, full disclosure," he said, although he added, "That is a note that we're definitely going to take to heart."
Complaints about unfortunate overlap between panels – specifically, the Christopher Eccleston spotlight and the Doctor Who Fan Panel, and the Jinkx Monsoon and Bendelacreme spotlight and the Our Flag Means Death cast – were heard and apologized for, with the latter overlap a particular source of upset for Di Persia. ("I don't like splitting my gays up," she joked.) In both cases, they were the result of talent availability and communication issues. Rogers said that Di Persia "plans this experience for fans based on what they like in her head, and when things get upended, she stands at the back of the show store, upset."
When asked how organizers schedule the show, Rogers shared, "We make a list of things we're disappointed about when we're at the show: what are we overhearing, what are we disappointed about?," and work from there. Attendees are sent a post-show survey, and Rogers personally reads every single one ("...with a bottle of wine," she added). The team looks for trends in all of the feedback received for the prior event, and approaches planning new shows with those trends and comments in mind. When it comes to this year's ECCC in particular, Di Persia said, "We're all recovering and coming back into this as well, just as fans are."
As the panel wound to a close, Rogers told the audience that Emerald City Comic Con – the show at which she personally got her start – was "near and dear to her heart," adding, "We really value each of you. Have safe travels home."
---
Team Spotlights and talkback sessions at the end of conventions are an important tradition that say a lot about how successful the shows have been in the eyes of the fans that showed up. Look back at the San Diego Comic-Con talkback from July, as well as what fans thought about C2E2 earlier this month.