Everything you need to know about putting on a great fan-run panel for a comics convention
Panels, Poise, and Pattering: Getting the most out of presenting your fan-run panel
I have attended four comic conventions over the past two months. This is a higher than average number due to my job as a pop culture writer for nearly six years, and a feat that is nothing short of exhausting and exciting in equal measure. Even before I had this job, though, when I was a fan, conventions were a regular event for me, and something I looked forward to every single time. Aside from the joys of discovering new comics, and finding some seriously incredible art for my walls, one of the things that keeps things at comic con feeling fresh and exciting is the panels — for better or for worse.
Whether they're something fan-created or set up by a big fancy publisher, panels are a large part of the glue that keeps comics conventions rolling. Where else can someone who is an actual professional stand up on a stage and talk about how Legion of Superheroes shaped their life? Upon which other stage can someone with a massive catgirl tattoo explain to me how to make an effective D&D cosplay? Not very many places. And so comic cons find themselves becoming these wonderfully little niche hubs where fans and professionals alike can gather to hear about each other's shared obsessions.
Unfortunately, this also means that comic cons are niche hubs where fans and professionals can gather to hear about each other's shared obsessions. Sometimes that means programming going off without a hitch and the audience — no matter the size — being entirely into it and having a good time, and sometimes that means there are literally people snoozing in the aisle seat. So what sets good panels apart? What exactly makes a panel run smoothly and be, for all objective purposes, good? After a handful of years attending shows both as a fan and as a professional, I think I've cracked the code.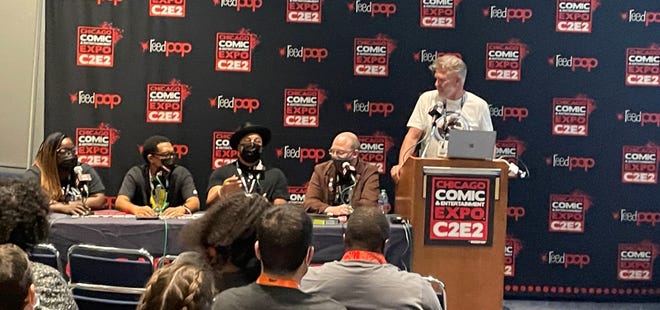 Calling all Chatty Cathys
It's undeniable that choosing your guests is of utmost importance when planning and carrying out the vision of your panel. While it may be tempting to pick your very best buds for the job, take the time to consider not just who you're excited to hang with, but who is best suited to talk. After all, panels are all about talking about your given subject in ways that are as entertaining as they are smart. Whether you're approaching your topic from an academic standpoint or historical background or as a casual conversation about something near and dear, an enjoyment of public speaking should be a quality behind your choice of panelists lest you find yourself with dead air and a panel full of people reluctant to speak up.
A prepared moderator is a good moderator
One of the most common problems among panels —both 'official' and fan-run — is a lack of preparation from moderators. Though there will always be the time where your original moderator choice couldn't make it and you're scrambling to find someone to take their place last minute, these issues can be avoided by making sure you have a backup person whose knowledge base matches your needs. The last thing this world needs — from an audience or a panelist perspective — is someone asking overly-broad boilerplate questions ('So what are your influences?' or 'When did you start doing this?') that can be found through the first answer on a google search of a person's name.
Above all, moderators should be prepared to drive the conversation while not overly-inserting themselves, asking questions that will engage the audience in a way that they won't be when reading about the panelists on their own time.
This is a convention! It's not too much to expect something extraordinary.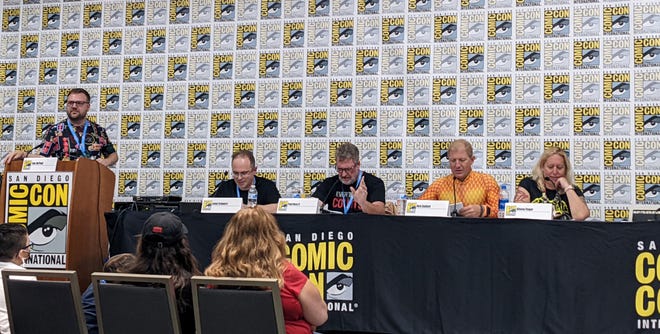 Have a presentation aid, not a presentation
Many panels, especially those who harness the power of visual history or comics pages, benefit greatly from slide shows, video clips, and a variety of images. If you're planning on using the tech to aid in your panel, make sure it's used as just that — an aid. On many occasions — particularly with fan-run panels — slideshows with notes and images are often used as a bullet-point list to lead the presentation and offer up about the same amount of personality as a wikipedia article.
Instead, if you need notes, perhaps keep some reference at your station and lead through your knowledge (Which you have! You submitted a panel at a comic con!) and enthusiasm for your topic with your slide show as an aid to better cement your topic. Running a panel is hard and there will always be nerves involved, but people are there to hear something new, and you are certainly the person to deliver — leave the read-along powerpoint presentation back in high school!
Be Spandex - Let the material stretch
The majority of convention panels are slated for 45-50 minutes. You can expect to have to talk through at least 30-35 minutes of that, leaving room for 10-15 minutes of Q&A at the end (if you're offering it). Coming up with 30+ minutes of material can be somewhat difficult regardless of how passionate you are about the subject, so make sure you're prepped with a plan! It can be helpful to come prepared with an outline of questions and topics relating to your panel.
With that in mind, we revisit the 'choosing your guests' point, where it's easy to have a nice, long, and fun talk about something you love if you're among like-minded and chatty friends. Between surrounding yourself with people you're comfortable talking with and having a plan of action, the time will be over before you even know it.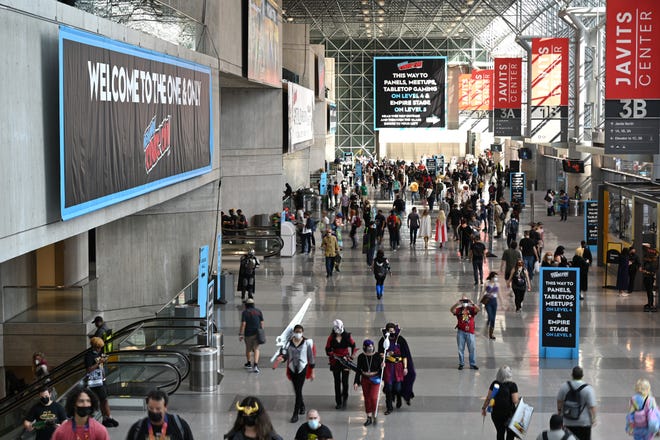 Perspective! Perspective! Who's got perspective?
One of the key parts of a panel is offering up a perspective. Considering how long comic conventions have been happening, it's rare to find a subject that hasn't been talked about at length from behind a panel table full of tiny mics. What will make your panel different, however, is that it's being done by you! What perspective do you have on this subject that someone else might not? What experience do you have that might be relatable, but outside the scope of some people? What can you teach people about this topic that they can't find elsewhere? Though the panel may not be about you, specifically, your personal relationship and knowledge of the topic is what will make it a one-of-a-kind experience.
Take a deep breath
It might seem daunting to try to balance everything I've written above. After all, you're trying to plan who to talk to and plan how to make things engaging and interesting and plan things to aid in keeping your discussion going — but after all of that planning, part of what makes a panel stand out is its ability to just breathe. Don't be afraid to let your panelists take the panel where it's meant to go. And if you don't get to all of your questions but you got some great stuff happening between your panelists on your topic– i'd argue that's even better.
The fine line to aim for is the one between informative and casual, and for as many fun people as there are in the pop culture world and as many wild, funny, intense, and meaningful topics there are to speak on, it's not even a challenge to make your panel land squarely in the middle. All it takes is a deep breath in and the confidence that you're going to absolutely nail it.
---
Are you heading to a convention soon? Check out Popverse's guide to
Convention essentials: Almost everything you'll need for a great convention!