Exploring the impact of religion on society: Jae Lee and Robert Windom on Seven Sons
Jae Lee and Robert Windom discuss Seven Sons
Jae Lee has had a lengthy career in comics spanning over 30 years. In that time, he worked for various publishers and earned a couple of Eisner nominations and one win for The Inhumans. However, it's surprising his last creator-owned project was Hellshock back in the '90s. Not long ago, he returned to his independent roots with Seven Sons, which was released on June 15 from Image Comics.
One of Lee's collaborators on the project is Robert Windom, a film producer and writer known for the movie Stars Fell on Alabama and its sequel, Stars Fell Again. Windom is also in the comics sphere serving as executive producer of Dave Stevens: Drawn to Perfection, an upcoming documentary about The Rocketeer creator.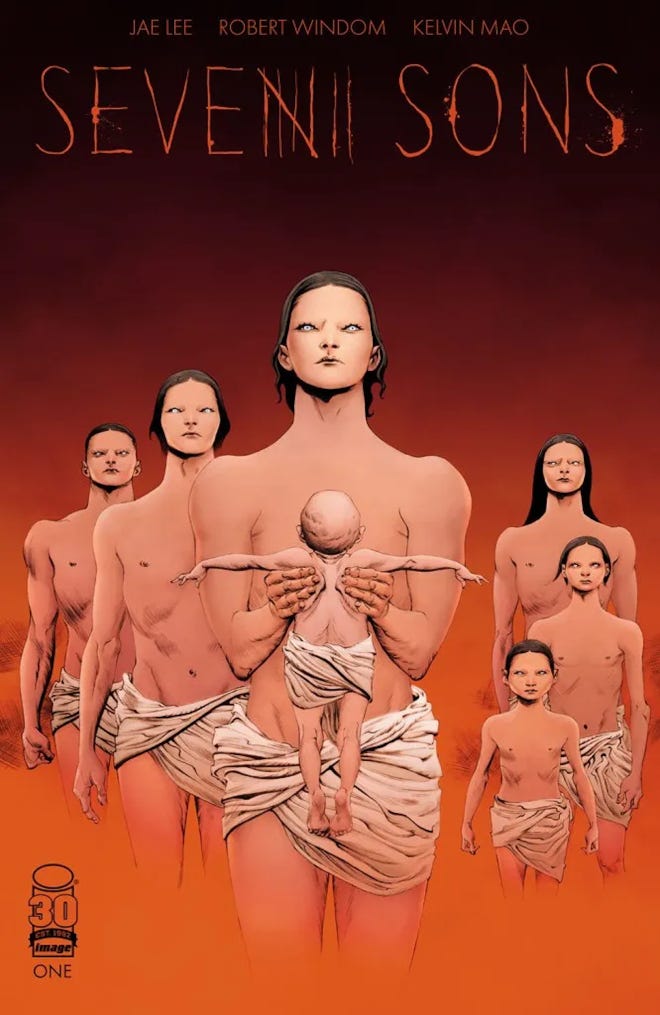 The seven-issue limited series is co-written by Windom and Kelvin Mao with art from Lee, colors by June Chung, and letters by Simon Bowland. The story is an alternative history in a religiously twisted version of Las Vegas known as New Canaan. A young man named Delph suddenly awakens on the streets and goes on the run to learn more about himself and whether he is the Second Coming of Christ.
Recently, we had the opportunity to speak with Lee and Windom about Seven Sons. The pair shared more details about their comic, discussed the creator group dynamic, and teased what readers can expect from the series.
Popverse: I know that Robert and Kelvin have worked together previously collaborating on the upcoming Dave Stevens documentary. I was curious how Jae came on board Seven Sons. It's been a while since you've done a creator-owned book. What exactly drew you to this particular project?
Jae Lee: It's all about the story. For the past decade I had grown quite comfortable only doing covers. It would take one hell of a story to get me back to drawing interiors. When Robert told me about the concept behind Seven Sons, I immediately jumped on board. Very rarely does a story like this come around where I can visually build it from the ground up.
Robert, you have a background in film. What did you feel is the biggest thing you had to adjust to for the comics medium? In what ways did screenwriting help prepare you for developing Seven Sons?
Robert Windom: The action-versus-dialog balance in terms of "screen time" is very different between comics and film/TV. Kelvin and I really had to concentrate on different kinds of shorthand to distill the action to the most important elements. Also, I didn't realize how time-consuming writing for comics is! There's a second round of writing to fit the original dialogue to the art. And thankfully Kelvin is good with sound effects. Those alone could take me days to figure out.
Kelvin has mentioned in previous interviews, with creative work, you have to trust the advice of people who've done it before. For Robert, since Jae is the veteran of the team, did he give you any helpful pointers during the process? And for Jae, was there anything new you learned about making comics while working with Kelvin and Robert?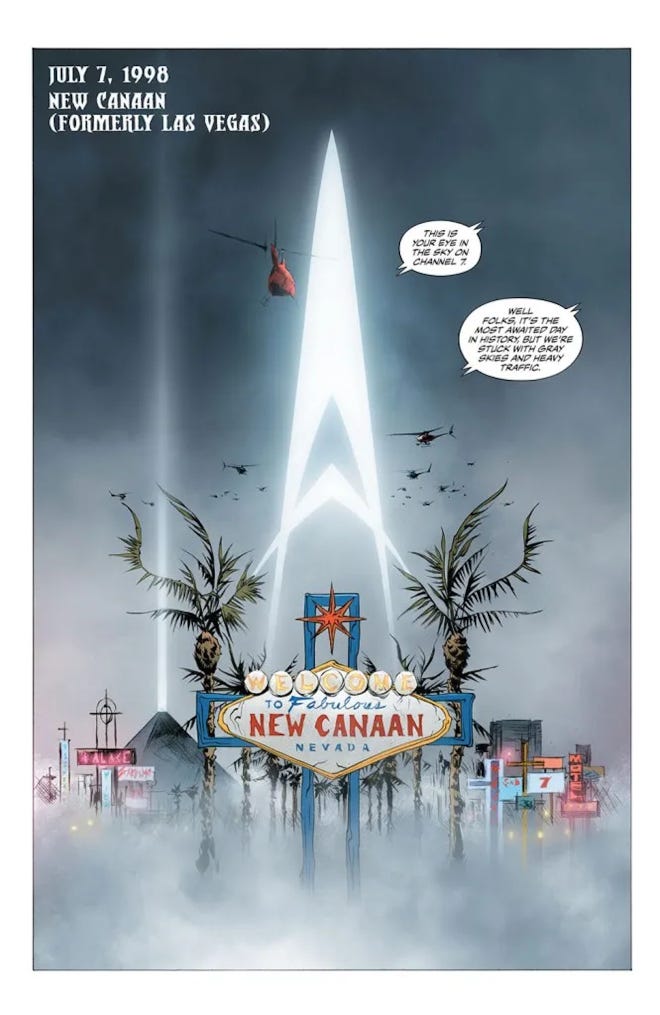 Robert Windom:
Kelvin and I have learned a lot from Jae. He has a fantastic eye for detail and a true talent for storytelling. Jae's comments helped us focus our action descriptions to find the most impactful way to stage a scene on the comic page.
Jae Lee: Does re-learning count? I've been doing this for over 30 years. Along the way, you lose sight of the magic of having a comic book come out with your name on it. Through Robert and Kelvin's excitement for this, their first comic book series, I'm feeling those old emotions, though long buried, come rushing back. Like all creator-owned books, this is the product of a whole lot of blood, sweat, and tears. This is everything we have, put down on paper.
Robert, you have stated part of the reason for creating this title was to explore the impact of religion on society. How did your own views on the subject influence how you approached the comic book?
Robert Windom: Honestly, very little. Kelvin and I did a heck of a lot of research to build out a very detailed, realistic world, and over the series we explore different aspects of faith and how people of many different religions would react to the existence of multiple Jesuses (Jesi). People familiar with the Book of Revelation will also find hidden meanings throughout the series. A significant amount of thought and planning went into this!
Considering the religious themes and the possible second coming of the son of God, it's interesting that Seven Sons takes place in a Las Vegas-esque city. Can you discuss the decision on why you chose this particular setting?
Robert Windom: What better a place for a symbolic showdown with immorality than Sin City? Las Vegas has giant cathedrals for worshipping the age-old deity money, so the infrastructure is there for someone to co-opt the buildings to expand a new religion. And if the real Vegas is hyperreal, adding a few living gods would take that to an entirely different level, which Jae does an amazing job of portraying.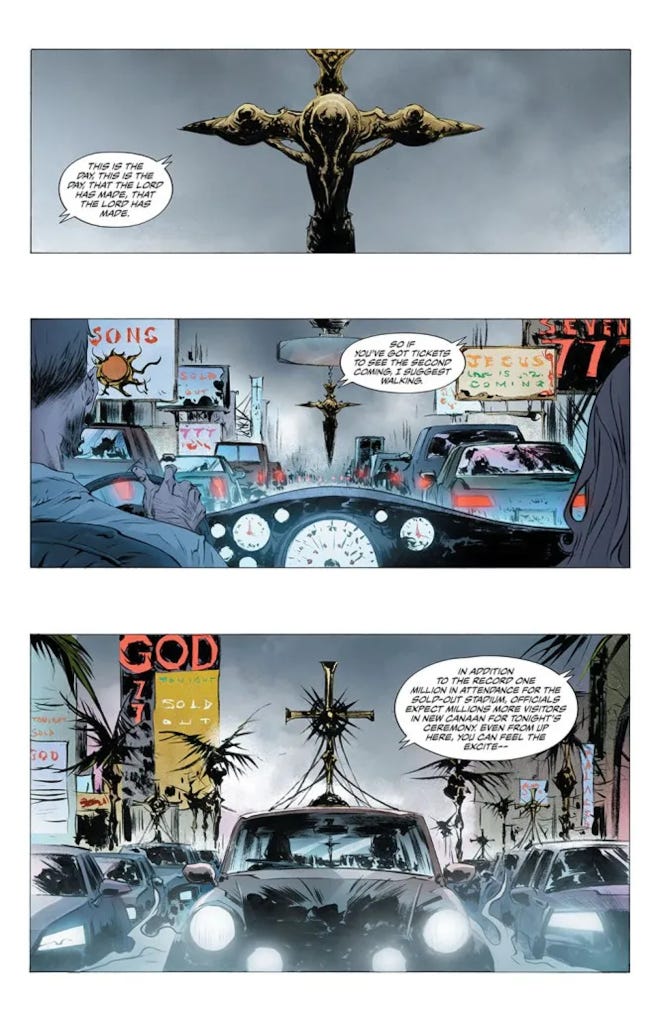 Jae, I was curious about how you went about with the visual world building of New Canaan and its inhabitants. What did you do artistically with the character designs and backdrop to have them match the dark, mysterious tone of the story?
Jae Lee: The story is carried by the last remaining sons. If they don't look the part, we've lost already. It's like trying to cast the lead in a movie. I wanted them to look messianic but unsettling at the same time. It didn't take a lot of effort on my part because all of my characters look weird anyway. Coincidentally, I live in Las Vegas, so reimagining it as the newly-crowned holy destination of the world in our story was ridiculously fun.
Finally, we'll leave off on this. The first issue of Seven Sons arrives this month. Without spoilers, what can you all tease for readers in the future parts of the mini-series?
Robert Windom: I promise you Jae's art will continue to be absolutely phenomenal! He's an all-time great doing the best work of his career. On the story side, there will be a lot of unexpected twists and turns as we explore this alternate timeline. By the end of this seven-issue arc, the events in the first issue will take on different meanings – and hopefully warrant a second and third read!
Jae Lee: This was originally going to be a six-issue mini-series. I pushed for seven issues because, duh! True story.
---
Order Seven Sons from your local comics store today!
---
Interested in other new comics launches this summer? Check out Popverse's guide to this summer's biggest comics!