Farewell to Smithsonian's Giant Panda Cam: the best lo-fi entertainment for more than a decade
As the National Zoo says goodbye to their Giant Pandas, it's time for us to say goodbye to the Panda Cam
The three Giant Pandas who made their home at the Smithsonian's National Zoo are on their way to a new life. This morning, Tian Tian (age 26), Mei Xiang (age 25) and Xiao Qi Ji (age 3) boarded a fight from Dulles International airport for the 19-hour journey to Chengdo, China, where they will start a new chapter.
Giant Pandas have been at the National Zoo since 1972, when the species was still listed on the endangered animals list. Years of hard work from scientists and conservationists around the world led to the Giant Panda's status being downgraded to vulnerable in 2016.
One reason, especially for this writer, that so many people have gotten so involved in the lives of Giant Pandas, and these Giant Pandas in particular, is due to the National Zoo's 24/7 live Panda Cam, which launched in 2011 and has since garnered more than 100 million pageviews.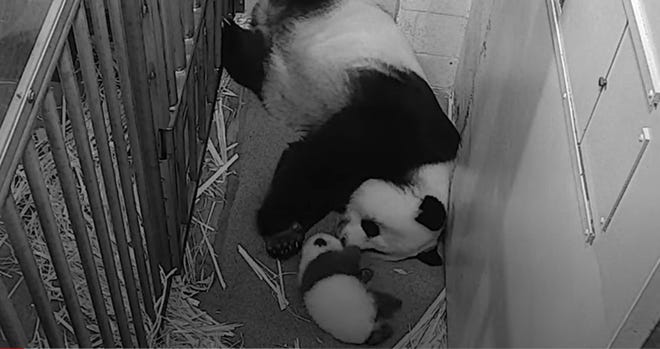 During the early days of the pandemic watching brand-new baby Xiao Qi Ji grow from rat-sized to panda size day-by-day was truly incredible. And even during a regular year, there's really nothing like catching a live glimpse of a Giant Panda chomping on a stick of bamboo.
But with today's departure of Tian Tian, Mei Xiang, and Xiao Qi Ji, the camera has offically been turned off.
If you go to the Giant Panda Cam site now, the website reads, "Thank you for visiting the Giant Panda Cam page. Tian Tian, Mei Xiang and Xiao Qi Ji have departed the Smithsonian's National Zoo and Conservation Biology Institute and are now on their way to China." It's enough to bring a tear to any Panda Cam lover's eye. But the zoo isn't leaving us completely empty handed, they've put together a few great videos compilations of these beloved pandas' lives, as we once saw live.
You can watch one of these videos below.
And if you're still searching for some live animal fun, you can check out the Smithsonian's Cheetah cub cam, Naked Mole Rat cam, Lion cam, and Elephant cam. A fair warning for those who haven't immersed themselves in the live zoo cam life - these are still cameras, so you're not always going to be able to catch a glimpse of these animals. But that's what makes it so special when you do.
---
Want to know what's coming up next in pop culture? Check out our guides to upcoming movies, upcoming TV shows, upcoming comics, and upcoming comic conventions. If you're looking for specific franchises or genres, we have all the upcoming MCU, upcoming Star Wars, upcoming Star Trek, and upcoming DC movies & TV for you. If you're a fan of superheroes and not specific to just Marvel or DC, we have overall guides to all the upcoming superhero movies and upcoming superhero TV shows (and new seasons) as well.