Free comics to sell comics: The unnatural order behind the new comic Unnatural Order
Inside the novel plan to sell more comics by not charging at all (sometimes)
There's a process to becoming a fan of something. For the most part, you have to know it, then like it, then like it so much that you'll want more. For one comic publisher, they're disrupting the traditional comic book business model with one simple idea: That the best way to sell comics is to give them away for free.
(Well, some of them at least.)
Vault opens doors to new readers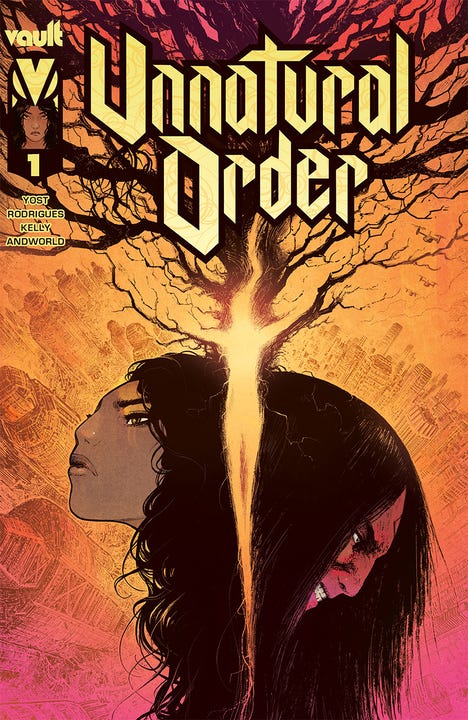 Montana-based publisher Vault Comics is launching a new comic book series which it hopes will be their next big franchise, called The Unnatural Order. After seven years in business and numerous new comic book series launches, however the leadership at Vault Comics realized one of the main hurdles was getting the comic books to fans.
Why? Because of the way the North American comic book system works. As things currently stand, retailers have to take an educated (and financial) risk on what comics to stock, which works to end up with retailers leaning more towards established names and franchises such as Marvel and DC over genuinely new things... and, unlike the magazine market, retailers have to pay upfront for comic books it wishes to stock - and if it doesn't sell, for the most part stock isn't returnable, leaving retailers to carry the cost.
To help mitigate that hurdle, Vault decided to take the risk on themselves. How? By making The Unnatural Order #1 free to comic book stores.
Yes, free.
As I said, to become fans of something people have to know what it is. It seems unnatural to buy something without knowing if you'll like it, after all. Not impossible, but a far bigger ask to make of potential readers, especially with dozens of other comics on shelves each week tht carry some name recognition. So to sell comics, Vault realizes people have to know the comics... and that the best way to do that is to make it risk-free for the companies stocking the comics - the comic book store retailers - to have it there for people to try.
So how is the actual comic?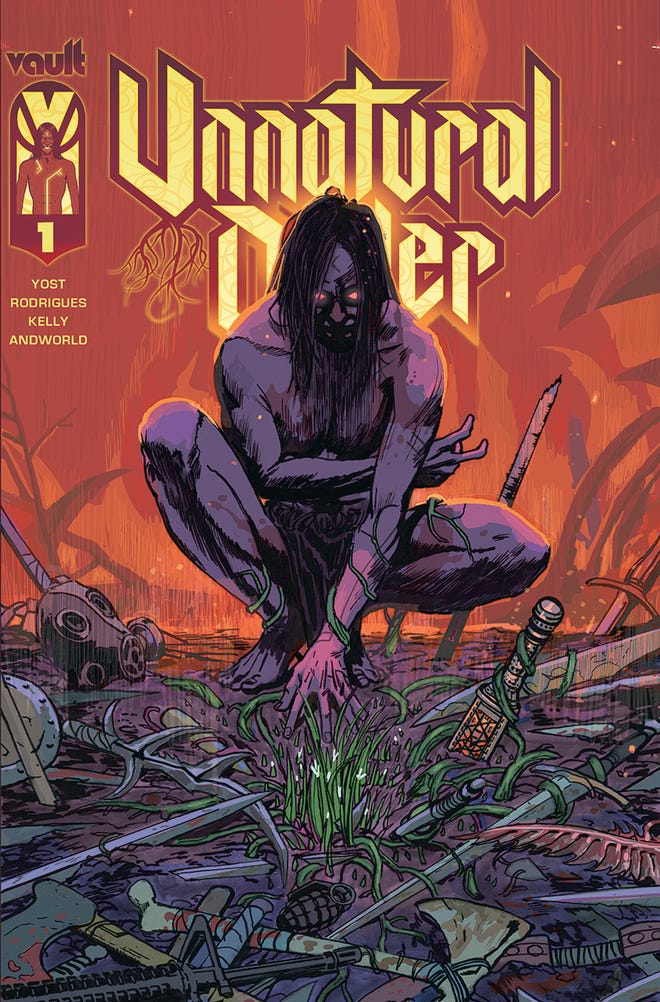 Making the first issue of Unnatural Order free to retailers isn't to say Vault doesn't have faith in the story being told in the comic; if anything, it's the exact opposite. Unnatural Order is an alternate history fantasy story about an evil figure known as the Druid who took control of England and Ireland - and the person from another time that knows this isn't the way history originally unfolded.
It helps that Unnatural Order comes with quite the creative pedigree: it's written by Christopher Yost, the writer of Thor: Ragnarok and one of the writers of Star Wars series The Mandalorian. Yost is far from a newcomer to comics; he's written more than a few comics for Marvel in the past, as well.
While Unnatural Order had a chance to be a hit on its own in normal circumstances, Vault came to the realization though that in a busy market with dozens of new comic books debuting each week, that you need to do something to stand out from the pack - and helping those who put comics in fans' hands is the best place to make a difference.
"We know this has been a tougher than expected year for retailers. So, we're making a game-changing move. We're taking our biggest book of the year and giving it to you for free," said Vault CEO Damian Wassel when this plan was announced. "Give it away or sell it. It's up to you. What do we ask in return? Simple. Make this the best-selling comic of 2023. Get every copy you order in the hands of a customer within a week. And then, heck, maybe we'll keep up this crazy gambit with all our new comics."
Speaking of free, here's a preview of Unnatural Order #1:
Free while still being sustainable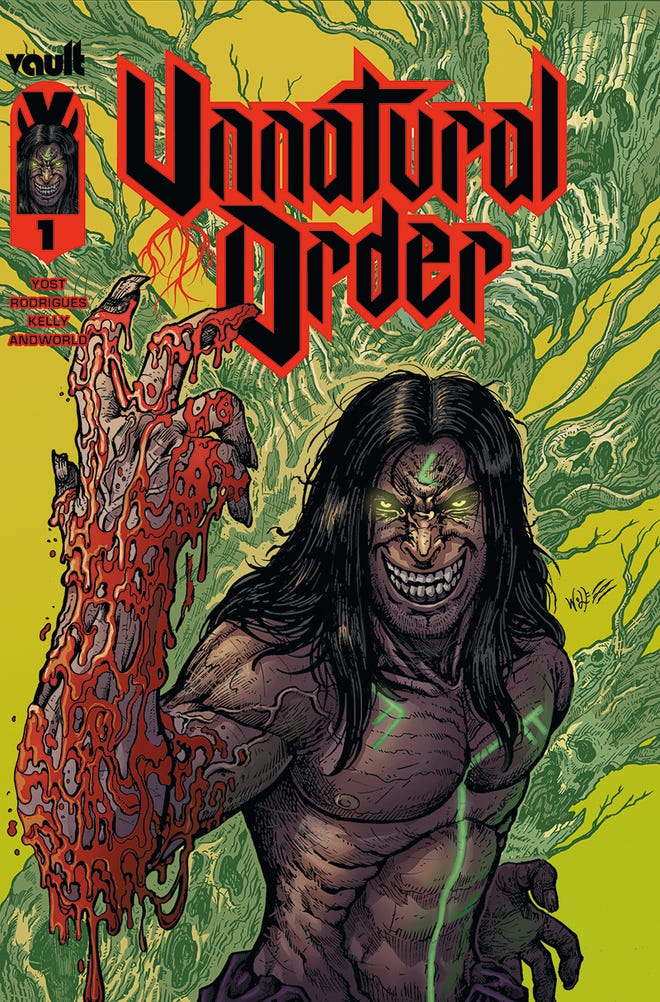 While "free comics" for fans has become so common there's a day each year for it (Free Comic Book Day), even then retailers have to pay for each of those free comics - at least the shipping costs, but oftentimes a bit more. Instead, for Unnatural Order #1, Vault is making it "free" for retailers - the defacto ambassadors for this to comic to their customers in the cities and towns of North America - while also making it so the retailers can make some money off it.
"I don't pretend to understand the business of it, but [Vault Comics] LOVE comics," Unnatural Order co-creator/writer Christopher Yost said when the announcement was made. "They love their partners. They want all of us to succeed, to celebrate comics."
Free comics to get comics in front of fans, to ultimately sell comics (later) to those fans. It's as if Unnatural Order #1 is the trailer (free) towards the actual full project, which in this case is the Unnatural Order series as a whole.
So... what happened with this 'free-to-retailer' business model Vault tried? Retailers noticed. And ordered.
According to Wassel, Vault Comics ordered "approximately" 137,000 copies of Unnatural Order #1 to meet the demand. For those unfamiliar with comic book sales in 2023, that's alot. Specific to this comic, that number is inclusive of the free version of the issue, as well as all other variant covers.
So what happens if this is a hit and people want more of #1? Besides digital editions of the book online and the second-hand comics market, Vault has decided against overprinting copies of Unnatural Order #1. Overprinting is a tactic some publishers do in case a secondary wave of demand for a comic comes from retailers after a book initial goes on stands.
"Among other objectives for this model was to forestall the need for multiple printing cycles," Wassel tells Popverse. "We wanted to give retailers the opportunity to get this book in the hands of every single interested customer right out of the gates. So, based on ordering data and our tactical thinking for the free-to-retailer model, we are only overprinting to cover shortages and damages."
The price of success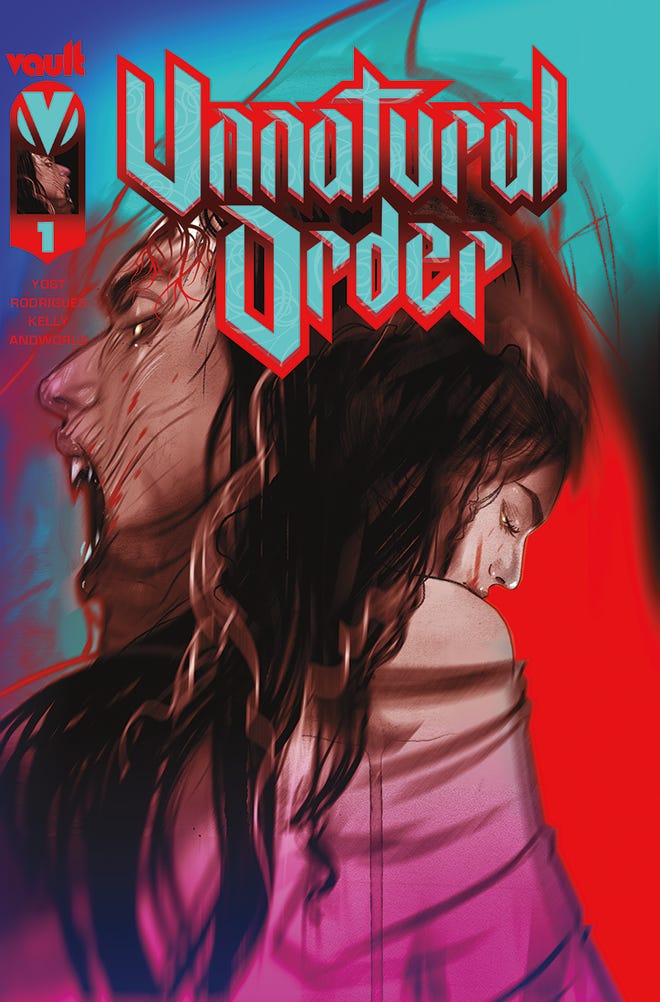 So, I'll repeat: So what happens if this is a hit and people want more of #1? Vault isn't against reprinting #1, but it won't be offering free to retailers like it did for the first printing. According to Wassel, if they do decide to reprint Unnatural Order #1 they'll aim for it to "roughly" be ordered to be available coinciding with the release of issue #2, which is currently scheduled for a December 13 release.
137,000 copies of a book is undoubtedly the biggest print run ever for a Vault Comics first printing, but when asked if the retailer interest has affected plans for the book. Creatively? No. But for the business... heck yeah.
"It has certainly affected our sales and marketing plans for the series," says Wassel. "For example, we have made the second issue returnable, to allow retailers to continue growing their audience for the book with confidence. We have extended the premium variant model throughout the life of the series. And we have implemented some new sales and marketing strategies behind the scenes to support the title at this scale."
Will this 'free-to-retailer' model work in the long-term? It's too soon to say, but Vault's already announced plans to do it again later this fall with another new series, Beyond Real. Now, it seems, it's up to fans if they'll buy Unnatural Order #1, and #2, and #3, and...
Unnatural Order #1 went on sale Wednesday, November 1, 2023.
---
Want to know what's coming up next in pop culture? Check out our guides to upcoming movies, upcoming TV shows, upcoming comics, and upcoming comic conventions. If you're looking for specific franchises or genres, we have all the upcoming MCU, upcoming Star Wars, upcoming Star Trek, and upcoming DC movies & TV for you. If you're a fan of superheroes and not specific to just Marvel or DC, we have overall guides to all the upcoming superhero movies and upcoming superhero TV shows (and new seasons) as well.