Love The Mandalorian's Frog Lady? Check out this exclusive plush at Star Wars Celebration
Star Wars Celebration has released images of this year's exclusives—including a Frog Lady plush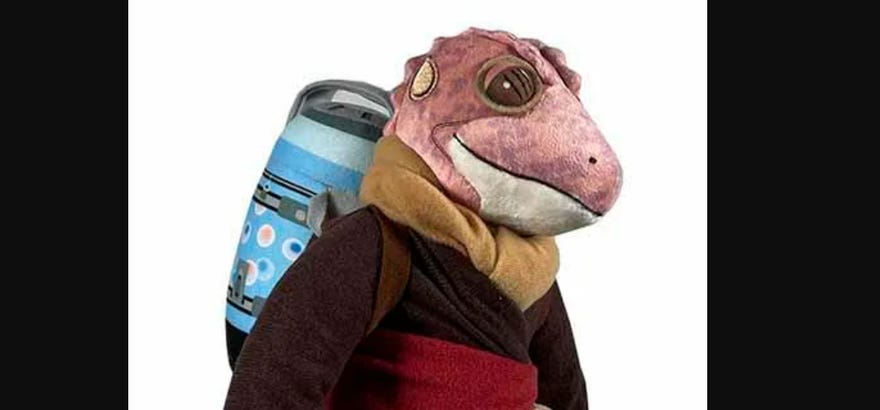 There will be a Frog Lady plush for sale as an exclusive at Star Wars Celebration, little egg backpack and all.
Frog Lady and her desperate attempt to get her eggs to her husband was one of the most frantic emotional lines in The Mandalorian season one. But her appearance in the show (or really, some other characters' reactions to her appearance) led to some serious online drama.
The discourse was mainly around the fact that Grogu, our sweet summer child and the instigator of a million "aww" noises in the Star Wars fandom, ate not one, not two, but SEVERAL of Frog Lady's precious baby eggs (did we mention that they were the last eggs she could ever lay in her lifetime AND that they were the last possible babies in her family line?)
Needless to say, people had some problems with this, as each of Grogu's sneaky snack moments was played for laughs. In the midst of all the online drama, Lucasfilm creative art manager Phil Szostak tweeted (though the tweet has since been deleted), "For the record, Chapter 10 of #TheMandalorian makes it clear that the Frog Lady's eggs are unfertilized, like the chicken eggs many of us enjoy. But obviously, chickens aren't sentient beings and the Child eating the eggs is intentionally disturbing, for comedic effect."
Of course, when people eat chicken eggs, they usually do so under the assumption that those unfertilized chicken eggs don't turn into babies (not the same for Frog Lady eggs), nor are those eggs usually painstakingly brought from planet to planet by an intelligent (she can talk) being in an attempt to save what remains of her family line.
Whatever your response was to Grogu chomping down on Frog Lady's eggs, if you're a fan of the Frog Lady, make sure to track down one of these exclusive plushes during your weekend trip to Star Wars Celebration
---
Learn about more Star Wars Celebration exclusives with this
Popverse article on Anakin Skywalker Anti-Sand themed merch
.