Funko is bringing spooky specials to San Diego for third annual Mask-O-Raid
Funko's founder Funmaker Mike Becker loves Halloween,and loves San Diego. Thus comes Mask-O-Raid
If you thought Funko rocked the Heavy Metal stage at New York Comic Con 2023 just a few weeks ago, then you'll be happy to know they're rocking another event this weekend in the West Coast!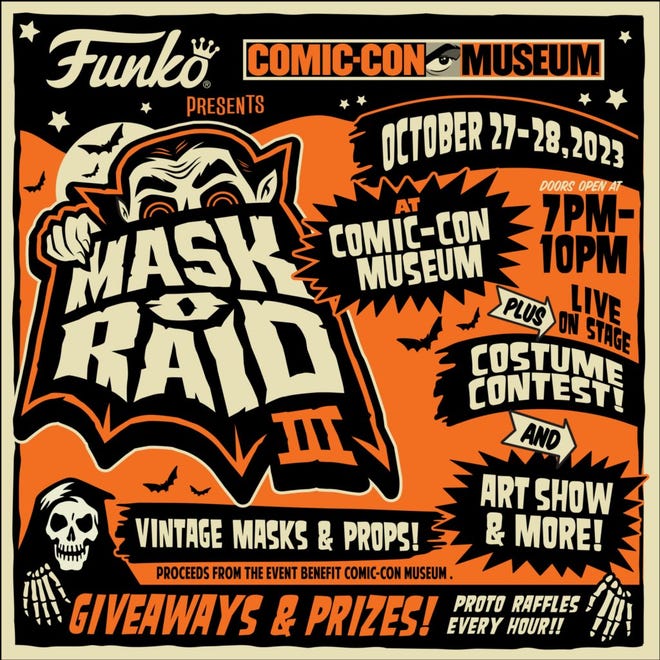 Funko's founder Funmaker Mike Becker (who can be seen here strumming his guitar at NYCC) is bringing a different sort of vibe to the San Diego Comic-Con Museum this Friday October 27 and Saturday October 28, a vibe that can only be described as spook-tacular. Popverse's Illianna Gonzalez-Soto will be there covering the event, so be sure to stay tuned for our coverage… if you dare….
This two-day Funko Mask-o-Raid III will have all sorts of goodies that Funatics can take part of, and the best news is that the proceeds from tickets will benefit the Comic-Con Museum and Education Center.
"There is no better way to celebrate my favorite holiday than by hosting a party at Comic-Con Museum to give back to my local community," says Becker. "We hope that by offering the event on two nights this year that there will be more opportunity for even more fans to attend and participate in all things Funko. I'll be hanging out with attendees, displaying some cool Funko mascot heads, Halloween costumes, and masks from my collection, and giving two lively talks about my love for Halloweeen and how it has inspired Funko in many ways."
According to Comic-Con's website, each event will feature:
Display of Funko mascot heads
World-class exhibit of 1970s vintage Halloween costumes and masks (personal collection of Funmaker Mike)
Meet-and-greet, photo op, and signing with Funko founder and Funmaker Mike Becker
Frightmaker Mike presents: "The Mystery Behind the Mask" presentation (two shows each night)
Each attendee receives a token for a "Mystery Pop Giveaway"!
Raffle for Funko prototypes
Costume contest with special prizes: Funniest, Scariest, and Most Original
Museum gift shop (for sale): Halloween-themed items signed by Funmaker Mike, original art, and exclusive museum merchandise
Complimentary party favors: exclusive Mask-O-Raid swag, a Comic-Con Museum Halloween pin, and two-for-one museum tickets for 2024
Spooky jams by DJ Chino
Heavy appetizers, beer, wine, and soft drinks. One drink ticket included with event ticket, additional drinks available for purchase.
For those who can't make it last minute on Friday, October 27, the Comic-Con Museum has just announced a panel and meet-and-greet with David Kirschner, Hocus Pocus creator & Child's Play & Chucky producer for Saturday, October 28.
Just announced: We'll have a special guest on Saturday night at Mask-O-Raid! 🎃

Join us for a panel and meet-and-greet w/ David Kirschner, Hocus Pocus creator & Child's Play & Chucky producer. A few 🎟️s remaining to celebrate #Halloween with @funko: https://t.co/rW6etQxZU1. pic.twitter.com/x5flmHnNpQ

— Comic-Con Museum (@ComicConMuseum) October 26, 2023
Limited tickets are still available to purchase here. "Tickets are $125 benefitting Comic-Con Museum and its Education Center. Each ticket includes access to the party, exhibit, party favors, food, and one drink ticket, as well as opportunities to view the presentations (seating in the theater is limited), purchase collectibles, participate in the raffle, and more. Costumes encouraged. All ages welcome."