Garth Ennis to revive classic UK comic character Rogue Trooper for 2000 AD
Ennis and artist Patrick Goddard will create a 13-episode weekly revival starting in April
Those wanting to see more war comics from Garth Ennis should add British anthology comic 2000 AD to their pull-list next year, as the acclaimed writer will be penning a revival of fan-favorite 'Future War' strip Rogue Trooper starting in April.
Ennis and artist Patrick Goddard will be the creative team behind the 13-episode revival of the classic serial, which has been absent from 2000 AD — barring one-off appearances in anniversary issues or seasonal specials — since 2006.
Rogue Trooper debuted in 1981's 2000 AD Prog 228, created by Gerry Finley-Day and Dave Gibbons; the series centers around the eponymous lead, the sole survivor of a massacre of his fellow clone troops in a battle as part of an ongoing war between the Norts and the Southers on the apocalyptic planet called Nu Earth. The strip, which worked best as a sci-fi twist on traditional war comics — primarily WWII comics, although as the name suggests, there are occasional nods to the U.S. Civil War — followed Rogue as he and the AI ghosts of his fallen comrades searched for the "Traitor General" who was behind the slaughter.
Beyond his 2000 AD appearances — which has been reprinted in the US by Eagle Comics, Quality Comics, and IDW Publishing — Rogue Trooper has been adapted into a number of video games (most recently in 2017), and is currently being developed as a feature film by Moon and Source Code director Duncan Jones.
"For me Rogue Trooper is as vital a part of classic 2000 AD as Judge Dredd, Strontium Dog, Robo-Hunter, Nemesis the Warlock, or Sláine, and I well remember wandering the wastes of Nu Earth with Rogue and the bio-chips on their hunt for the Traitor General," Ennis said in a statement. "The stories that instantly come to mind are 'All Hell on the Dix-I Front', 'Fort Neuro', 'Eye of the Traitor', 'You Only Die Twice' and 'To The Ends Of Nu Earth' – I hope 'Blighty Valley' will prove a worthy successor to such unadulterated gems."
2000 AD editor Matt Smith added, "Garth Ennis has written classic 2000 AD characters before, but this is the first time he's scripted Rogue Trooper. As you'd expect from someone steeped in war comics, his take on the G.I. is powerful, thrilling and explosive. With Patrick Goddard providing the stunning visuals, this a dramatic, unmissable addition to the Nu Earth saga."
Although primarily known for material like Preacher and The Boys, Ennis has long shown an affinity for the classic war comic, having created them for publishers including DC, Dynamite, and TKO Studios. One of his most recent entries in the genre was this year's Battle Action Special, from 2000 AD publishers Rebellion.
---
"Blighty Valley," the 13-episode storyline reviving Rogue Trooper, begins in 2000 AD Prog 2326, released April 5 2023. The teaser image for the run is below.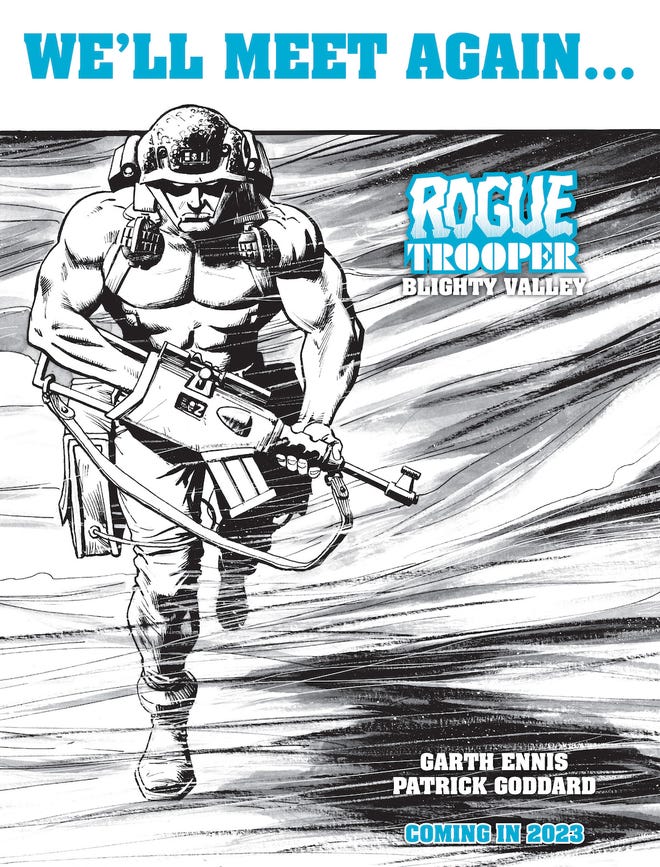 ---
2000 AD has been on the periphery of American comics for decades.