Small steps, great leaps: A Gene Luen Yang reading guide
What to read by the Eisner-winning, New York Times best-selling writer and cartoonist
Since debuting as a cartoonist in 1997 with the Xeric grant-supported, self published comic Gordon Yamamoto and The King of the Geeks, Gene Luen Yang has published over 100 works. Arguably the most popular among them is his New York Times best-selling graphic novel American Born Chinese.
In American Born Chinese, Yang writes and illustrates the story of Jin Wang, a young boy eager to fit in and feel comfortable in his own skin amongst people who view him as foreign despite being born and raised in San Francisco. Weaved alongside Jin's coming-of-age tale is the lore of The Monkey King, a thousands-of-years old sovereign and deity willing to forsake his native simian identity to attain the rank and respect of human-presenting gods.
Originally published by Square Fish/First Second in 2006 with colors by Lark Pien, American Born Chinese won the Michael L. Printz Award, an Eisner Award, a Harvey Award, and was a National Book Awards Finalist among other honors. With the upcoming release of the graphic novel's debut as a live action series on Disney+, here's a guide to additional essential works from Yang's prolific career to date.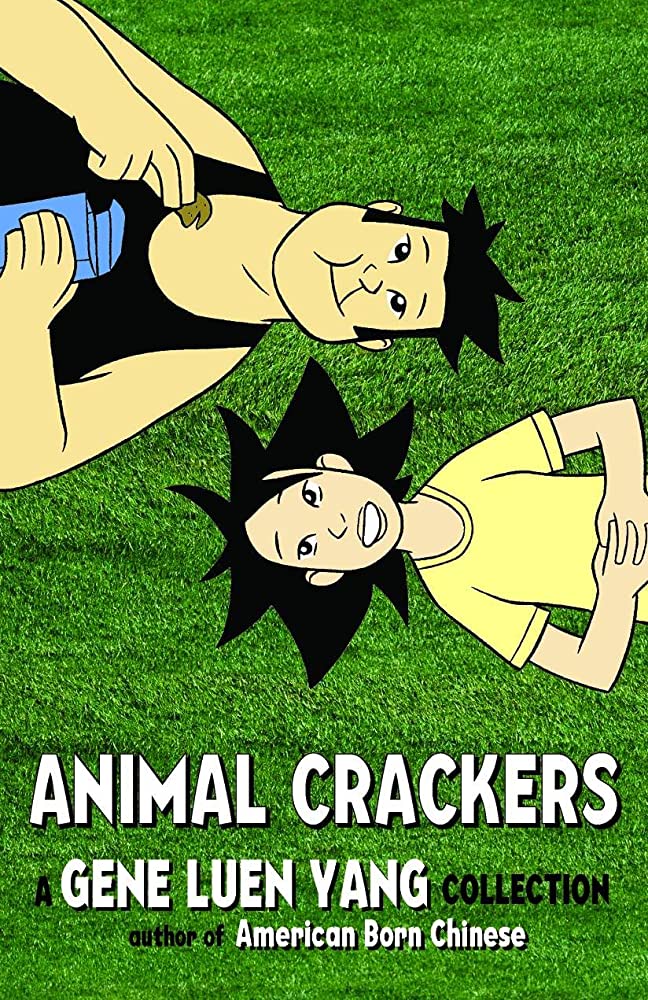 Possessed baked treats, omnipresent flying microdroids, and prom: While this book was technically published by SLG publishing four years after American Born Chinese, it collects Yang's earliest self-published comics–Gordon Yamamoto and The King of the Geeks and Loyola Chin and the San Peligran Order.
Yang folds slice-of-life, humor, and sci-fi and fantasy together to frame touching stories of high school students Gordon and Loyola, as they each work out how to be empathetic towards others. Original versions of panel techniques and characters used in such later works as Duncan's Kingdom (Image Comics) and Dragon Hoops (First Second) first appear here, as does an epilogue in which Yang breaks the fourth wall and illustrates his comics origin story.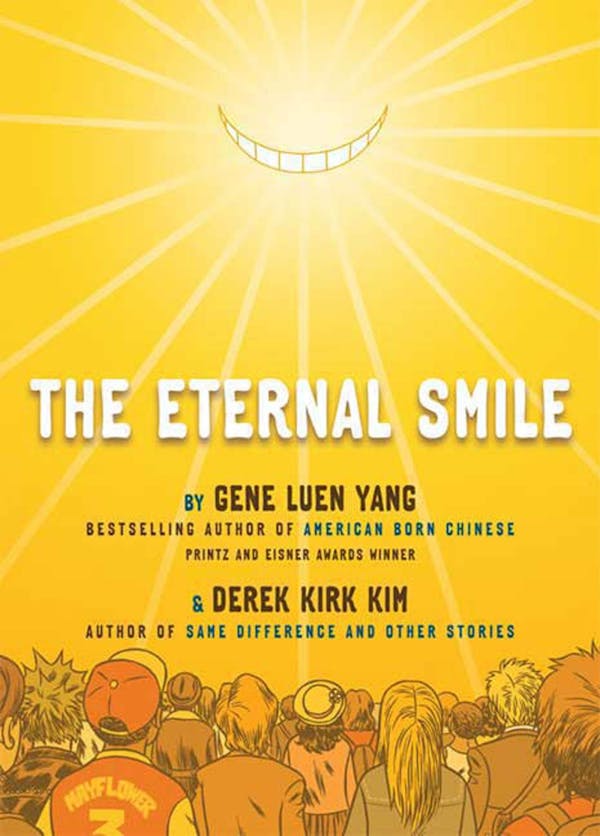 This Eisner Award-winning book published by First Second collects three fantasy comics by Yang and artist Derek Kirk Kim–their Image Comics miniseries Duncan's Kingdom, Gran'Pa Greenbax and the Eternal Smile, and Urgent Request. Each story pulls us in with familiar references–a fairy tale, a Duck Tales/Ebenezer Scrooge-esque cartoon, the drudgery and grayness of working in a cubicle–before intentionally leading us down paths much more existential. Connecting the stories are reflections on self worth and what it can mean and take to liberate oneself from burdensome circumstances. The colors, layout, and embrace of white space in Urgent Request are particularly memorable for the ways they set and maintain mood as we earnestly hope for the best for Janet, the short story's protagonist.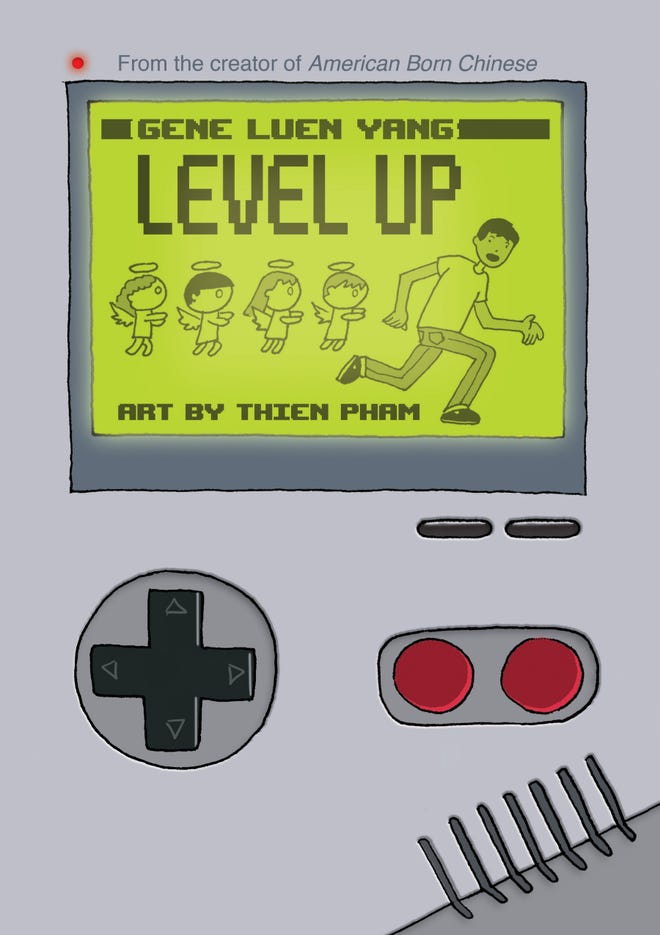 This collaboration with artist Thien Pham published by First Second may be the most out-there of Yang's scripts. In it, college student Dennis Ouyang finds himself flunking out of school because of an addiction to video games, a previously prohibited activity he started upon the untimely death of his father. But then four pushy angels visit and insist on guiding Ouyang back on track to fulfill his "destiny" to not just become a doctor, but a gastroenterologist. This specificity opens up the story to include scenes of Ouyang examining his own poop during a microbiology lab, giving prostate exams, and learning how his video game skills will help him become a successful G.I. doctor. Through it all, Ouyang comes to terms with his late dad's memory and their relationship. Interesting fact: this story is inspired by Yang's brother, who is a medical doctor.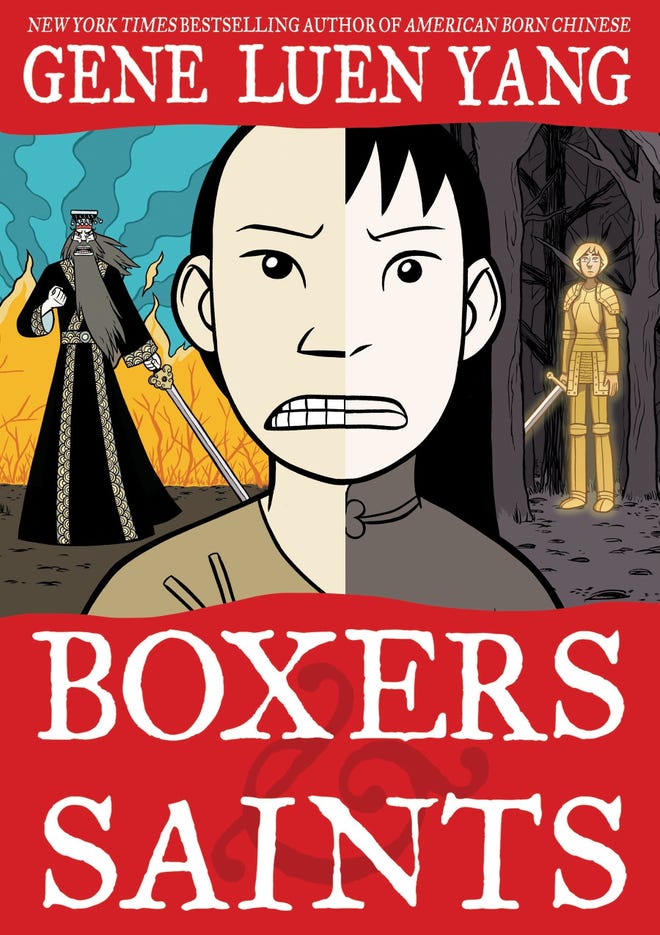 This two-book historical fiction series published by First Second with colors by Lark Pien is largely set in rural China during the turn of the 20th century, in the years preceding and during the Boxer Rebellion. In Boxers, we follow Bao, a young boy and fan of Chinese opera who falls from innocence when his beloved culture and his father are violently suppressed by German missionaries and troops. In Saints, we follow Four-Girl/Vibiana, a young girl who has visions of Joan of Arc and converts to Christianity after a childhood of being treated as unlucky and evil.
Start the duology with Saints or with Boxers: there is no wrong choice. The stories inform, intersect, and run parallel to each other to tell a fuller, complex tale about what it might have been like growing up in rural China during massive transition, where each individual simultaneously considered how to live in a society of prescribed gender roles and steadfast traditions while trying to survive the impact of settler colonialism. Yang doesn't hold back from depicting and alluding to the callousness and casualties of war. Yes, there are moments of light-heartedness, but overall it's a sobering, compelling work of art that's absent of clear takeaways and leaves us questioning what we think we believe.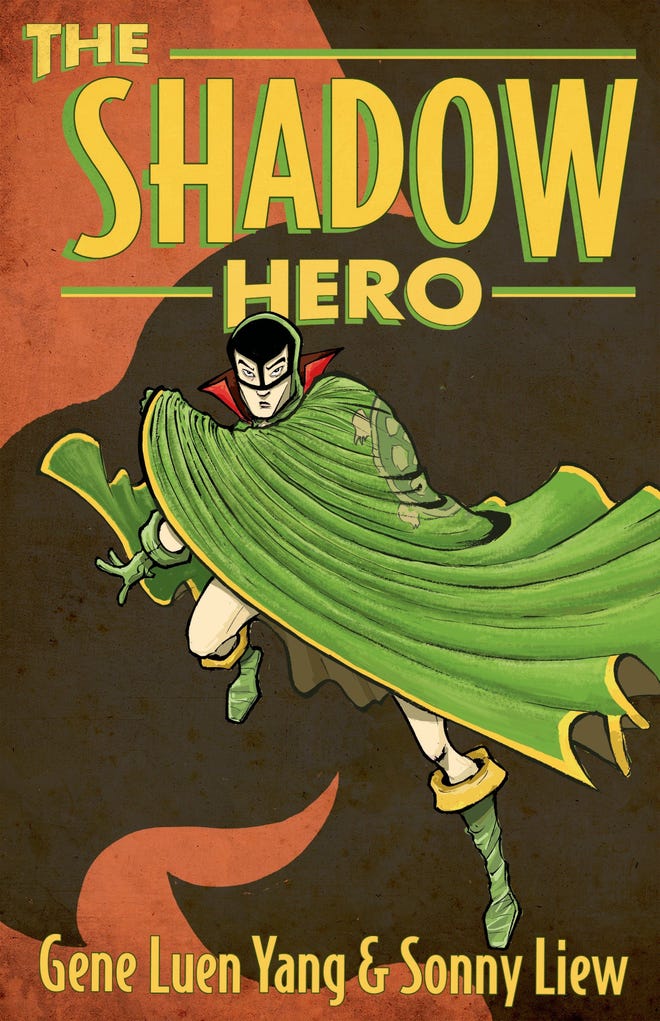 Yang and artist Sonny Liew reconnect comics fans with the trailblazing work of the late Chu Hing, one of the first Asian Americans to work in the American comic book industry. In 1944, Chu created the Green Turtle, a World War II superhero featured in a short-lived publication called Blazing Comics. While Chu's art heavily signals that the Green Turtle has ties to Chinese culture, no known records confirm that Chu's Green Turtle was Chinese or Chinese American.
Enter Yang and Liew. In reviving Chu's Golden Age superhero, Yang and Liew definitively make the Green Turtle Chinese American. They fill out the Green Turtle's character by not only giving him an origin story, but also connecting him to a generational one. They give him a life and a face, and name him Hank Chu in homage to Chu Hing. Most importantly, Yang and Liew give us the chance to read and keep Chu's original introduction of the Green Turtle by including a high resolution copy of the 7-page feature at the end of the book, as originally published in Blazing Comics #1.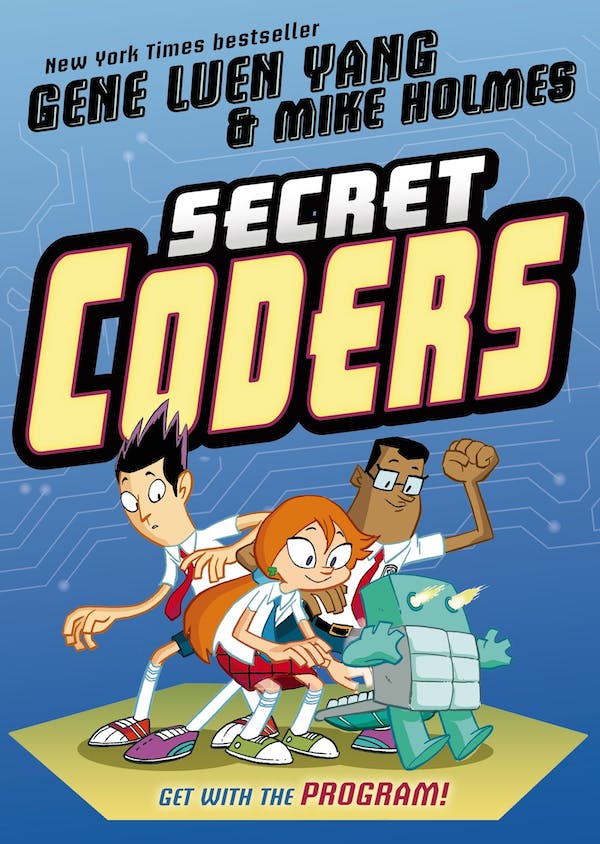 Yang taps into his programming and teaching background for this six-book middle-grade graphic novel mystery series with art from Mike Holmes. In this first book of the set, we meet 12-year-old Hopper Gracie-Hu as she starts at Stately Academy, makes friends and enemies, and stumbles across school oddities. Along the way, we and Hopper learn and apply binary code and basic programming to unlock clues and avert perils that include four-eyed owls controlled by an easily-angered groundskeeper.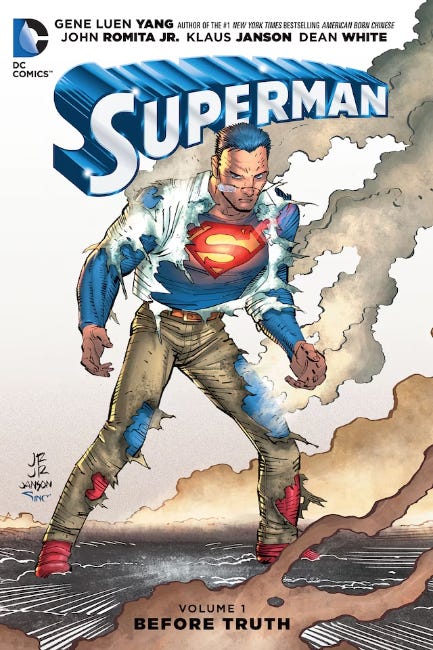 Before writing for such DC titles as New Super-Man, The Terrifics, Batman/Superman, and co-creating The Monkey Prince/Marcus Sun with artist Bernard Chang, Yang made his DC debut writing Superman #41, collected in this four-issue trade that finds Superman vulnerable and exposed after his mild-mannered identity is revealed to the world. For a behind-the-scenes glimpse at Yang's thoughts and initial hesitation about taking up this arc, read Dragon Hoops.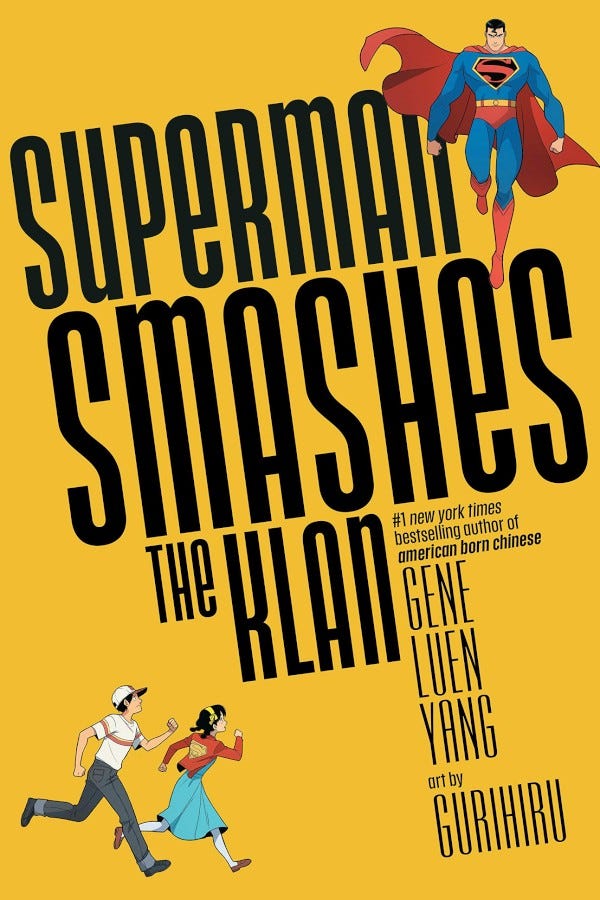 In this Harvey Award-winning DC graphic novel, Superman teams up with kids Roberta and Tommy Lee to put an end to the racial terrorism they experience after Jimmy Olsen chooses Tommy to be the new pitcher of a local community baseball team. Released just before the world went into full pandemic mode, Yang's story with art from Gurihiru is a rallying cry to stand up to hate, including AAPI hate, and a reminder that Superman loathes white supremacy. Always has, actually: the script draws inspiration from the 1940s Superman radio serial "Clan of the Fiery Cross."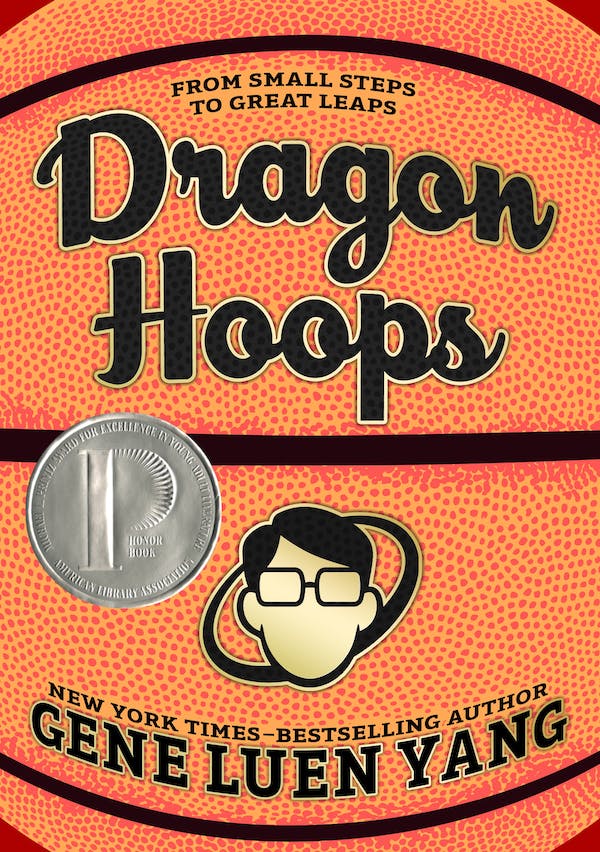 Part memoir, part reportage, and part basketball history primer, this winner of an Eisner Award, Harvey Award, and Michael L. Printz Award follows Yang as he covers the Bishop O'Dowd High School Boys Basketball team in their pursuit of the 2014–2015 Mens California State Championship Title. The theme of stepping beyond one's comfort zone to go after unguaranteed milestones repeats like a chorus throughout the book, which also chronicles Yang's final year as a full-time math and computer science teacher.
For someone who admits to hating sports (especially basketball) in the first panel of the graphic novel, Yang's eventual appreciation shines in the way he captures the intensity of the O'Dowd Dragons' game play. From illustrating the growing tension of clock countdowns, to the suspense at the freethrow line, to the definitive "BLARR" that often frames last-second shots, Yang's lettering and panel pacing around each game is so exceptional, it's possible you'll grumble and cheer out loud.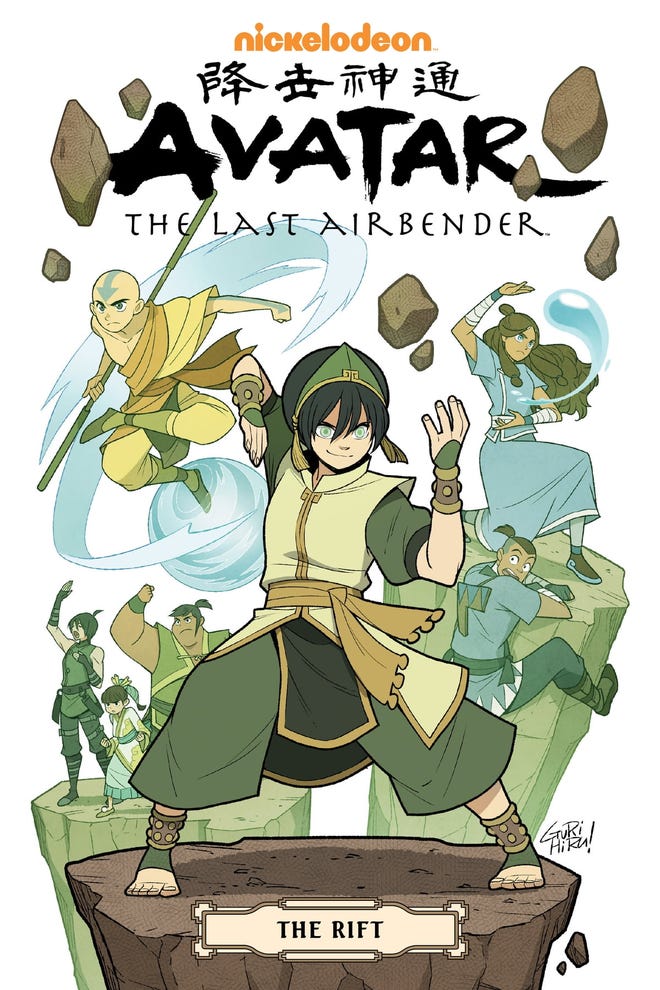 Yang and Gurihiru team up once again to develop a series of Avatar: The Last Airbender graphic novels published by Dark Horse Comics. The graphic novels pick up where the Nickelodeon series ends, expanding on subplots originally introduced by Bryan Konietzko and Michael Dante Dimartino in the animated series. Volumes are collected into five separate omnibuses: The Search, The Promise, The Rift, Smoke and Shadow, and North and South, with The Rift clocking in as the largest omnibus of the set. In it, Yang spotlights earthbender Toph Beifong as she journeys with Aang, Katara, and Sokka to investigate a refinery operating on sacred Airbender lands.
---
Gene Luen Yang's The Books of Clash flips the concept of the game on its head.