Get your special someone something special with this $25m Infinity Gauntlet with real gemstones
No, Thanos, you can't buy these Infinity Stones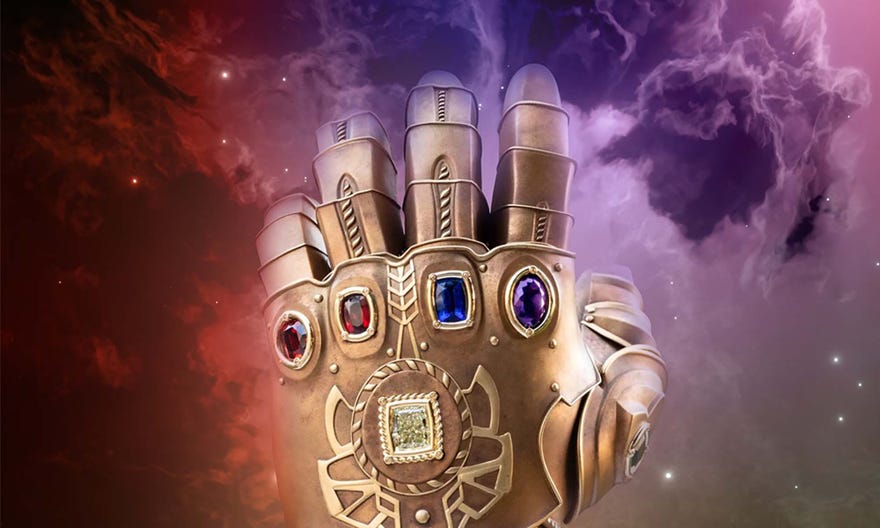 Every gift should last a lifetime... so how about infinity?
Marvel Comics has partnered with the luxury jeweler East Continental Gems to create actual Infinity Stones - Infinity GEMstones. Dubbed 'The Infinity Collection of Gemstones,' this dazzling group of gemstones was just unveiled at Marvel Comics' booth at Comic-Con International: San Diego.
So what is each of the gemstones made of? Here's a rundown:
The Time Stone is a nearly 23-carat Colombian emerald
The Space Stone is a 30+ carat sapphire from Madagascar
The Reality Stone is a 15+ carat oval-shaped, natural ruby from Mozambique, Africa
The Power Stone is a 35+ carat oval-shaped, natural amethyst
The Soul Stone is a 35+ carat cushion-shaped Spessartite
The Mid Stone is a nearly 35-carat yellow diamond
Check out this gallery - you can look, but don't touch!
Totaling over 150 carats all together, the Infinity Collection of Gemstones is valued just north of $25 million.
"There has never been anything as exciting and interesting in the Marvel Universe than the prized Infinity Stones and as a fourth-generation jeweler and fan, I am honored that Marvel entrusted us with the monumental task of curating the Infinity Gem Collection for our universe," said East Continental Gems' president Adam Mirzoeff.
How do you display these gemstones? No simple ring would suffice, so Marvel commissioned Gentle Giant to create an exclusive, one-of-a-kind Infinity Gauntlet.
"Fans and collectors are a very important consumer for Marvel, since they truly live the Marvel lifestyle every day and are always seeking to connect with the brand in new and unique ways. We feel this authentic gemstone collection is cool and unexpected and extends the reach of the Marvel brand," said Marvel Consumer Products' senior vice president Paul Gitter.
No, this set of Infinity Stones aren't for sale.... but East Continental Gems will be issueing a limited-edition version of the Reality Stone in September 2022, with plans for releasing versions of the other stones down the road.
Get all the weekend's SDCC news in one place with Popverse's
San Diego Comic-Con 2022 round-up
.