Handle with care: Marvel & IDW comic books getting some extra TLC on their way to comic shops starting this week
Marvel & IDW's comic shop distributor is upgrading its shipping cartons
Fresh off news that its expanding its distribution deal with Marvel Comics, Penguin Random House Publisher Services announced that they're figured out a better way to ship those Marvel comics (and IDW Publishing's comics) to comic stores - one that'll result in less damages, and your comics in (hopefully) a more pristine fashion.
"We are writing to inform you that we are introducing a new carton-packaging configuration for comic books, beginning with select cartons of your June 15th shipments," Penguin Radom House's US Direct Market Sales Teams informed comic shops over the weekend. "The feedback we received expressing concerns about our original shipments last Fall has been immensely valuable in evaluating the effectiveness of our fixes. Since then we have been continuously looking into packaging improvements."
What is Penguin Random House's relationship with Marvel?
Penguin Random House took over Marvel Comics' distribution of its print comic books to comic stores in 2021, following a severe disruption in of comics distribution and, well, everything, due to the COVID-19 pandemic. Whereas Marvel (and DC, and most others) relied on one distributor (Diamond Comics Distributors) to distribute comics to comic shops from the late '90s and into present day, following some Diamond infrastructure issues which came to light due to the pandemic, Marvel (and DC, and IDW, and others) opted to look for other distributors to get their comics to comic shops.
Penguin Random House emerged was one of those places, and while it had an immense track record of shipping books to bookstores for decades, it proved to be less experiences in shipping the more fragile and flimsy comic books - especially as comic book customers are generally more discerning about bends, nicks, creases, and other damages than booktrade clients.
"We believe these carton improvements will both minimize potential damage to the product incurred in transit, and reduce unnecessary waste impacting the environment," Penguin Random House continues.
So what's this new comic shipping box from Penguin Random House?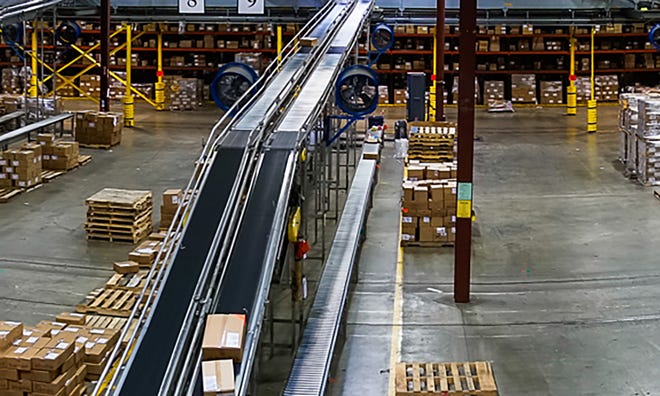 So what's so innovative about the new Penguin Random House comic book boxes? Here's the features for you boxafiles out there:
A double-walled corrugate liner inside the outer box
hexacomb padding on the top and bottom
extra paper filling to act as extra padding to avoid the comic books from bouncing around too much inside those boxes
Penguin Random House says this new container solution came after "rigorous testing" with several different configurations. The tested inclded drop testing, vibration testing, and test runs sending it via UPS. From what Popverse has heard, over 500 comic shops took part in the testing - in the US, Canada, and even internationally.
"We of course realize this packaging change is major and want to you to know about it early," Penguin Random House continues. "Our handling and package-engineering practices will continue to evolve, as necessary and appropriate."
So what does this mean for comics readers like us?
The immediate effect is obvious - less nicks, bruises, bends, creases, etc. on the Marvel and IDW comics you pick up at your local comic shop. This won't eliminate it completely, but hopefully it'll be less frequent.
It'll also help prevent delays, as sometimes store-specific delays are down to a box (or two, or three) that was damaged en route from Penguin Random House to your local comic shop to the point where it's not able to be put on sale.