Power couple: How Harley Quinn and Poison Ivy gave DC its best love story in decades
Harley Quinn and Poison Ivy are back together, proving themselves as the healthiest superhero couple to come out of Gotham City.
While the biggest, most iconic romance to come out of the DC Universe is probably the one between Superman and Lois Lane, other corners of the DCU beyond Metropolis have struggled in finding their defining power couple.
While it appeared as though Batman and Catwoman were on the road to marital bliss and the most high-profile relationship in Gotham City, their romantic rupture paves the way for Gotham to get a different defining couple. And with Dick Grayson and Barbara Gordon having since relocated to Bludhaven, that couple is not Nightwing and Batgirl but rather Harley Quinn and Poison Ivy.
Harley and Pamela Isley have been an on-again/off-again romantic item for years, and an instant hit with the fans, with their romance only growing stronger and more serious over time. And the romance isn't limited to the comic book page, with Harley and Ivy taking their romance to the small screen in multiple different iterations. With love in the air, here's a look at how Harley Quinn and Poison have not only become the most enduring Gotham City couple but also one of the most iconic romances in the entire DCU.
Origins of a surprise romance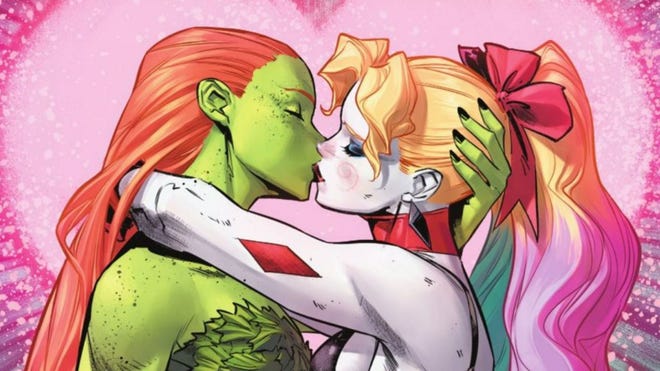 Harley Quinn was created by Paul Dini and Bruce Timm for Batman: The Animated Series, making her debut in the 1992 episode "Joker's Favor" as an accomplice and girlfriend to the Joker. Voiced by Arleen Sorkin, the character became a breakout character for the show and would first team up with Poison Ivy and move in with her in the 1993 episode "Harley & Ivy," though she still longed for the Joker, despite the constant abuse he inflicted on her. Though their dynamic was platonic on-screen, Harley would become visibly jealous whenever Ivy showed interest in another woman.
Harley made her canonical comic book debut in 1999's Batman: Harley Quinn #1, a one-shot special by Dini and Yvel Guichet. In her introductory DCU appearance, the Joker tried to kill Harley by blasting her off in a rocket ship, only for it to crash in Ivy's territory. Ivy used her powers to not only heal Harley but also give her a degree of superhuman agility and immunity to toxic plants. More than just establishing a friendship between the two women echoing their cartoon counterparts, Ivy hints at an attraction to Harley as she helps her.
Harley and Ivy maintained a flirtatious dynamic for years after Harley's introduction as a character, even after Harley ditched the Joker for good. In Gotham City Sirens #24 by Peter Calloway and Andres Isabel, Harley openly asked Ivy if she was in love with her, with Ivy unable to answer. It wouldn't be until 2015, when Harley Quinn comic series writers Jimmy Palmiotti and Amanda Conner confirmed the two women were in an open romantic relationship in a tweet response to a fan question of all places.
Though Harley and Ivy were depicted as being in a more frank romantic relationship in non-canonical comics being published at the time, it wasn't until 2017's Harley Quinn #25 by Conner, Palmiotti, and Chad Hardin that the two shared their first in-continuity kiss. The two's romance became much more open following this milestone moment though the couple would continue to debate on exactly how serious and exclusive their love was in the years that followed.
Romance's rocky road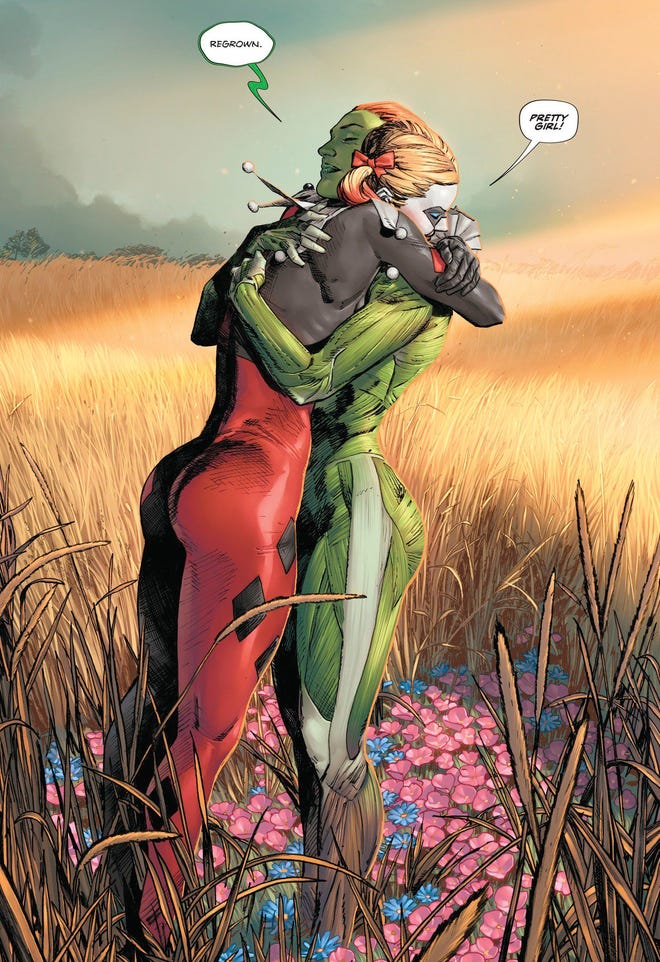 Harley and Ivy's romance became more serious when Harley faced the chance of losing Ivy for good, forcing Harley to realize how much Ivy truly meant to her. In the 2018 crossover event Heroes in Crisis by Tom King, Wally West accidentally unleashed raw energy from the Speed Force, resulting in Ivy's apparent death. A determined Harley set out to learn who was responsible, though Ivy's plant-based powers and residual energy from the Speed Force allowed her to regenerate from her death and reunite with Harley.
The 2019 miniseries Harley Quinn and Poison Ivy by Jody Houser and Adriana Melo explored Ivy still recovering from the traumatic ordeal she experienced during Heroes in Crisis, with Harley in tow. The unchecked healing process accidentally creates an Ivy doppelganger, further fracturing Ivy's psyche until its destruction. As Harley and Ivy take a break, Ivy ventures into the plant-ruled pocket dimension, the Green, where she encounters the new Swamp Thing.
Emerging from the Green, Ivy's taste of omnipotent power leaves her craving how to recapture this potential for herself while she begins to mutate out of control in the Poison Ivy maxi-series by G. Willow Wilson and Marcio Takara. Ivy goes on a road trip to clear her head and deal with the fallout from recent events but, by Poison Ivy #9, she reunites with Harley. Reaffirming their love for one another, Harley invites Ivy back to Gotham to embark on a new future together, with Ivy agreeing.
Harley and Ivy make their love HBO official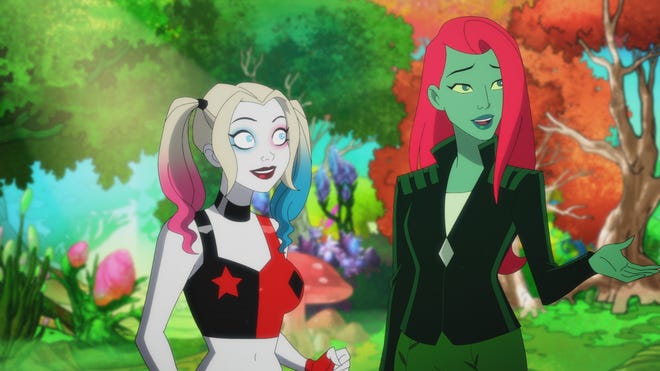 Poison Ivy and Harley's romance has been brought to life in multiple multimedia adaptations of the DCU. The tie-in comics to the popular Injustice video game series depicts the two as being in a loving relationship, with 2018's Injustice 2 #70 by Tom Taylor and Bruno Redondo strongly implying that they have gotten married.
However, the most prominent depiction of Harley and Ivy's love affair is as the emotional centerpiece of the HBO Max original series Harley Quinn, with Harley and Ivy played by Kaley Cuoco and Lake Bell, respectively. Ivy realizes her feelings for Harley in the second season finale, after being ditched by her fiance Kite-Man after he deduces she loves someone else. The couple's relationship is put in the spotlight throughout the third season, as they go public while embarking on an ambitious environmental campaign to heal the planet.
Power couple of Gotham
Batman and Catwoman's romance is one rooted in an element of distrust, with Bruce Wayne limited by his deep-seated trust issues and Selina Kyle's occasionally duplicitous nature. Couple this with both individuals being fiercely stubborn and insistent on doing everything their own way, and it's a wonder that they have endured as long as they had as a couple. Nightwing and Batgirl's romance is much more successful, though either a fear of commitment or Dick Grayson's lingering feelings for Starfire have been known to complicate matters on a regular basis.
In contrast, Harley and Ivy have an enduring love that, while certainly experiencing its fair share of ups and downs, has survived where others have not. Both women have helped each other overcome their respective traumas and given each other a safe haven in the violently chaotic world that can be the DCU. It's the classic tale of two friends mutually realizing that they mean something deeper and more passionate to each other, taking things to a much more intimate level. With both Harley and Ivy becoming less conventionally villainous over their tumultuous character evolutions, the two certainly deserve a happy ending for their respective redemption.
---
On sale now, Poison Ivy #9 is written by G. Willow Wilson, illustrated by Marcio Takara, colored by Arif Prianto, and lettered by Hassan Otsmane-Elhaou. The story continues in Poison Ivy #10, on sale March 7 from DC Comics.
---
Nikolas Draper-Ivey on Static: Shadows of Dakota, co-writing with Vita Ayala, and upping the stakes