Henry Barajas spotlight panel at SDCC '22
Popverse brings you live coverage from SDCC's Henry Barajas Spotlight Panel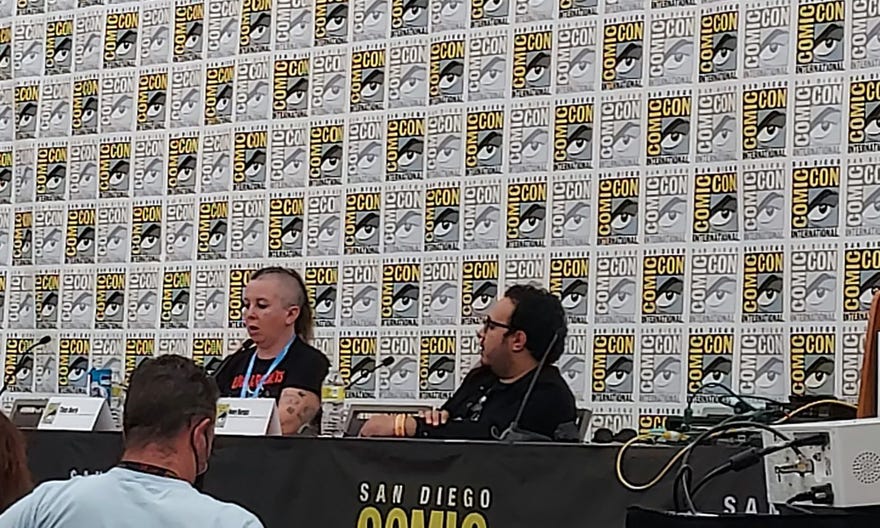 He's the man behind the critically acclaimed La Voz De M.A.Y.O. Tata Rambo, and Helm Greycastle, as well as one of the most charming new voices to emerge in comics in quite some time – and now Henry Barajas has a spotlight panel at San Diego Comic-Con all to himself, as well. Can nothing stand in his way on a path to comics domination?
San Diego Comic-Con might be coming to a close, but Popverse will be liveblogging this entire panel to keep people in the loop when it comes to Henry's journey to where he currently is in comics, and what's coming next. Bookmark the page to follow along as it happens, or come back when the panel is over to catch up with everything in one sitting.
Keep track of this and ALL the news from this weekend with our San Diego Comic-Con 2022 coverage round-up.
Our live coverage of this event has finished.
As the con winds down, we're avoiding the sun - goodbye, overcast days! - and sitting here in Room 28DE ready for the Spotlight on Henry Barajas panel, which starts in just a few minutes.
"Just remember, this is on the record," moderator Tina Horn reminds Barajas at the start of the panel. He gives Popverse a shout out as official recorders of the event.
To introduce himself, Barajas lists his work, including La Voz De M.A.Y.O, Helm Greycastle, his Gil Thorpe strip, and an upcoming story in Batman: Urban Legends, which he calls "a dream come true."
Horn asks Barajas to talk about himself as a comics fan. "When I started, my parents were really into the Antiques Roadshow on PBS. They would see comics go for a lot of money," he says, saying that he'd be given boxes of secondhand comics to appraise, "not knowing that I'd read them."
"I just became obsessed with this medium, and it helped me as a reader, as a writer," he says. "I just loved the pictures, and a story that I could look at." This was when he was five or six years old, and he was using Wizard Magazine to work out how much each comic was worth. "I was the only one [in my family] that liked to read, and I got to read so much."
"I was on NPR All Things Considered, and overnight, my books were on the top best-sellers list, so that's the closest thing I've ever come to making the Wizard Top 10 Writers list," he says. Horn asks if Wizard still exists, and Barajas jokes, "I don't care! I don't have a job anymore!"
How did Barajas go from a fan to a professional? "I'm from Tuscon, as I say every 10 minutes," he jokes, saying that he started with the comic El Loco, co-created with his friend Arnie Bermudez, something he came up with after getting mad at the local governor.
This led to more independent comics, including one where Anderson Cooper was swole, was the owner of Facebook, and was also gay. "Now we're at the time where I'm more comfortable talking about my sexuality," he says, but that wasn't always the case. Publishers weren't convinced by the book, which he can see looking back. He moved into comics journalism, working for Heidi MacDonald at ComicsBeat.
From the Beat, he moved to the Tuscon Weekly, where he got to foster up and coming journalists; he'd tell new journalists to join him at 7am for a buffet at a local bar for a pitcher of Coors beer and a hot dog stewed in beer. "That was me being a wannabe Hunter S. Thompson," he jokes.
He got laid off from the Tuscon Weekly when it got bought out, and "then I got really fed up with the local publishing companies... That got me really bitter, so I moved to LA," he says. "Where no-one is ever bitter," jokes Horn.
Horn says that it sounds as if Barajas got into comics by being curious about everything to do with comics, not simply wanting to write comics. "I want to make myself available to everybody who needs something done," she summarizes it, saying that he was learning about how the sausage was made. "I find that my taste is always for creators who have done more jobs than the job that they're doing right then."
"I didn't go to college, I was working at a bank for four years," Barajas says, saying that he was listening to the Word Balloon podcast where he heard an interview with Nick Spencer who talked about having a life to draw from in their writing work. That rang true, especially as he was working at Citibank, taking calls from people during the financial collapse. He also heard an interview with Kelly Sue DeConnick, who also worked at Citibank before she made it as a writer.
"My advice to someone who wants to break into comics is, I said, 'when was the last time you read a Batman comic? Look at who edits that. It's not hard to reach out to them, it's not hard to figure out a DC email." Suggests fostering relationships with people who make comics outside of creative roles, because they'll see you and have a positive experience. "Eventually, that [person] ends up as an editor, or a publisher, or a writer, and they know those people, and they'll want to see you do well."
He also suggests making comics. "The more you do it, the easier it gets. It never gets easy, it just gets easier," he says. Everyone makes bad comics, he says, aside from Hannah Rose May, whose Rogues Gallery is just great. (It is.)
"You've got to be ready to suffer, you've got to just keep making comics until it doesn't hurt anymore. I mean, it still hurts," he says.
His advice to get into comics is: Read. And write. "But no arithmatic involved," Horn says. "Not necessarily!" he replies. They're talking about the importance of knowing the small details, with Horn saying that her introduction to her entertainment lawyer was a particularly important day in her own career.
"Be careful, don't take the first option. There are some bad faith publishers who just want your IP for a TV show or movie," he says. "In an age where we can self-publish, it's more advantageous to publish it yourself and then take it somewhere."
Horn is underscoring the importance of having a contract, even if you're already friends with whoever you're working with. (Especially in that case, they agree.)
Talks about the importance of appearing at conventions. "You've got to handsell these things. If you're not pushing things, nobody's pushing things." He says that San Diego Comic-Con is his favorite show. "It's just a perfect place to meet everybody. From all over the world, everyone's here."
Talks about when he first went to New York Comic-Con, and was heckled by a passer-by, and went, "Oh that's right, I'm in New York now!" The difference between San Diego and New York is that the former is a city that dedicates itself to its convention, whereas New York is... always New York.
Latinx Comic Arts Festival in Modesto, CA, is his second favorite comics convention, TCAF is the third, and he really loves Thought Bubble in the U.K.
"Tuscon Comicon I go to just to rub it in their face. I go to let them know, 'even though I don't live here, I run this place,'" he jokes.
The two are joking about the joys of newspapers. "There's something about sitting with a newspaper, and not reading half of it," he says.
Tips for surviving conventions. "Water. Have your own water bottle," he starts off. "There's the practical stuff like having an extra battery, good shoes, showering, it has to be said... Having a good attitude, being prepared for your heart to be broken."
His heart was broken when he first started coming to conventions, because you meet creators who don't know you as well as you know them, and interactions could be awkward. "It's just managing expectations. We should have a panel where we help people with social cues," he says. "Learning to reel it back sometimes."
Another convention hack is bringing your own food, because everything is so expensive. It's as if he's reminding me just how bad I've been at that this entire show.
He recommends people read his Gil Thorpe, and also the comments from boomers "who are the professional trolls, they hate it," but he really enjoys it. "They might be young, but I'm assuming if they like Gil Thorpe, they were born before 1948."
Barajas is also working on a true crime graphic novel about the Pied Piper of Tuscon, and trying to give the victims more justice and talk about how abusers are protected by the system. "I'm trying to do it sensitively." He's trying to find a publisher, but might end up Kickstart it.
He's working on a horror comic, Creepshow, with Skybound. "I'm very excited about that," he says, as people applaud.
How does he feel about the future? "I'm worried," he says, while sighing. "But excited."
Someone asked about Gil Thorpe! He's replacing a conservative writer who featured a storyline where Gil convinced a girl not to have an abortion, and she will return with a kid, and Gil will have to deal with the fallout from what he did those years ago. He's also created an arch-nemesis for Gil. "I'm interested in screwing up this guy's life for some time to come. I'm just trying to have fun, and stay in papers as long as I can."
What comics is Barajas reading? Judge Dredd, he says. He's saying that Alan Grant doesn't get enough credit for his work. "I just read Rogues Gallery #1, it's a good one to check out," he says. "I try to read not comics! I read that book about the puppet theater in L.A. - I love creepy puppets! I read that, and I read a history of clowns." This is, surprisingly, potential for a future Joker story. He's also reading police reports for the true crime book. "The sick part of me is going, 'yeah, yeah, this is good!'"
What does Barajas look for in a good collaboration? "Oh, man," is the immediate response from a stumped Barajas. "I look for people who are smart, who can see what I'm doing and make it better." Also, someone reliable, someone who isn't a jerk or a creep, but also understands that it's something that it needs to sell. "I spent $30,000 on La Voz De M.A.Y.O., just on my own! I call it my kid," he says. Jokes that he hopes that it never calls, but that it might put him into a senior center when he's much older.
What changes does Barajas want to see in the industry? "I think we have to be honest with ourselves about the job and the culture," saying that a lot of veterans are leaving the industry and a new generation needs to foster and help people. "We just have to get better at taking care of each other, because it's hard." Says that he's gravitating towards Discord as a place to have conversations with creators. "We need to find a way to monetize this," calling out Women Write About Comics, a three-time Eisner winning site, to be supported and to support worthwhile projects. "I'm very much a 'leftist soy-boy,' and when it comes to comics, I become a capitalist monster," he says.
Any last words? "This means a lot. I've worked really hard, but imposter syndrome is strong. The fact that people showed up means a lot, even though I told them not to," he says. "I do want people to come, I'm just really bad at promoting myself, and being vulnerable."
And with that, we're finished! Thanks for reading along, and for reading all of the Popverse liveblogs this convention.