Why is everyone talking about Hunger Games all of the sudden?
Turns out there's a hunger for Hunger Games (groan)
The Hunger Games is on everyone's minds. You might have seen people talking about it online. Yes, there's a prequel movie coming out - but that's not what's drawing people's attention.
All the talk is about the original four movies.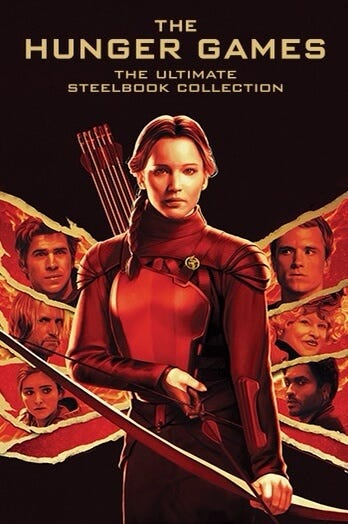 All four of The Hunger Games movies were added to Netflix earlier this month, and Netflix subscribers are eating it up. The original Hunger Games is the ninth-most popular movie on Netflix this week, with the sequel Catching Fire ranking higher, at #7 worldwide.
How popular is The Hunger Games right now?
So just how much is The Hunger Games being talked about? According to Google, interest in the Hunger Games has risen to heights not seen in eight years - the last time a Hunger Games movie was in theaters.
And it all started March 1 when Netflix revealed The Hunger Games was arriving on the platform.
What's next for The Hunger Games?
This rise in interest comes as production is underway on a fifth Hunger Games film - a prequel (based on a prequel novel) subtitled The Ballad of Songbirds and Snakes.
The Hunger Games: The Ballad of Songbirds and Snakes is antipcated for a November 17, 2023 release, with a cast comprised of Tom Blyth, Rachel Zegler, Josh Andres Rivera, Hunter Schafer, Jason Schwartzman, Burn Gorman, Peter Dinklage, and Viola Davis.
While we wait, all the novels and all four of the original movies are available now on Netflix and wherever books and movies are sold.
---
Best movies on Netflix: A guide to what's playing now.