Invincible's Guardians of the Globe cast is expanding for season 2
Bulletproof, Shapesmith, and possibly more are joining the Guardians of the Globe team on Amazon Prime Video's Invincible.
While the show is called Invincible, Amazon Prime video's hit superhero cartoon also stars other heroes - such as the superteam Guardians of the Globe. With Invincible season 2 part 1 coming out November 3, fans can look forward to some additions to the Guardians cast - as told to us by co-showrunner Simon Racioppa.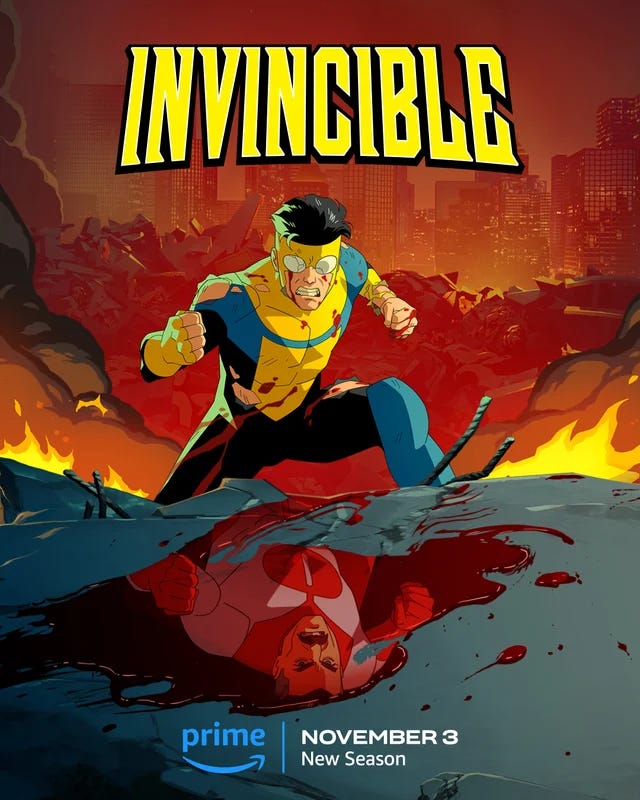 "You're going to see Jay Pharaoh as Bulletproof. You're also going to see Ben Schwartz as Shapesmith – he gets added to the Guardians of the Globe too and he's incredible," Racioppa tells Popverse. "You know, we're happy to expand our cast and we're very lucky with the actors who say yes to us and get to come on the show."
Ben Schwartz (the voice of Sonic the Hedgehog) plays Shapesmith, along with Jay Pharoah as the aforementioned Bulletproof. But those two aren't the only new heroes - and new voice actors - coming to the show.
"I can't tell you who else is going to play [new superhero characters] but we always love mining the cast list from any Walking Dead project and seeing who [could fill an Invincible role], but we don't do it gratuitously," says Racioppa. "We just find the people who make sense for the role and then we bring them back. So, yeah, it would be crazy if it never happened again, let me put it that way."
Look for Invincible showrunner Simon Racioppa's full interview with Popverse later this week.
Invincible season 2 part 1 debuts November 3 on Prime Video.
---
Want to know what's coming up next in pop culture? Check out our guides to upcoming movies, upcoming TV shows, upcoming comics, and upcoming comic conventions. If you're looking for specific franchises or genres, we have all the upcoming MCU, upcoming Star Wars, upcoming Star Trek, and upcoming DC movies & TV for you. If you're a fan of superheroes and not specific to just Marvel or DC, we have overall guides to all the upcoming superhero movies and upcoming superhero TV shows (and new seasons) as well.