Amazon's Invincible will "never wipe the slate clean" after that bloody season 1 finale, says co-showrunner
Invincible showrunner Simon Racioppa talks about the upcoming second season
The first season of Amazon Prime Video's animated Invincible series
ended with one of the most surprising - and bloodily brutal - finales in American cartoon history. With the series now set for a return with
Invincible season 2 on November 3
, the obvious question is how do they top that.
And for those of us who have watched too much TV, should we be expecting some kind of retcon or slight of hand to walk back Invincible being beaten up by his father, Omni-Man? We asked Invincible co-showrunner Simon Racioppa that question - and received a refreshing answer.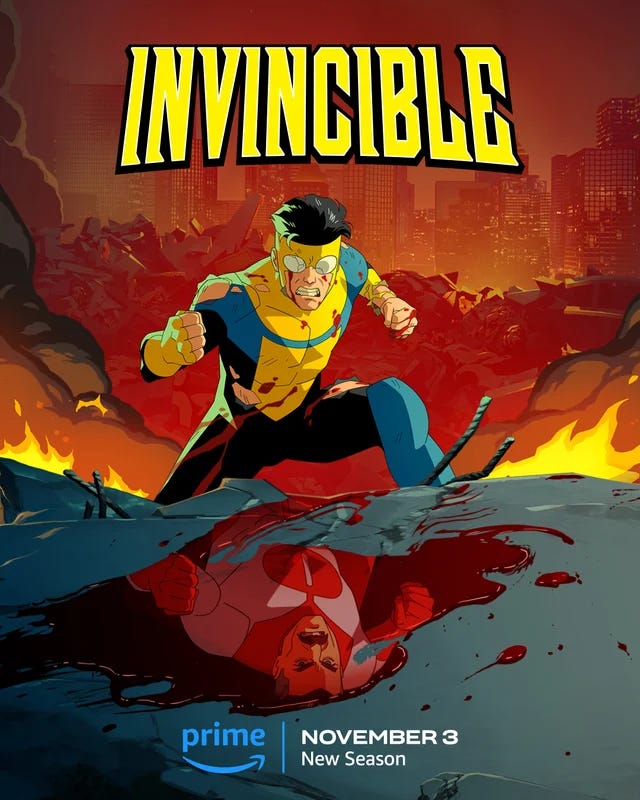 "One of the things we promise you in Invincible that is different from a lot of other adaptations is that we never wipe the slate clean," Racioppa tells Popverse. "Season 2 starts a month after the events of the end of Season 1, the last episode of the season, and everything is still 100% fresh in everyone's mind. All the trauma, all the lies, all the deceit, the death, the destruction, everything is still there. And we picked that right up in Mark's character, and Debbie and Eve and Amber and all of our other characters."
"You don't get over that kind of betrayal in a month – you're just barely scratching the surface of it," Racioppa continues."So, the ramifications of what Omni-Man does to Mark, to Debbie, to the world, really we're just at the start of it at the start of Season 2 and it's going to echo all the way through Season 2 and beyond Season 3."
"And I'm sure if we get to do a Season 4 or 5, we're going to still have bits of that echoing that far along because that was the scope of what Nolan did to Mark and to Debbie and his family and to everybody else," says Racioppa.
Look for Invincible showrunner Simon Racioppa's full interview with Popverse later this week.
Invincible season 2 part 1 debuts November 3 on Prime Video.
---
Want to know what's coming up next in pop culture? Check out our guides to upcoming movies, upcoming TV shows, upcoming comics, and upcoming comic conventions. If you're looking for specific franchises or genres, we have all the upcoming MCU, upcoming Star Wars, upcoming Star Trek, and upcoming DC movies & TV for you. If you're a fan of superheroes and not specific to just Marvel or DC, we have overall guides to all the upcoming superhero movies and upcoming superhero TV shows (and new seasons) as well.