Is the Dark Flash making his DCEU debut in The Flash? Todd McFarlane seems to tease "yes"...
Does a toy listing spoil a moment in the upcoming big screen Flash movie?
For all the pre-release hype surrounding the upcoming The Flash — including but not limited to trailers showcasing the former DC actors re-appearing in the movie, or Sasha Calle's debut as Supergirl — there's a lot that we actually don't know about the upcoming movie less than a month out from release… which, let's be honest, is a welcome novelty. Unfortunately, one piece of information might just have been spoiled via a toy announcement of all things.
As part of the company's latest mailing, McFarlane Toys - the toy manufacturer owned by Image Comics founder and Spawn creator Todd McFarlane - sent out an announcement for a new addition to its Gold Label Collection of statues: a character called "Dark Flash," who is listed as coming from "The Flash Movie."
Wait, the what Flash?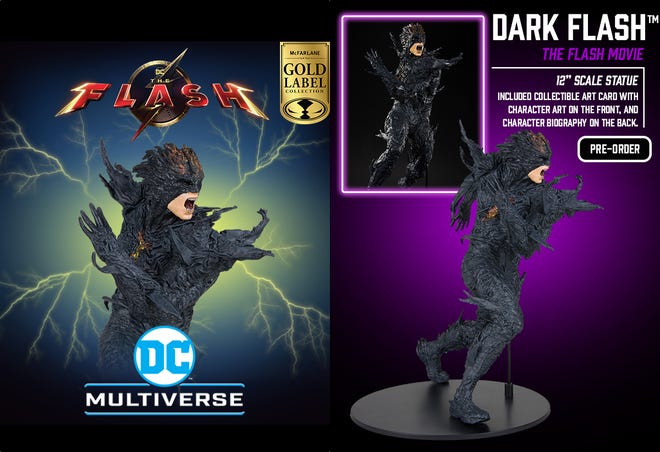 Judging by the graphic of the figure accompanying the announcement, the Dark Flash appears to live up to his name with an all-black costume that might be made of black lightning of some form, or some other kind of living energy — but who is the Dark Flash? The answer might already be available in the trailers for the movie, which feature two Barry Allens co-existing, presumably as a result of 'our' Flash having changed the timeline in such a way that results in the return of Michael Keaton's Batman and Michael Shannon's General Zod.
Comic book logic — not to mention, the comic book series Flashpoint, which acts as inspiration for the movie — suggests that, at some point, the Flash will try and restore the original timeline, likely by preventing himself from changing the timeline in the first place… but what if the alternate Barry Allen isn't a fan of that plan, and turns into one of the movie's antagonists to stop him from achieving his goal?
This is, of course, pure speculation… but what isn't, is the fact that there's some kind of Dark Flash in The Flash… which suggests that a Flash is about to make a heel turn at top speed in the upcoming movie.
(Actually, while we're looking at toys for Flash spoilers, why is Barry wearing a re-painted Batman costume in one of the action figures for the movie…?)
The Flash is headed to theaters June 16; you can check out Popverse's list of upcoming superhero movies right here. You can buy tickets at Fandango or Atom Tickets.
Perhaps just as importantly, you can pre-order the Dark Flash statue for yourself right here.
---
Before the movie's release, catch up with The Flash while you still have the chance. He moves pretty quickly, don't you know.