Jeff Smith and Tim Fielder chat Tuki, Matty's Rocket, self-publishing, and Netflix's Bone
At San Diego Comic Con 2022, Jeff Smith and Tim Fielder talked Bone, Scholastic, and Matty's Rocket
On the final day of San Diego Comic Con, Jeff Smith invited his friend and fellow comic creator Tim Fielder to join him during his spotlight panel where the two cartoonists spoke about their backgrounds, self-publishing, and Afrofuturism.
Over the past few years, Smith and Fielder have discussed and advised on each other's projects including Fielder's two books Matty's Rocket and Infinitum: An Afrofuturist Tale and Smith's newest project Tuki. Smith describes Tuki as taking place, "two million years ago at the dawn of humankind. The latest research was that fire was first controlled and food was cooked around 2 million years ago."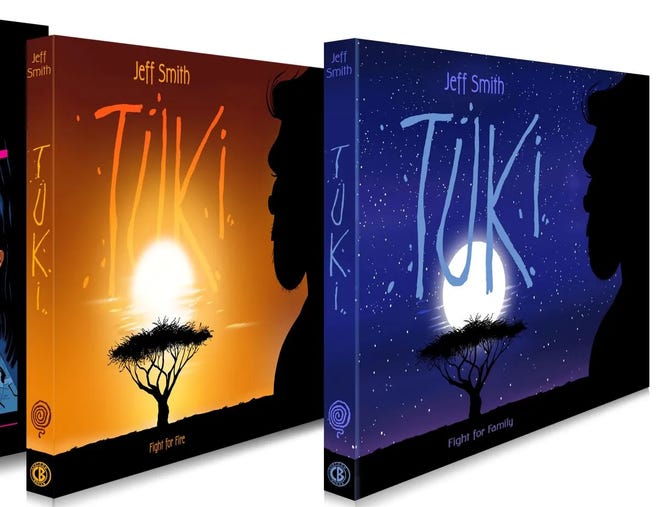 Fitting with the weekend's theme, Jeff Smith shares that he first brought Bone to San Diego Comic Con in 1992, and he was pretty surprised by the reaction to it. "The comics I liked as a kid… I wanted to make a comic that was like that, but as an adult. I pretty much just follow what my heart wanted to draw. I thought I was a fairly simple idea. It's Bugs Bunny meets Lord of the Rings."
Smith had originally set out wanting to do comic strips, but instead went into animation when strips didn't work out. As an animator, Smith worked on commercials, most which were forgettable, except for a kids meal commercial for White Castle that was done in Claymation.
Fielder asks about Dave Sim's influence on Smith's work. "I had not read Cerebus. I knew who Dave Sim was… without reading the story, I was thinking this might be a good model. I counted how many pages it was, it was in black and white. I saw where it was printed." Smith chose the comic as a physical model for how he should print his own book. Sim and Smith hit it off when they first met and started chatting about how they didn't want their comics "to be taken off the shelf and put into long box and never read again unless you were a collector." They wanted reprints, for their books to last. Smith uses the metaphor of a hardware store— when you sell out of hammers, you order more. *Note: there has been a history of controversy regarding Dave Sim, which you can read more about at The Beat.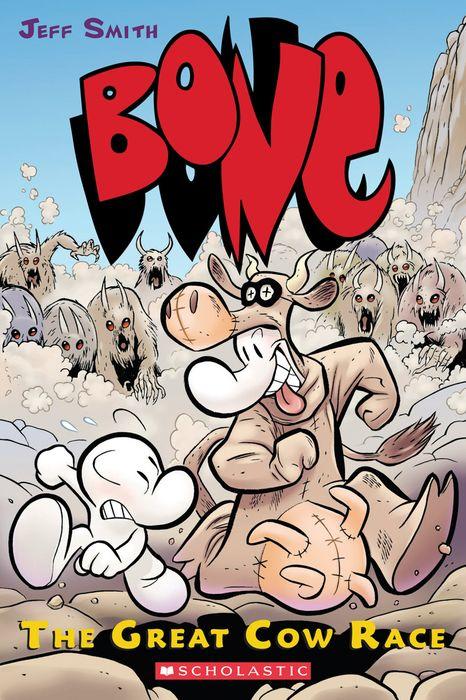 Fielder asked Smith when he noticed when things were breaking right for comics and graphic novels. Smith points out two breaking points for graphic novels, one which was the publication of Sandman, Bone, and Understanding Comics, which was being restocked all the time. The next change came around 2000, when Smith and his wife were trying to expand their audience, noticing that there were very few women and children in convention centers during comic conventions. They tried a library distributor for Bone, but the distributor immediately said no. A few years later, that same distributor reached back out because the librarians had demanded that they needed to carry Bone. A couple years after that, Scholastic called, saying that librarians had urged Scholastic to publish Bone, since that was what kids were reading. That was the second turning point—when Scholastic wanted to launch a graphic imprint for kids and launch it with Bone.
Smith shares that bestselling cartoonist Raina Telgemeier said that when she read Bone, it showed her that she could do anything you wanted. Even though her work is quite different from Smith's, Smith's work opened up the possibilities of what cartoonists could do. The other indie work in comics at the time tended to lean towards stories by and about lonely introspective guys, but Bone was breaking through with a different kind of story.
Fielder points out that Smith is known for his Scholastic work, but that he had self-published Rasl and originally self-published Bone. He asks Smith which process he prefers. Smith prefers the independent but likes the money of big book publishing. "Scholastic has done quite well by me."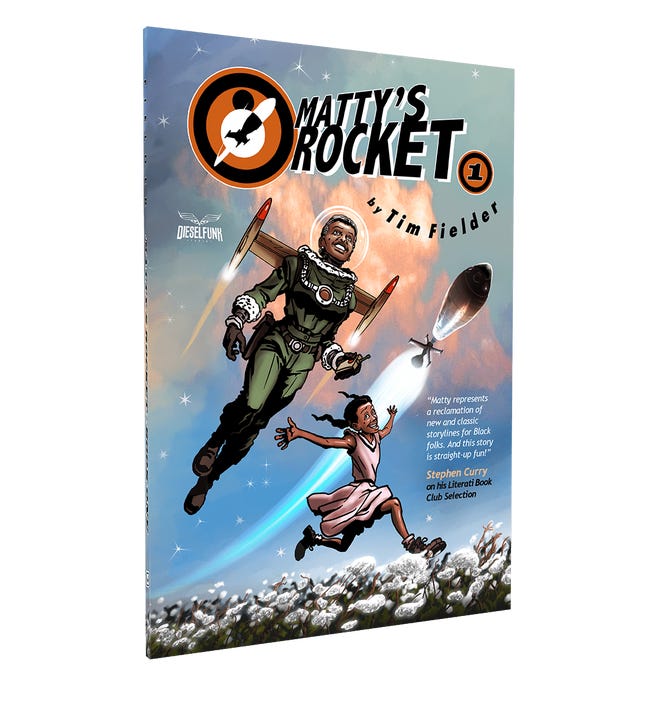 As for Fielder, he had originally self-published Matty's Rocket as individual 'floppy' comic books before considering collecting them into a trade. His company was one of the organizers of the Afrofuturism Festival at Carnegie Hall right when he was trying to find a publisher, and he ran out of time due to working on the event. However, it turned out that Steph Curry of the Golden State Warriors wanted to include the comic for his Literati Book Club, so Fielder turned to self-publishing again (this time with a big cover quote from Steph Curry—and one from Jeff Smith as well). Fielder is currently working on the second and third collection of Matty's Rocket.
The panel ends on a question about the much-anticipated and then-canceled Netflix animated adaptation of Bone. Smith responds that, "It's a cryptic answer," when concerning what happened. Over the past year or so, Netflix has been going through some serious turmoil with all the losing subscribers and stock, as well as losing executives. Smith shares that, "We got very little warning that they were going to have a meeting, and that our team was going to have to convince them," even though the project had already been greenlit. After the meeting, one of the Netflix executives said about the pitch, "I don't get it. Why would anyone want to see this?" The rapt audience hisses when they hear this. As of this writing, Netflix still owns the adaptation rights to Bone.
---
Raina Telgemeier, Katy Farina, and Gale Galligan discuss the joys of adapting The Baby-Sitters Club.