See Thanos creator Jim Starlin's return to his favorite character, Dreadstar
Thanos creator Jim Starlin returns with his own creator-owned character, Dreadstar
Jim Starlin is best known for his Marvel creations such as Thanos, Gamroa, Drax, and the Infinity Gauntlet, but his favorite character is someone else - a character he owns: Vanth Dreadstar.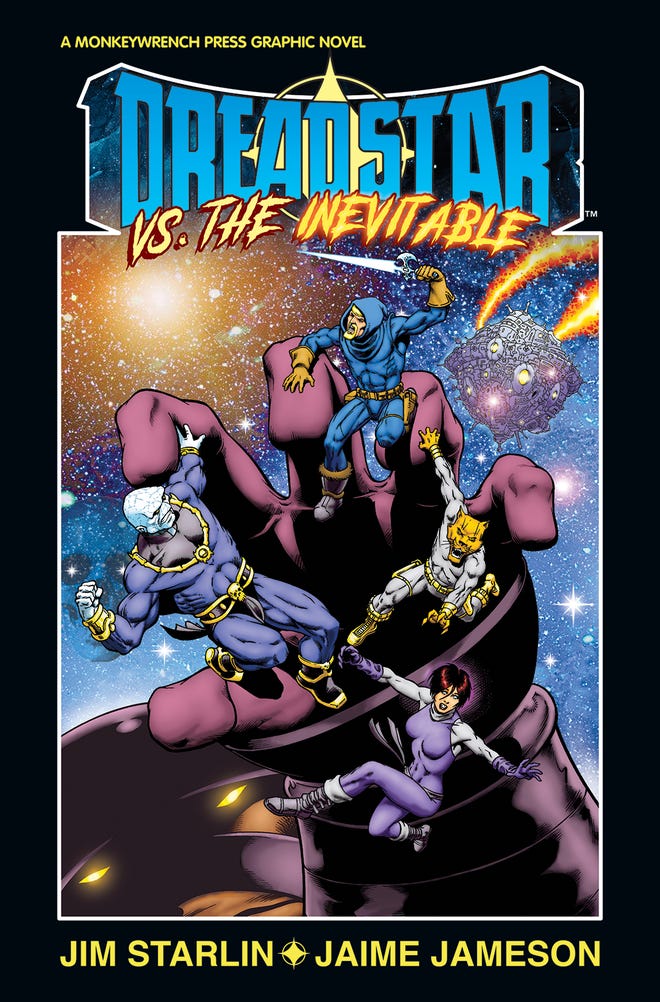 Starlin is returning to his creator-owned series Dreadstar in 2023 with a new graphic novel he is writing and drawing called Dreadstar vs. the Inevitable.
"Working on Dreadstar again is like visiting old friends," Starlin says of the new project. "But this go around has the additional benefit of me getting to actually work with other old friends like Ron Marz and new friends like Chris Scioli and the marvelously talented and beautiful Jaime Jameson. Monkey Wrench forever!"
Dreadstar vs. the Inevitable is the first project from a new comics publisher named Monkey Wrench Press, and continues a new Dreadstar saga Starlin started in 2021's Dreadstar Returns.
"We couldn't ask for a better partner than Jim Starlin to launch our publishing line," Monkey Wrench Publisher Chris Scioli says. "Helping Jim bring more Dreadstar into the world is an honor. We know he has more Dreadstar stories to tell beyond this one, and we intend to be here for all of them, as well as some other classic Starlin properties."
Monkey Wrench Press is launching a Kickstarter for Dreadstar vs. The Inevitable beginning January 24, 2023, with an intent to gather pre-orders for the book directly from fans - and offer the first softcover edition of Dreadstar Returns.
Here is a 10-page preview of Dreadstar vs. The Inevitable:
Dreadstar vs. The Inevitable is aimed at a late 2023 release, with the Kickstarter beginning January 24, 2023.
---
Winter, spring, summer or fall, a new Dan Watters and Sebastián Carbol comic is going to make you re-examine them all