Jim Zub, Rod Reis, Tini Howard, and Danny Khazem talk about breaking into comics - the Marvel way at ECCC '22
The Marvel creators discussed their comic origins, and what keeps them in the industry at the Seattle convention
Marvel is the biggest game in comics, and on Friday afternoon at Emerald City Comic Con, associate editor at the company Danny Khazem sat down with three Marvel creators – artist Rod Reis, and writers Jim Zub and Tini Howard – to discuss just how they ended up at the company, and what makes for a good creator and collaborator now that they're there.
The importance of friends
"If I start saying 'from the beginning,' I will look very old, and I don't want to do that," Reis told the crowd at the Breaking Into Comics the Marvel Way panel, admitting that even before his interior art debut in 2014, he'd been coloring for DC for close to 15 years. "I wanted to be an artist, but I saw back in the day that my skills for the colors [were] better than my skills as an artist," he said. The reason why he moved into full artwork was simple: "One day I just decided that I needed the challenge, I needed to be more creative."
Reis' first full interior work came in Image Comics' COWL, with writer Kyle Higgins, whom he worked with again years later on a Winter Soldier miniseries at Marvel. Zub pointed out that, in comics, people want to work with the people they like. "There was a time when I worked for four different companies, but I was really just working with the same editors," he said. "You don't work for companies, you work with people."
"It's good when you as a writer can see potential [in] the artist," Reis told Zub, admitting that even in his earliest Marvel work (2015's Secret Empire with Nick Spencer), he can see all of the things he'd want to correct today. He's not alone in that, though; "I don't even read my old stuff, I don't like it," Howard admitted.
Howard's first professional comics work came as a result of being a winner of Top Cow's 2013 talent search, with her first credit in 2014's Magdalena: Seventh Sacrament. "It comes out, and at the end of the day, you get a glossy comic with the Image logo with your name on it. It's pretty exciting," she said, admitting, "It's still pretty exciting!" She said that she's started a group chat with her fellow winners from that year, and that they're still in the same group chat now; in fact, earlier that morning, they were talking about how they'd be working together on upcoming projects from different publishers. The importance of having peers to talk with in this fashion was something she recommended, especially for newcomers. "If you're making art, you're going to make a lot of bad art, that's just part of it," she joked. "It's a lot easier to deal with it with friends!"
The importance of authenticity
In talking about his own entry into comics, Zub repeated his origin story from Thursday's How To Write Comics Workshop panel, emphasizing that it was his early visit to San Diego Comic-Con at the behest of Scott McCloud – really, go read Popverse's write-up of that earlier panel for more details – that sealed his love for working in the comics industry. "To this day, I come home from conventions exhausted, but so jazzed," agreed Howard. "Seeing [creators] share their truth makes me want to make more art that's authentic to me."
Zub said that, after that first San Diego, he worked his way through multiple jobs in the industry, including colorist, editor, and more, each one giving him a better understanding of what he needs to do as a comic book writer. "'I know what you do, and I want to make your job easier,' is how he described his attitude towards collaborators today. "The more you learn about the entire industry, the better you'll be at your job."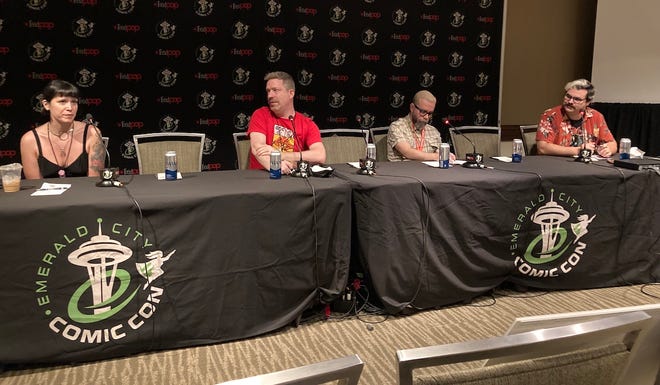 Reis and Khazem both followed up by talking about the value of recognizing that your initial goal in comics might not be your eventual destination. Reis mentioned seeing artists continually try the same sample pages over and over again with little success. "You'll see them getting frustrated because for years, they've been trying, trying, trying, and they didn't get the chance," he said. "You need to step back and see the big picture. Maybe you need to be an inker, maybe you'd be a colorist. There are other ways to work in comics."
After initially believing as a kid that he would grow up to draw comics, Khazem eventually got a job at Valiant Entertainment. "That publisher only had about 20 or 30 people in the company, so we ended up doing a lot of different things," he remembered. "All of our careers have not gone the way we intended," Zub suggested, but "it all still worked out."
The importance of passion
Panelists also talked about a necessary ingredient for a career in comics, if a little discussed one. "A lot of us have passion for these characters, but the people in this industry have passion for the work," Howard explained. Zub agreed, saying that many wannabe creators "don't want to make comics, they want to autograph comics." Today, Howard went on, the success of superhero characters in mainstream culture means that creators don't have to go into comics to celebrate their favorites. "I feel like there was a time that if you wanted to make art of Wolverine, you had to make Wolverine comics, but now, you can be a designer who makes Wolverine themed dresses!" she said, laughing.
A recurring theme in the panel was the need for creators to follow their own passions when it comes to work. "As a person who's been creative since I had eyes and ears and hands, authenticity is what matters. I love weird," Howard said, remembering that Matt Fraction had once argued that good pitches didn't boast of how cool the story was going to be, but instead establish why you have to be the person to tell that particular story. What truly matters in any comic, she said, wasn't making everything so universal as to be meaningless but to create something that speaks to those who "need that work… That connection doesn't have to be political or marketable, it has to be real."
Zub jumped on this idea, sadding, "That's what you want, that passion coming through in the work." He says that he doesn't want to see creators holding back in case they get future jobs. "You're going to have more good ideas. You need to put it on the page," he said. He mentioned having met creators who think that every single project represents their one chance to get things right: "If that's the way you treat everything, you're not going to survive," he said. "Dude, you can't hang all your hopes and dreams on one thing and time."
Be good, be patient, be nice
"The hardest thing to write is a script for 'To Be Announced,'" Zub said, when the subject of potential collaborators came up. Howard agreed, with the two writers talking about the importance of asking artists what they wanted to draw – something that Reis himself was excited to hear. ("That's so good, I love that!" he said, enthused.) Both Zub and Howard said that they'd definitely change plans for stories based on artists' feedback. "One thing I really like about asking my artist what they really want to draw is, you have to write a lot of scenes that end up feeling similar and rote [but] if I ask an artist what they want to draw and they say, 'spaceships and the moon,' great! It's on the moon now. People are going to talk about the cool scene on the moon."
When it came to concrete advice for new creators, Khazem told the audience that making something, finishing it, and doing it in a timely fashion is important, but Zub reminded everyone that "first you get good, then you get fast," something that Howard agreed with. Having patience helps, too, as it turns out; at one point in the panel, Zub revealed that his upcoming series of one-shots at Marvel centering around Murderworld was originally pitched way back in 2004. "This pitch is old enough to vote," he joked.
Reis added that it's important to be a nice person too, prompting Khazem to say, "I have a note that says, raise all ships: be nice, be good, be helpful." It's advice that, even if it doesn't necessarily immediately translate into success in comics, will make it easier for those around you to root for your success.
---
Be at ECCC from anywhere with Popverse's wall-to-wall coverage of the Seattle comic convention. Bookmark Popverse's ECCC coverage round-up page, as we're adding to it daily - and even after the event itself.