Judge Dredd's multiracial ancestry is revisited and restored in new storyline
'One-Eyed Jacks' takes 2000 AD's futuristic lawman back to '70s New York
It's a curious piece of comic book trivia, but when originally created, British comic book icon Judge Dredd was designed to be purposefully multiracial — a forgotten fact currently in the process of being restored by a storyline exploring previously unknown information about the ancestry of Mega-City One's finest lawman.
As designed by the late Carlos Ezquerra, Dredd's racial background was intentionally vague — "The idea originally was to make him more or less any race, a mixture," the artist is quoted as explaining in Michael Molcher's 2023 book I Am The Law: How Judge Dredd Predicted Our Future — which led to some confusion on the part of the artists who followed him on the strip, which was published in black and white in the early days: Mick McMahon, the second artist on the series, believed Dredd was Black and drew him as such, while artists including Brian Bolland and Ron Smith drew him as a white man. Cover appearances, colored by in-house staff at then-publisher IPC, made the decision that he was, indeed, white… but Ezquerra's original intent hasn't been forgotten by creators handling the character today.
'One-Eyed Jacks,' by Ken Neimand, Ian Richardson, Kieron McKeown, and Quinton Winter, is currently running in the monthly Judge Dredd Megazine; it's a Dredd story with not one, but two twists — we'll get to the second one soon enough — including the revelation that one of Dredd's ancestors was, herself, a cop in New York City in the '70s… and was Black.
"I knew about Carlos Ezquerra saying he originally saw Dredd as being racially ambiguous, and even years into the strip you can see that in the way he tended to colour Dredd with more of a Mediterranean skin tone, which is definitely a trademark Ezquerra thing," Neimand told Popverse via email. "It wasn't that difficult to imagine Dredd coming from a mixed race lineage in his family bloodline, so the decision to make Dredd's '70s cop ancestor a black woman doesn't come out of some crazy woke space. It sits on top of, and refers back to, these things that were baked into the character from his very inception."
The timeline presented by 'One-Eyed Jacks' would seemingly mean that Eartha Fargo is the grandmother of Eustace Fargo, the man who founded the Justice Department according to Dredd mythology, and the man whose DNA was used to clone Dredd. Eartha is shown to be pregnant in 1975; according to Dredd canon, Eustace was born in 1999. (If this all sounds too recent to be attached to Dredd chronology, it's worth remembering that the strip started just 76 years from now in terms of its internal timeline.)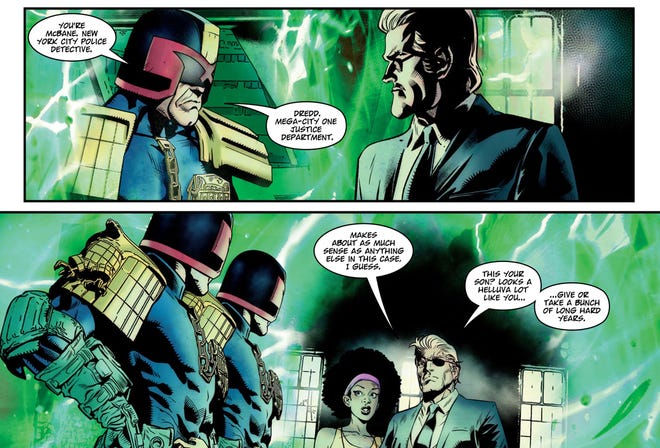 "Dredd is a clone of Eustace Fargo, so Eartha Fargo is also Dredd's genetic grandmother," said Neimand. "Her now-canon existence doesn't change anything; it just adds to the 'diligent cop serving their crazy city' vibe that is an inherent part of Dredd's story heritage."
That isn't the only piece of Dredd's ancestry addressed by the six-episode serial, which runs through June's Judge Dredd Megazine #457; the story also brings an entirely separate UK crime strip into Dredd canon by introducing Jack McBane, the hard-nosed New York City cop lead of 1975's One-Eyed Jack, into proceedings.
"One-Eyed Jack is a pre-2000AD UK comic strip about a violent, end-justifies-the-means NYPD detective who very much comes out of the popularity of the Dirty Harry movies of that era," Niemand explained. "He was created by [Dredd co-creator, writer] John Wagner, and so is regularly cited as a major stop-off point on the road to Judge Dredd. I wanted to do a story where the two characters – real Dredd and proto-Dredd – interact when it turns out they're both investigating the same linked series of crimes, 170 years apart. So the story's really about Dredd encountering his own genesis. He meets his actual ancestor, in Eartha Fargo, and his creative predecessor, in One-Eyed Jack."
Although the "One-Eyed Jacks" story-arc will finish next month, allowing Dredd to go back to regular 22nd-century policing, fans won't have seen the last of either Eartha or Jack, as it turns out.
"We're next going to be doing a Fargo & One-Eyed Jack spin-off strip, set in a skuzzy 1970s New York that references exploitation movies of the time and the feel of the surprisingly violent UK Action comic strips of that same period," Neimand revealed, referencing the controversial 1970s precursor to 2000 AD — a comic deemed to be so corruptive to the nation's youth that it became headline news.
'One-Eyed Jacks' continues in Judge Dredd Megazine #456, available digitally via the 2000 AD webstore now.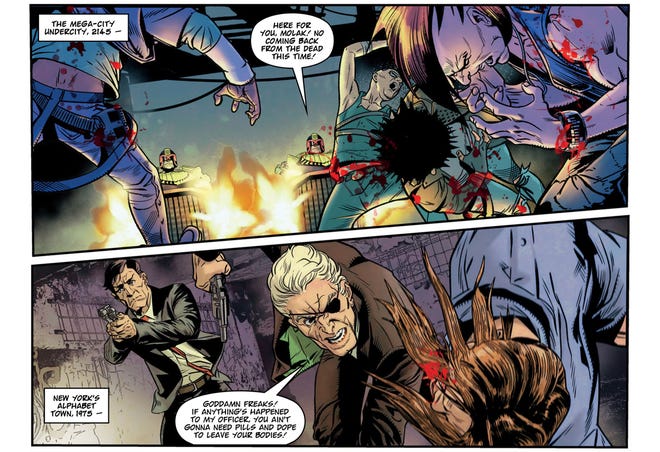 ---
The success of Best of 2000 AD has surprised even the people responsible for the collected edition series.