Science makes its way to Los Angeles Comic Con
It's time to bring science to the people (the comic con people)
At this year's L.A. Comic Con, alongside booths selling limited edition vinyl figurines and splashy posters featuring Marvel characters, were two exhibits focused not on pop culture or science fiction, but on science.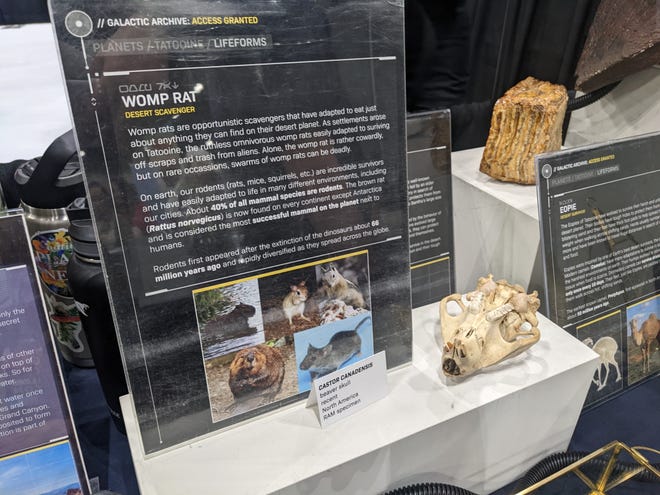 Well, kind of. In fact, the group Cosplay for Science actually merged the worlds of science and science fiction by looking at the real-world inspirations for the creatures featured in the Star Wars galaxy. The tiny museum showcased fossil specimens from the Alf Museum of Paleontology in Claremont, CA, both replicated and real, as well as museum scroll writeups explaining how these real-life animals related to the animals seen in Star Wars. Some of these connections were made through conjecture (with the scientists looking at visual cues and environments), and some came from speaking directly to animators who worked on Star Wars projects.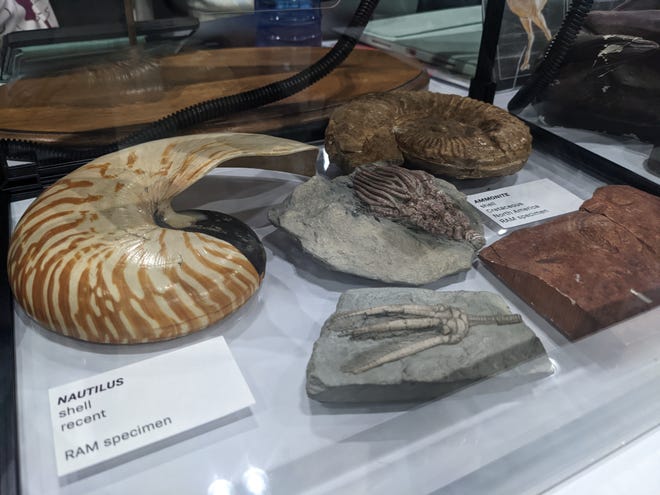 On why Cosplay for Science had a booth at L.A. Comic Con, Bailey Jorgensen, a collections manager from the Alf Museum, shared that the group is a coalition of scientists focused on making science more accessible. One of the reasons why Cosplay for Science had a booth at the contion is to create an informal educational setting where people can interact directly with scientists. Jorgensen said, "We're trying to dispel the notion that scientists are elitist… we want to be approachable and show that science is for everyone."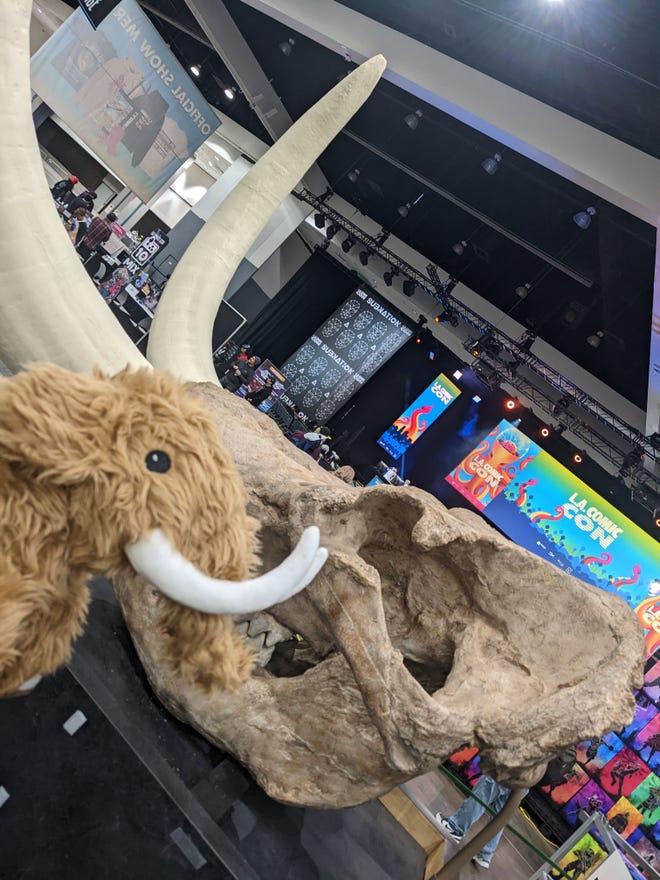 But Cosplay for Science weren't the only science related group at LA Comic Con this year. Near the center of the Anime and Gaming Hall was a large trailer featuring what looked like some big old bones and a huge skull complete with giant tusks. These bones turned out to be replica Pacific Mastodon fossils brought out from the Western Science Center in Hemet, California.
Like Cosplay for Science, the Western Science Center is all about outreach, though their approach is less pop culture-related and more… well Ice Age (not the movie) related. The travelling exhibit on display specifically highlighted on the Western Mastodon (Mammut pacificus), a species that was only differentiated from other mastodons in 2019. With most of the specimens being found in California's very own Riverside County, the Western Mastodon is a part of local Ice Age history.
Dr. Alton C. Dooley Jr., the Executive Director of the Western Science Center, said that the Western Science Center's mission was to show L.A. Comic Con attendees what California was like during the Ice Age. And the travelling museum seemed quite succesful with that mission, as Dooley shared that the exhibit had seen thousands of visitors over the weekend.
To learn more about these two organizations, check out the websites for Cosplay for Science and the Western Science Center.
---
L.A. Comic Con, a local convention with (pretty much) no lines.