What if a comic convention focused exclusively on comic art? One does, and its Italy's Lake Como Comic Art Festival
Lake Como's comic festival is an event with a focus purely on comic art and in a very different setting
Picture a comic convention, and each of you will fill it in with various standardized elements: an artist's alley, dealer tables, maybe a few publishers, an area for celebrity signings, and then some halls or draped-off areas for panels. A new comic convention on the circuit has dispensed with most all of that in favor of the one thing which comic cons started around: the comic creators themselves.
Located in a villa in northern Italy, the Lake Como Comic Art Festival is unlike virtually any other comic conventions in the world by focusing exclusively on comic creators - and specifically, comic art. Situated in and around a historic Italian villa, Lake Como Comic Art Festival (or LCCAF, for short) doesn't have comic dealers, cosplayers, merchandising stalls or comic publishers. It is just dedicated to the art of comics with a line-up of artists that would make most any major comic convention jealous.
For the upcoming third annual Lake Como Comic Art Festival, that line-up includes Milo Manara, Enrico Marini (Noir Burlesque), Esad Ribic (Thor), Liam Sharp (Starhenge), Tanino Liberatore (RANX), Kevin Eastman (Teenage Mutant Ninja Turtles), Terry Moore (Strangers In Paradise), Mike Grell (Green Arrow), Brian Stelfreeze (Black Panther), Joe Benitez (Lady Mechanika), Dave Johnson (100 Bullets), Jim Mahfood (Grrl Scouts), Paolo Eleuteri Serpieri (Druuna), Mirka Andolfo (Sweet Paprika), Adi Granov (Iron Man), David Mack (Kabuki), Alex Maleev (Daredevil), Sean Phillips (Criminal), Tula Lotay (Barnstormers), Gary Frank (Doomsday Clock), Iban Coello (Venom), Jorge Fornes (Batman), Terry Dodson (Adventureman), Dave McKean (Sandman), Mark Buckingham (Fables), and the just-announced Sean Murphy (Batman: White Knight).
Over 100 comic artists will be at the show, and there's one more feature Lake Como Comic Art Festival offers that makes the three-day event even more exclusive: they limit attendance to 1000 people.
This year's Lake Como Comic Art Festival takes place May 12-14, 2023, and we spoke with the organizers and several of the exhibiting artists to learn more.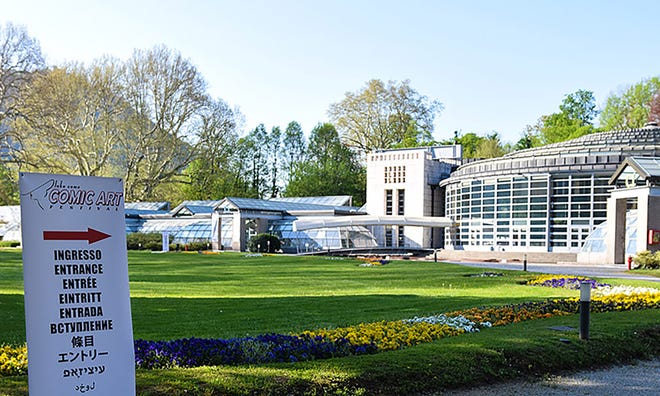 Co-organiser Arnaud Lapeyre explained that while the show has increased in size since its inception back in 2019, its ethos has remained the same.
It has grown a lot with many more artists every year but the essence of the show still remains the same. Only artists and art dealers are there," Lapeyre tells Popverse. "There is no-one else and we also cap the attendance to make sure the quality of interactions remains exceptional and not as stressful as in many other shows."
Lapeyre offers a description of what ticket holders to the show can expect.
"Picture one of the most beautiful locations on earth (you might even have seen it in a movie), the best comic book and illustration artists you could imagine with a small amount of those who have bought tickets so you can have real interactions with everyone and not have to wait in line for hours for just a split second meeting with artistic talent. The Friday opening reception at the show is truly exceptional as it captures the real essence of the Festival."
Lapeyre's partner on the show is US-based art agent Steve Morger, who represents some of the best modern comic artists through his company Big Wow Art.
A convention experience like no other
So unlike other shows, whose aim is generally to sell as many tickets as possible, Lake Como Comic Art Festival is a more intimate experience with the opportunity for fans and comic art collectors to engage with artists without the long lines that they would encounter at other shows.
Artists are certainly keen to attend the show. British writer-artist Liam Sharp, best-known for his work on DC's The Green Lantern, The Brave and The Bold, and Image's acclaimed StarHenge, was attracted to appear at Lake Como for a number of different reasons.
"Number one is that it's a rare art-centric show – no other media celebs. There's just artists, and the best of the best at that!" Sharp tells us. "The second reason is the location, which is just stunning. The third is that it is partly run by a very dear friend of mine, Steve Morger."
Sharp is a regular fixture at the show in fact and he sees it as being like no other comic show out there.
"It'll be my third time, and last year every day was just a joy, start to finish – be it the company, the setting, the goodwill and general atmosphere. You get time to be with your fellow creators without it being a circus."
Running a show in the post-COVID environment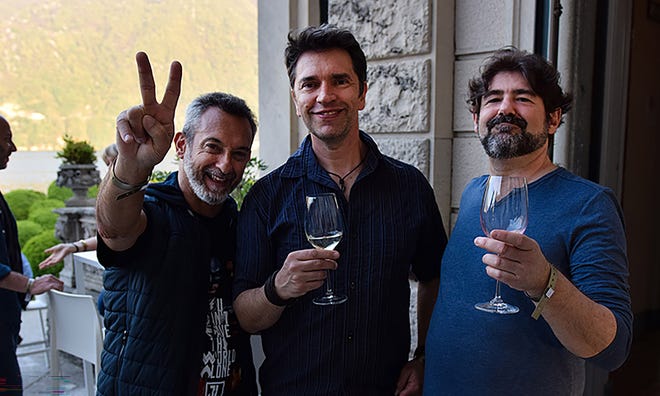 Of course, running any comic show in this post-COVID environment has its challenges regardless of whether it is a unique event like Lake Como. But Lapeyre sees the challenges they had with last year's event as one which acted as a learning experience for this May's show, he informed us.
"The one thing we learned from COVID is how unpredictable the future months could be," says Lapeyre. "Most people were optimistic about a quick resolution, hoping we could move on very quickly but the spikes coming back regularly proved it was going to take much longer.
"Last edition was the most complicated so far for us. People were travelling again but with the restrictions in place, there were still some risks and it made travelling challenging, hence there were a lot of cancellations and uncertainties.
"Today, it's all much easier and even if it is still present, we can plan ahead more easily. The very limited attendance should be very reassuring for anyone still not at ease with shows hosting hundreds of thousands of attendees."
Appealing for artists coming for the first time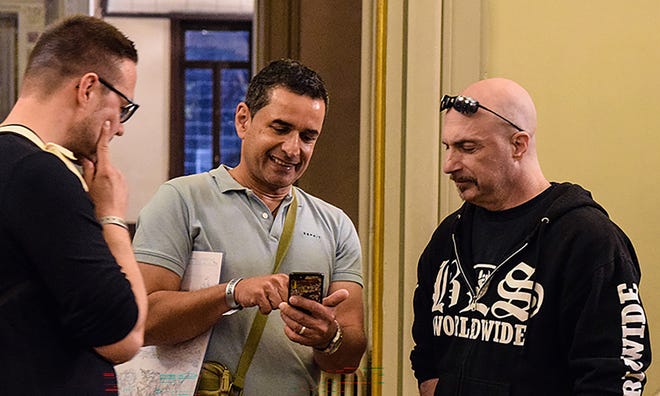 US writer-artist Dan Brereton, whose resume includes working for DC and Marvel but also as creator of horror comic The Nocturnals, is a debut at the show this year. For him, the appeal of attending is obvious.
"Beyond the obvious attraction of a comfortable-sized Comic-art-driven event on the shores of Lake Como? Offhand, I can't think of any convention that seems more idyllic for a location, and as it will be my first visit to Italy, I'm anxious for any number of reasons."
US artist Tom Grindberg, who has worked on titles like Batman, Firestorm, and Bride Of The Demon for DC and Savage Sword Of Conan and Silver Surfer for Marvel, is another artist who is making his debut at the show. For him, the show's central approach is one of the main reasons he finds it so attractive.
"The appeal of going to this show is primarily that it is for all artist that love the craft of comics and sequential art…and don't wish the bizarre antics of cosplayers, crass commercialism of over bloated industries vying for attention and in many cases stealing the true fans away from its creators," says Grindberg. "Plus the venue of this annual event is spectacular! Lake Como Italy??! You can't beat the location of this show!."
A diverse mix of talent
The organisers of the Lake Como Comic Art Festival use a variety of ways to pick the artists who appear at each show, Lapeyre admits.
"It's a mix actually. There are invitations sent to artists that Steve and I would love to have present and who have never come before. We also listen to suggestions from our attendees and our team.
"Lots of friends are coming back this time because they really enjoyed the show."
With three years under its belt and an international reputation already blossoming, the Lake Como Comic Art Festivalwill have to contend with a few new challenges to accommodate everyone at future shows according to Lapeyre.
"Every year, we receive more and more requests but as we are limited in terms of space, it's sure going to be tricky next year as we are getting close to reaching our maximum capacity."
Again, the Lake Como Comic Art Festival limits attendance with only 1000 tickets for the event - and a promise of over 100 artists, making it a ratio of 10 fans for every one illustrator.
The show also offers a limited edition portfolio with exclusive art by Arantza Sestayo, Artgerm, Cat Staggs, Dave Johnson, Eric Canete, Liberatore, Milo Manara, Peach Momoko, Ryan Ottley, Terry Moore, Simon Bisley, Mike Grell, Sozomaika, Jenny Frison, Sanya Anwar, Jorge Fornés, Tula Lotay, Riccardo Federici, Emanuela Lupacchino, Zu Orzu, Gerald Parel, Lorenzo Sperlonga, Kevin Eastman, and Sean Gordon Murphy. It was available for free to everyone who bought a pass for the show before April 16, but can also be purchased at the LCCAF stand at the show.
The artist-to-artist interaction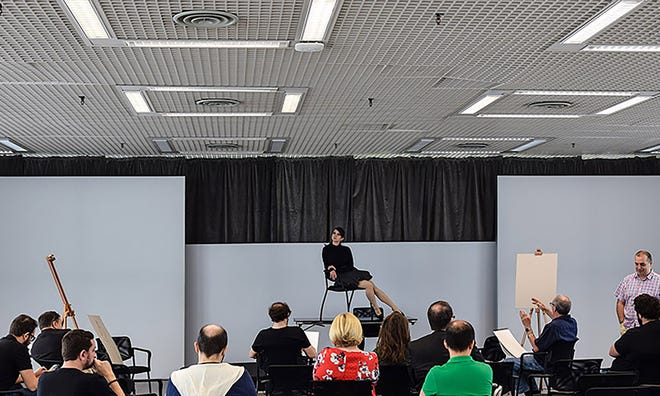 Last year, Lapeyre's busness partner in the show, Morger revealed in a chat with Bleeding Cool that it is the guests who get to chat with each other as well as the fans with the artists, something which is fairly unusual:
"One of the things that I like best is seeing the artists interact, because you've got so many people that have never met. Paolo Eleuteri Serpieri [creator of Druuna] and Frank [Cho] had a chance to chat and obviously they have certain things in common," he explained.
For Liam Sharp, the show offers the perfect mix of ingredients in this post-COVID world.
"I think we all need to slowly get back to some kind of normality! This is a great way in, as it's not too big, has plenty of space and a limited number of tickets. I can't recommend it enough."
Lake Como Comic Art Festival takes place May 12-14, 2023 in beautiful Lake Como, Italy. More information on the show can be found at LCCAF.com.
---
Keep track of this and all the other comic cons around the world with our comprehensive comic convention schedule.