Lee Bermejo revisits Batman: Damned controversy four years later
"It certainly deserves a place in the greater pantheon of that character," Bermejo says about Batman: Damned
In a conversation with Popverse contributing writer Sam Stone, acclaimed comics artist Lee Bermejo returned to the conversation about one of the more controversial moments in Batman history, a moment that Bermejo himself was a part of.
Of course, we're talking about the nudity in the Batman: Damned, a three issue prestige format miniseries published by the then new DC Black Label, a DC comics imprint dedicated to publish standalone takes for a more mature audience.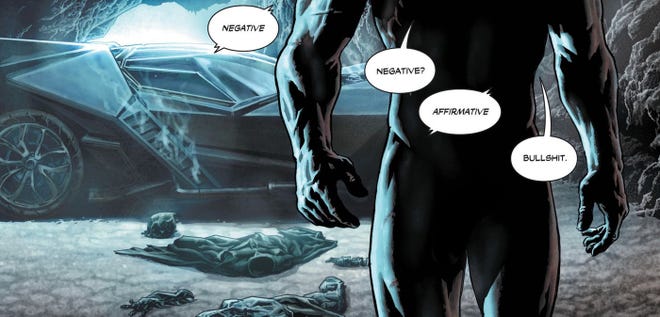 Though a nude Batman in Batman: Damned #1 made it all the way to publication and print (with conflicting arguments coming from DC about how and whether or not it should have happened), the nudity was later removed for digital and for reprints amongst much controversy. Uncensored copies tend to go for around $30-50 on the secondhand market.
Now, four years removed from the original publication of Batman: Damned, Bermejo has revisited that controversy.
When asked by Popverse whether or not he was surprised by the reaction to the comic, Bermejo responded "It did surprise me, yes. I honestly thought we had come so far in comics that we could treat something like Batman in the same way we look at Greek or Roman statues... in other words, as art. Plus, I didn't do it in an exploitative way. Ultimately, it taught me a few very important lessons, namely to remember that it's still a comic about a guy in a silly costume and therefore will never be high art, and that the comic book business and larger [companies] are not there to allow you to do art. They are there to keep [making] sure the brand isn't damaged, and they aren't beholden to the talent.
Still, I am proud that we tried something a bit risky with the story and the structure of the book. While it's very divisive as a project, I think it does things no other Batman comic [does]. It certainly deserves a place in the greater pantheon of that character."
---
Check out the full Popverse interview with Lee Bermejo here, as Bermejo dives into what Batman means to him, his time at WildStorm, and his long-time collaboration with Brian Azzarello.
---
Looking back at Jason Todd's forgotten, red-headed beginnings with his creator Gerry Conway .