At NYCC, Shadow and Bone's Leigh Bardugo has rediscovered that books are important
Author Leigh Bardugo reflects on 10 years in the Grishaverse, the perils of adaptation, and learning to let people you trust take the wheel.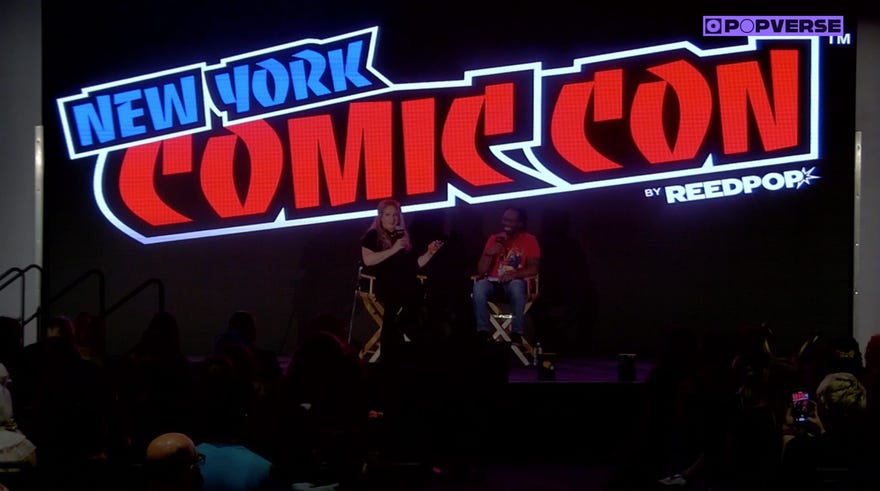 The spotlight panel for fantasy novelist Leigh Bardugo was different than any I attended for NYCC thus far. Full to capacity with young women, the room was crowded with cosplayers, all in character as the denizens of Bardugo's 'Grishaverse.' Beginning ten years ago with her novel Shadow & Bone, the interconnected world of Ravka and beyond have become a literary phenomenon which has extended into a hot Netflix series which is only picking up steam as it goes into its highly anticipated Season 2.
Bardugo arrives on the scene with a stylish cane, magnificent hair, and panel moderator and obvious close friend Tochi Onyebuchi, a novelist in his own right whose works like Riot Baby and Goliath are sure to appeal to Bardugo's fans.
It's been a while since Bardugo's done the convention circuit, and it feels as if the tenth anniversary of her series has almost caught her unaware of its significance.
"We had this 'Grisha Gala' we put on a few days ago," she says. "And a part of me was like, why are we making a fuss? Maybe at year 50, you get to make a fuss." The 50 year prospect is good news for Grisha fans, who are in no way ready to ever say goodbye to this world.
"Over the pandemic, this is going to sound bad, I kind of forgot how important books are?" Bardugo says. "When you only live online, it's easy to become a little bit cynical about fandom, and then you come to a place like [NYCC]... and I got super emotional."
Bardugo realizes how lucky she is to get to keep writing in the same world, and that not every writer who falls in love with the setting they've put so much into crafting gets to stay inside of it. She's well aware that if she had to start now, it would have been a much different story. With that said, Onyebuchi asks Bardugo how she manages to keep it fresh.
"The process is fundamentally the same," Bardugo explains. "The trick for me was learning what my process was, and that I was an outliner and needed that structure. I was great at starting, not great at finishing." The biggest change for her is that in the decade since starting the Grisha novels, Bardugo has learned to trust her process. But it helps to approach her world from different perspectives each time.
"Shadow & Bone is a chosen one story," Leigh says. "And Six of Crows is very much not. What happens to the ones who don't have grand destinies, who don't have royal blood, who are seen as very much expendable?"
"I like to say I'm the Michael Bay of YA," she says." I love blowing shit up. Like, Six of Crows was supposed to be this fun little heist story…" she trails off, only implying the calamity which the audience knows all too well that follows from there.
From there, the conversation turns to adaptation.
"It was very scary," Leigh admits. "I was handing over ten years of my life."
To her relief, she found that the showrunners and writers were extremely respectful of her material. Throughout the whole first season, Bardugo was given scripts for her to give notes on and ensure everything was up to her standards, and to intervene in case someone accidentally breaks the world.
"When you're working on a TV show, EVERYBODY has notes," Bardugo says. "If I had to work on a book this way, I would lose my mind. Shoutout to screenwriters, I don't know how you do it."
By now, Bardugo's learned to trust the Shadow & Bone writers enough to take a step back and let them take the wheel for the coming season. She's looking forward to experiencing her own universe as part of the audience.
"I want to be surprised," she says.
With her attention back on writing, Bardugo is very gratified to see all the positive response to her latest novel, Hell Bent. She says it's the longest she's ever taken between novels, so there was a concern that maybe she had lost touch – fortunately, that hasn't been the case.
With Russian and Jewish roots, Bardugo's background forms the foundation of the Grishaverse's Eastern European-inspired world. Her Russia, the one she received in story through relatives, is a very different place from Russia as we know it today.
"Growing up, Russia was like a magical place you can never return to," she says. "It's like Krypton. It's gone."
Streaming isn't the only new medium receiving the Grishaverse. The story's newest entry, Demon in the Woods, is told as a graphic novel.
"I guess you can call this the Darkling's villain origin story," Bardugo says, referring to one of her most popular characters. "Though some people wouldn't call him a villain… definitely my most controversial character. I get very defensive, when people treat him like a baby I'm like 'You shut your mouth, he's a monster!' And when people call him a monster, I'm like 'You shut your mouth, he's a small baby!'
As for what she wants to write next? Recently, she's been very inspired by Nobody, the action film starring Bob Odenkirk.
"I really want to watch a lady version of that," she says.
At this point, the floor opens to Q&A. We get a very juicy teaser right off the bat: Bardugo reveals to an inquisitive audience that because her Six of Crows duology happens at the same time as the events of Season 2 of Shadow and Bone, we'll be seeing some of fans' favorite scenes from those novels making their way into the show.
Bardugo also gives some pointers on how to navigate adapting your own story to new media.
"Rule number one: Have a villain," she says. "Hollywood needs to be hand held. If you can, get it in the contract that they can't change the title. Choose your partners wisely. I hope you are building a group of people whose taste you trust, and whose work you respect, so when you get the chance you can pull those people in."
As far as Leigh is concerned, the most rewarding part of her work is seeing all the readers she's inspired to start telling stories of their own. She only has one thing to ask of her readers: when they do write the story they've always wanted, leave a space for her in the acknowledgments.
---
Get fully immersed in NYCC with Popverse's wall-to-wall coverage of the event. From filmed panels to backstage interviews, on-the-floor coverage, news, cosplay galleries, and more - we're tracking it all in Popverse's New York Comic Con 2022 round-up.