LGBTQ+ comics you should have on your book shelf
Celebrate Pride month by filling up your bookcases with the best of the best LGBTQAI+ comic books currently on shelves.
It's Pride month, and what better way to celebrate the gayest time of the year than by picking up some of the best queer comic books on stands. But what comic books should you be reading? Don't worry Popverse has the run down: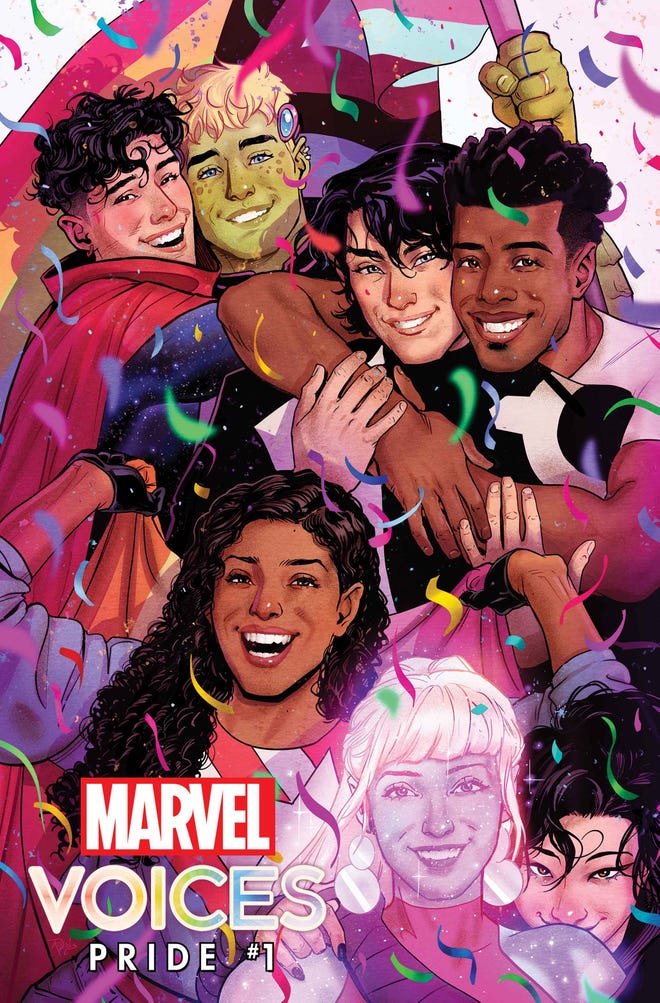 Starting in 2021, both Marvel and DC Comics launched an annual event to highlight their top tier queer characters - including the likes of Black Cat, Tim Drake, Jon Kent, Karolina Dean, Wiccan, and so many more. These anthologies allow fans to see queer characters on fun adventures that span from romantic to high-speed heists. You can find back issues of the previous volumes, but if you are looking for new content DC Comics Pride will hit shelves just shy of Pride month on May 30th and Marvel Voices: Pride is set to release towards the end of the celebration on June 21st.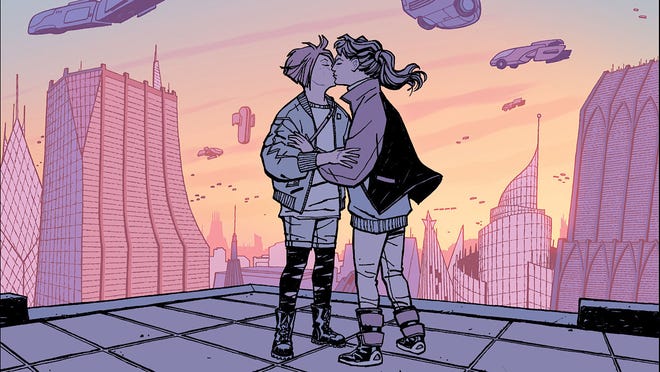 You can look at any Brian K. Vaughan title, and you'll most likely find some type of Sapphic content, but this time around I want to highlight Paper Girls. The series is about four girls from different walks of life, who get caught up into a time traveling adventure.
At first glance, you may think Paper Girls is just another 80's nostalgia book, but instead Vaughan and Cliff Chiang use the period piece to interrogate nostalgia. It's a story about growing up! Which means it's also a story about self-discovery, figuring out who you are as a person - who you want to become. And when you throw in time travel and meeting your future selves, that journey could get complicated.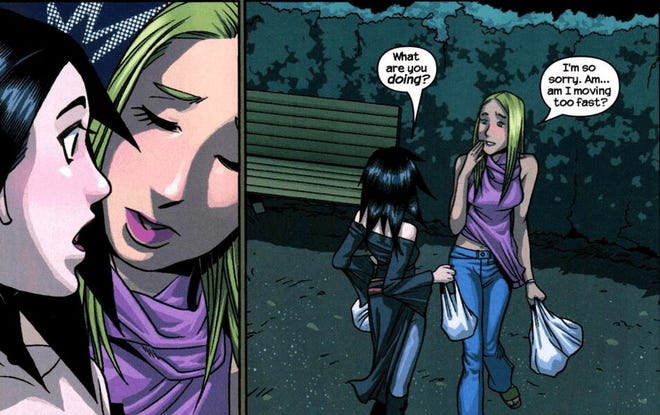 Speaking of Brian K. Vaughan, I wanted to add another book of his to your potential LGBTQ collection – Runaways. In the past decade, the Big 2 have been doing much better at queer representation, but back in 2003 LGBTQAI+ characters (especially femme lesbians) were hard to find in any media.
It was a HUGE stepping stone when Runaways introduced Karolina Dean. From the get-go, the creative team sprinkled hints of Karolina's queerness into the comic. Her coming out story was a beautiful slow burn, as Vaughan took his time to reveal that Karolina was a lesbian, but still laid enough ground work to show that it was always part of his plan.
And once it was revealed, Karolina's queer identity was never forgotten. It became a major part of her character (without it encompassing her whole story). And there were other queer characters that were introduced through her narrative including Xavin, a non-binary Skrull, and Nico's own realization of her bisexuality in Rainbow Rowell and Kris Anka's run (the perfect predecessor to the series' original run.)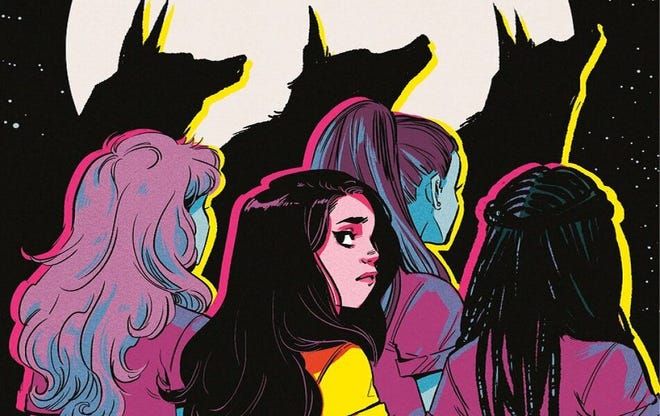 It's wonderful to have so many long running sagas starring LGBTQAI+ characters, but it's also nice to have books with a concise beginning, middle, and end. Squad is an original graphic novel by Maggie Tokuda-Hall and Lisa Sterle that puts a werewolf spin on your favorite teen cult classics (like Heathers and Mean Girls.)
Teenagers run in packs and can very much be monsters sometimes, Squad puts this metaphorical concept into reality. The book focuses on the bond of teenage trauma (just being a teenager can be traumatic), all while blossoming a queer romance.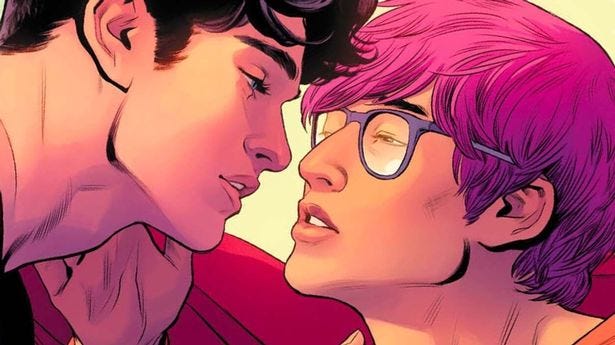 If you have an internet connection, you've probably heard that Superman…the other Superman, Jon Kent, is bisexual. And let me tell you, the second volume of Tom Taylor's run on the character has really found its footing. Superman: Son of Kal-El built the foundation (including his romance with Jay Nakamura) for an even tighter sequel as Jon Kent must go head to head with a twisted version of his father, the Injustice Gods Among Us Superman. The comic picks up right where Taylor left off with his previous volume of Injustice Gods Among Us, all while organically blending in Jon Kent's current adventures and ideologies to the storyline.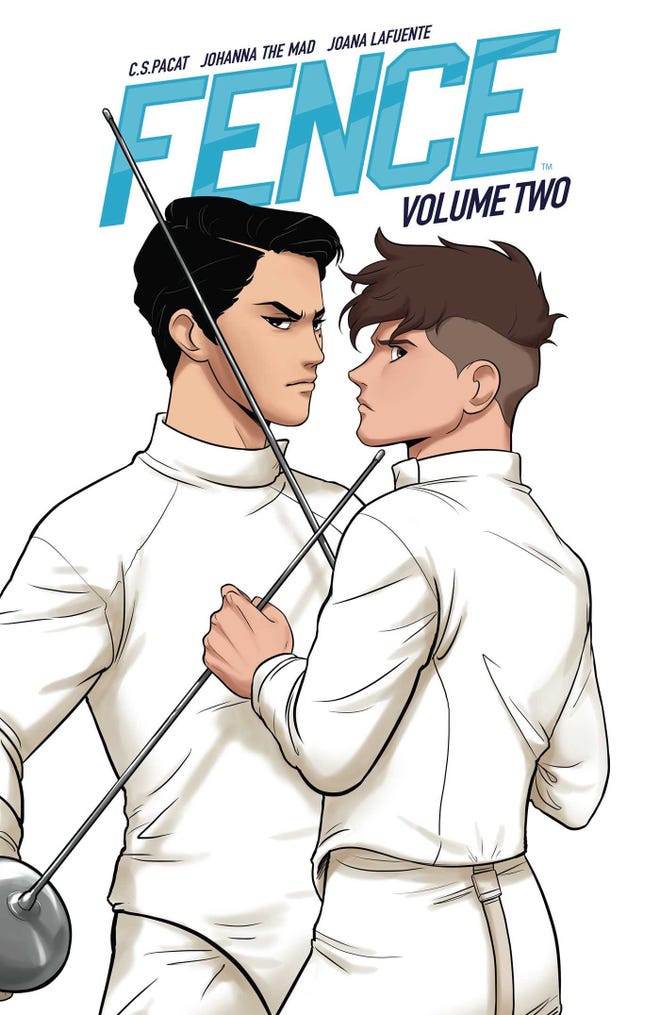 American-style comic books and manga are very similar mediums, and Fence does a beautiful job at blending those styles of storytelling. C.S. Pascat and Johanna the Mad's Fence follows an underdog scholarship student on a prestigious fencing team, as he tackles the challenges of rising to the top, school assignments, and BOYS. There's an entertaining "will they, won't they" between the lead and his rival that feels familiar to your classic BL webcomics and mangas, while still fitting in the monthly format of American comic book storytelling.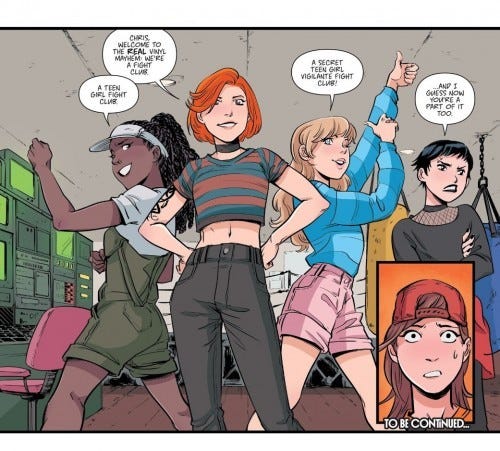 BOOM! Studios has a laundry list of wonderful LGBTQAI+ titles, but one of my personal favorites is Carly Usdin and Nina Vakueva's Heavy Vinyl. Heavy Vinyl has a wonderful mix of fun, action, and romance! The book takes place in the 90's, following a queer, teenage girl who finds her dream job at her local record store. But she'll soon find out that Vinyl Mayhem is more than just a place to shoot the breeze about your favorite bands… it's also a front for an underground vigilante fight club.
Heavy Vinyl has gone the distance to reach all types of comic book fans. Originally hitting stands with single issues, the sequel released as an original graphic novel, and the whole series is also available on the webcomic platform, Tapas.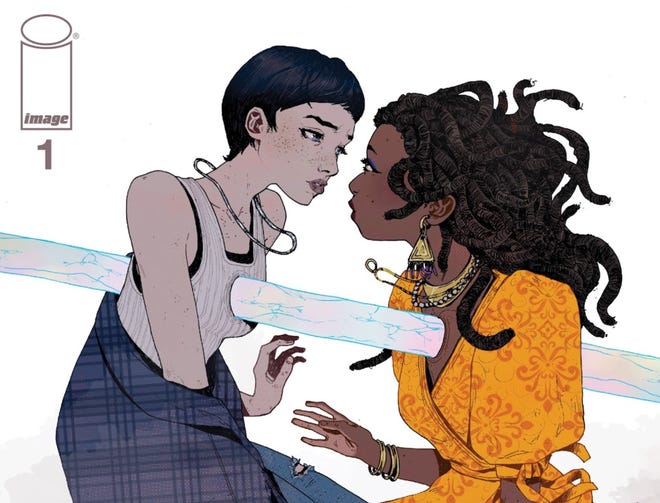 On the surface Joe Hill, David M. Booher, and Zoe Thorogood's Rain is a horror story, but when you dig deeper you'll quickly find out it's a tragic love story. Honeysuckle is head over-heels for her girlfriend, Yolanda. They have a healthy relationship, and Honeysuckle has even found a familial bound with Yolanda's parents (the type of relationship she wished she had with her own mother and father). But everything changes when metal nails start raining from the sky. The love of her life dies, and now she's on a mission to see if there is in any hope to be found in a hopeless world. Rain fearlessly taps into the queerness of the horror genre!
---
High energy LGBTQ+ movies for an energetic Pride