The best part of Loki season 2 is this pet merchandise
We're over human Loki; it's time for pet Lokis from now on
The true breakout star of the first season of Disney+'s Loki was, of course, alligator Loki. But why should alligators have all the fun? Why can't other animals be Loki, too? It's a simple question with an even more simple answer: now, thanks to some new merch supporting the second season of the Marvel Studios series, they can.
While I'm sure that much of the more traditional Loki season 2 merch — a Miss Minutes TVA varsity hoodie, a metallic Loki mini backpack, even the Loki waffle maker (which makes waffles with an imprint of Loki's helmet, because, sure, why not?) — is fine, good stuff that has an audience excited to pick it up, there is no way that we can avoid the fact that Chewy has partnered with Marvel to offer what are officially called Marvel's Loki President Dog & Cat Costumes.
The official description only hints at the cuteness in store: "Dress up your pup or kitty as everyone's favorite president with this Marvel's Loki President costume, available only at Chewy. Your pet can now look like their favorite agent of the Time Variance Authority with this one-piece outfit that's perfect for all their time travelling shenanigans — or just trick-or-treating down the block."
There's even an alligator Loki variant. Truly, we're in the best timeline after all.
Are you ready for the cuteness? I'm not sure that you are, but here it is anyway: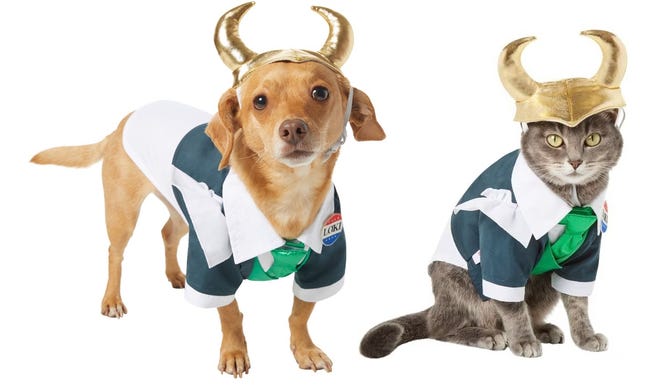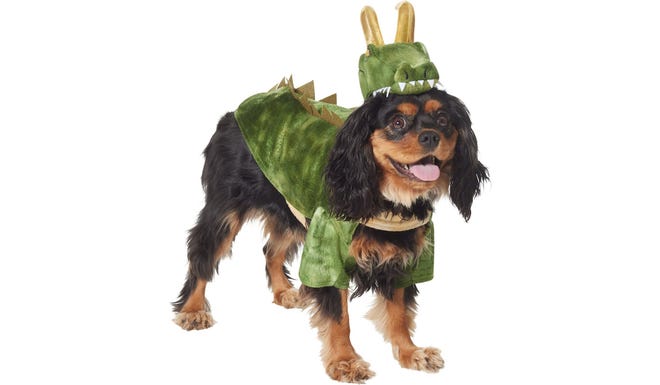 I mean, come on. It's great that there's a Loki costume for adults as well — $69.99, from shopDisney, if you're curious — but what human could even think of dressing up as Loki when we live in a world where pet Lokis are now not only a thing, but a thing that's now relatively easy to do? Surely even Tom Hiddleston must be thinking twice about putting the outfit back on, knowing that there are an endless number of adorable pooch and kitty Lokis out there, showing him up at every available opportunity.
Loki season 2 debuts on Disney+ October 5, but unless we're seeing a cute animal within that first episode, is there really any point to keep watching…?
---
What's that, you say? You'll keep Loki until after the first episodes of Our Flag Means Death season 2? Sounds like you should be voting in our poll…