Loki stages his biggest trick in Marvel Comics yet
Loki has a big surprise for the Avengers, and it's going to shake up the entire Marvel multiverse
Warning: Spoilers ahead for Avengers Forever #13!
The God of Mischief just pulled off one of this greatest tricks, fooling the entire multiverse.
Jason Aaron's epic Avengers Assemble storyline has featured an army of multiverse heroes and villains duking it out in one of the biggest slugfests the Marvel Universe has ever seen. But what role does Loki play in this drama, and whose side is he on? The answer was dramatically revealed during the final pages of Avengers Forever #13 (written by Jason Aaron and penciled by Aaron Kuder), and it changes things substantially.
Who is Avenger Prime?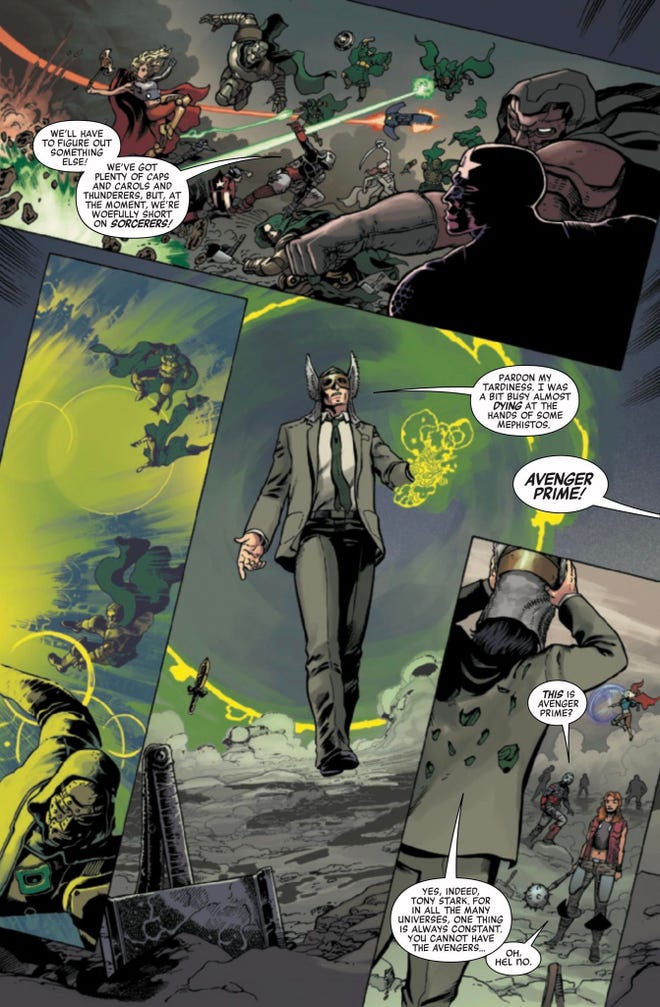 Avenger Prime was introduced in a Avengers/Hulk one-shot released on Free Comic Book Day in 2021. This mysterious individual has been pulling the strings in the multiverse, seemingly to protect various versions of the Avengers. When Doom Supreme (a variant of Doctor Doom) formed a team of powerful villain variants, Avenger Prime assembled the most powerful team of Avengers across time and space to stop them. And when we say powerful Avengers, we mean it-- we're talking a version of Old Man Logan with the Phoenix Force and multiple Asgardian gods.
Avenger Prime finally revealed his identity in Avengers Forever #13 (2023) by stepping onto the battlefield and removing their helmet to address shocked heroes. "For in all the universe, one thing is always constant. You cannot have the Avengers without a Loki to bring them together," the unmasked Loki proclaims.
As Loki notes, this reveal is poetic since the God of Mischief is responsible for forming the Avengers in the first place. The first version of the team originally came together to battle Loki in Avengers #1 (1963). The Marvel Cinematic Universe version of the Avengers also formed to counter Loki in The Avengers (2012). In fact, writer Jason Aaron has repeatedly played with the theme of Loki being responsible for the Avengers formation. Aaron's run began in 2018 with Loki bringing the Last Host of the Celestials to Earth, which caused a new team of Avengers to assemble.
While the reveal of Avenger Prime as Loki was a shock to the Avengers, it might not be for some readers. The idea that Loki was secretly Avenger Prime has been a popular fan theory for readers. There have been various clues, from Avenger Prime's use of magic, his familiarity with Mephisto, and his use of Asgardian paraphernalia.
Which version of Loki is this?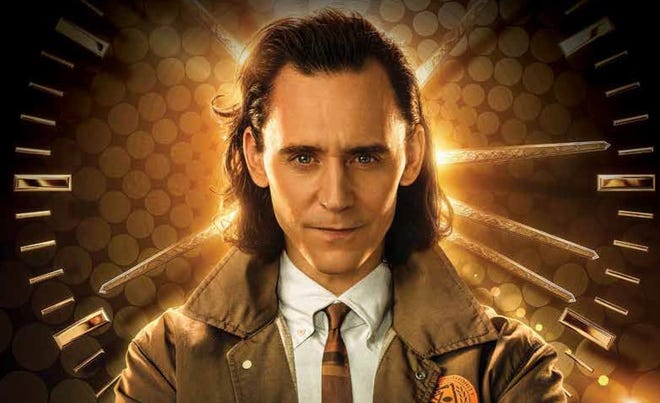 There are many versions of Loki throughout the Marvel multiverse, so it's understandable to question which one of them is Avenger Prime. It's unlikely that this is the mainstream continuity (otherwise known as 616) Loki, based on his recent activities in the Thor series. That version of Loki is currently serving as somewhat of an advisor to his brother Thor, who is ruling Asgard after the death of their father Odin. That version of Loki may have also inadvertently bonded Don Blake (Thor's human half, now separated) with an alien symbiote.
However, while 616-Loki is an unlikely candidate, we can't rule him out completely. Since Loki is armed with magic and has been known to time-travel, it's possible he could serve as Avenger Prime without contradicting recent issues of Thor. Another candidate would be the Marvel Cinematic Universe version of Loki. Avenger Prime has been seen wearing a business suit, a look commonly associated with Tom Hiddleston's portrayal of the character.
Don't forget, the Loki television series on Disney+ featured the character traveling to different timelines. It's not out of the realm of possibility that he could find his way to Marvel's comic book universe. In fact, the Disney+ animated series What If...? established that the MCU and 616 are part of the same multiverse. While the idea of MCU Loki being Avenger Prime is a fun one to contemplate, Avenger Prime is probably just another variant. Still, if you want to see more of Tom Hiddleston's Loki exploring the MCU multiverse, Loki season two will be streaming on Disney+ later this year.
What's next for Loki and the Avengers?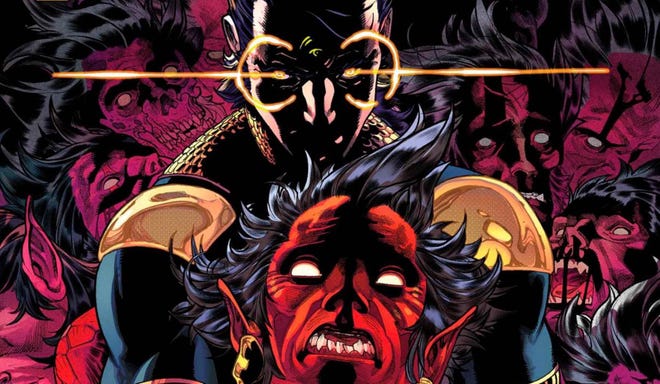 It looks like we won't have to wait long for our questions about Loki to be answered. The preview blurb for Avengers #65 (2023) teases more reveals regarding Avenger Prime. "He is the most important Avenger in the multiverse, who's spent years manning a watchtower at the heart of all creation, all by himself. Now his story can be told, as he suddenly finds himself no longer alone but instead surrounded by an unbelievable gathering of heroes."
In other words, if there are any lingering questions about which version of Loki we're looking at, Avengers #65 should clear them up. We'll also get an origin for Avenger Prime, which should give us some insight into how and why Loki stepped into this monumental role. Avengers Assemble will serve as the grand finale of Jason Aaron's five year Avengers run, and it's fitting to bookend it with Loki. Is it possible that Loki will join the ranks of the Avengers once the dust settles? The God of Mischief is full of surprises, and that would certainly be one of his biggest ones yet.
---
Power shift: How Batman: Fortress introduces a very different Dark Knight of Steel
.