"I feel like part of me is still 14": Lucy Knisley on Apple Crush and adolescence
Lucy Knisley on writing fiction vs. non-fiction, Apple Crush, and her love of diagrams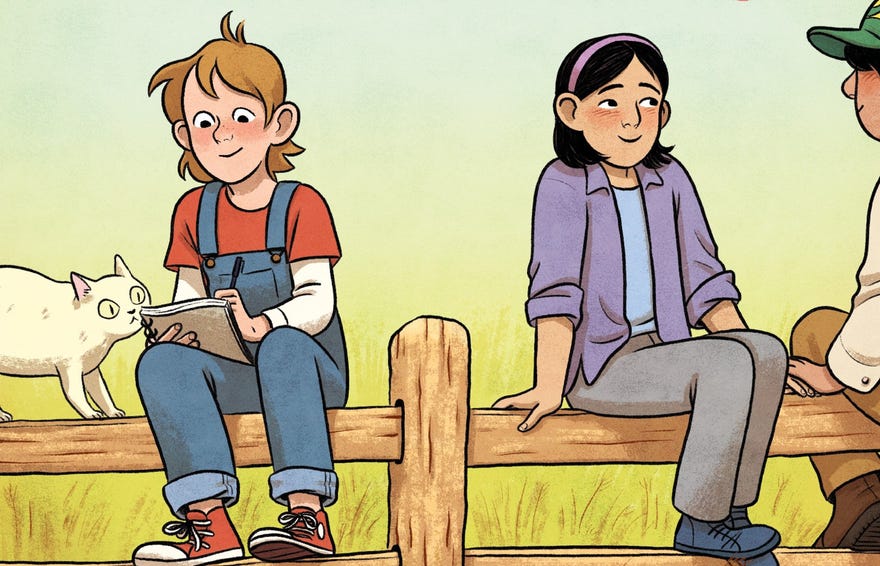 Lucy Knisley is an award-winning cartoonist who is best known for her travelogues (French Milk, Displacement, An Age of License) and Instagram comics (@lucyknisley) which document her day-to-day experiences raising her young son Pal (a pseudonym chosen because it's short for "palindrome").
In 2020, she published her first work of fiction—a middle grade graphic novel titled Stepping Stones (from Random House Graphic) which follows a young girl named Jen as her life is thrown into a muddle when her parents get divorced and she has to leave the city to live part of her life on a farm.
As Apple Crush, the second installment in this trilogy, is freshly on shelves now, we thought it would be the perfect time to sit down with Knisley and chat about her new book, her artistic process, and her favorite children's books.
Popverse: How did you find your way to comics, Lucy?
Lucy Knisley: My mom is an artist and chef, and my dad is a literature professor, so comics, to me, has always been about combining the love of art and writing that was instilled in me by my parents. I thought, for a long time, that I would have to choose one or the other, but I realized around high school that I didn't have to choose— that comics was the perfect combo of both!
I first became familiar with your autobiographical work. Stepping Stones and Apple Crush both seem to have a bit of autobiographical background too. What's the difference between putting together your nonfiction work and writing something like Apple Crush?
I've always thought of fiction as much more intimate than nonfiction. When you write/draw about something that happened, it's out there already— something that other people may have experienced already, but from your own perspective. Whereas fiction is something that exists entirely within, before it's made into a story and shared. So intimate, to share this internal world!
I wrestled with that discomfort until I realized that I could basically train myself to make fiction by using stories from my own childhood, fictionalized and contextualized. A lot of what Jen experiences is based on my own experiences, but with every book, I grow more comfortable with fiction and her world gets more her own.
What were your favorite (and least favorite) aspects of farm life?
Favorite: The food! Fresh cherries and maple syrup and eggs! The best.
Least: Dealing with chickens. It was not for me! Too much carnage from foxes, too many flapping attacks when I was just trying to feed them!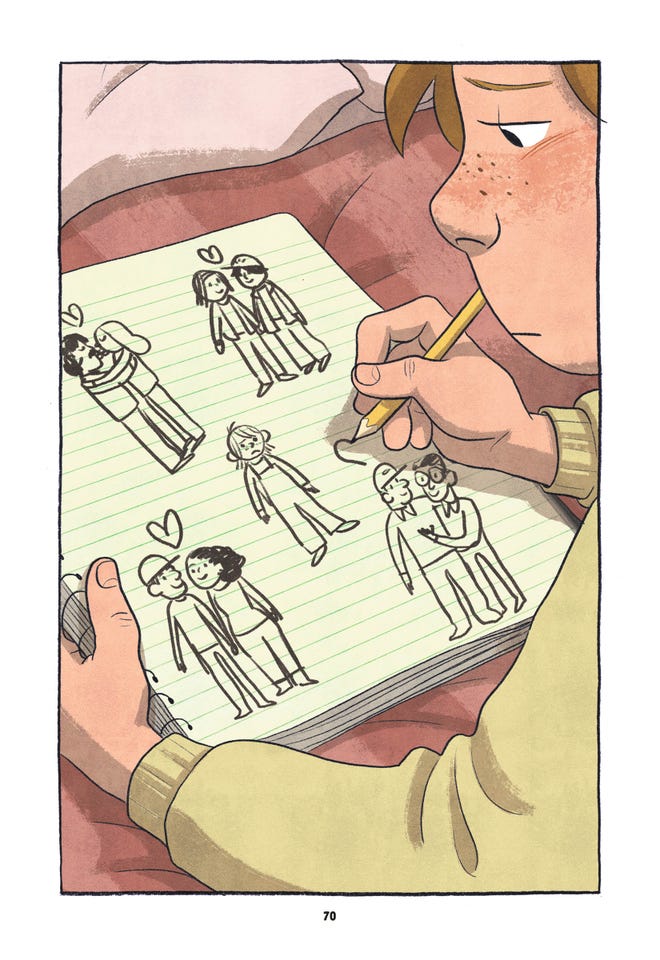 The characters in Apple Crush don't always get along, even with family and friends. Why was it important for you to show conflict in the lives of kids?
I want kids to see that even when a situation is difficult, you can find the good in it. As a kid, you're told to listen to adults -- that they're right, and smarter than you! And it's not always true!
As an adult, you can recognize a jerk and step back, remove yourself from the situation. As a kid, sometimes the jerk is living with you or related to you. We all experience conflict and frustration, and I want readers to recognize that feeling in Jen and also see that she can find benefits to this new situation she finds herself in, despite the frustration.
What stands out to me most in both Stepping Stones and Apple Crush is how you depict and make space for Jen's frustration. And she is going through a very frustrating situation! Why was that important to you?
Adolescence is so frustrating! Stuff changes so fast, and you're almost never in any kind of control of it! And you have so few coping mechanisms for navigating these changes. For me, I wound up thinking there was something wrong with ME, that these situations made me so angry and anxious. I want readers to feel seen and understood when they read Jen's story and know that there's nothing wrong with them for feeling this way! That they will find their space in time.
My favorite aspect of your work is the way you sometimes break things down for your readers in diagrams or maps. I remember your recipe for frying mushrooms in Relish fondly. How do you decide which parts of your stories and essays you're going to focus on for these bits?
I've always loved diagrams and pictorial instructions. I'm a visual learner! Comics is such a great bridge between showing someone how to do something and writing it down for anyone to read.
With earlier work of mine, I liked the interplay between MY reality and a camera's, or recipe's. For these books, it's a little more about what Jen pays attention to — the things she's learning to do on the farm and bringing the reader along for that learning process. How to make apple cider. How to make doughnuts.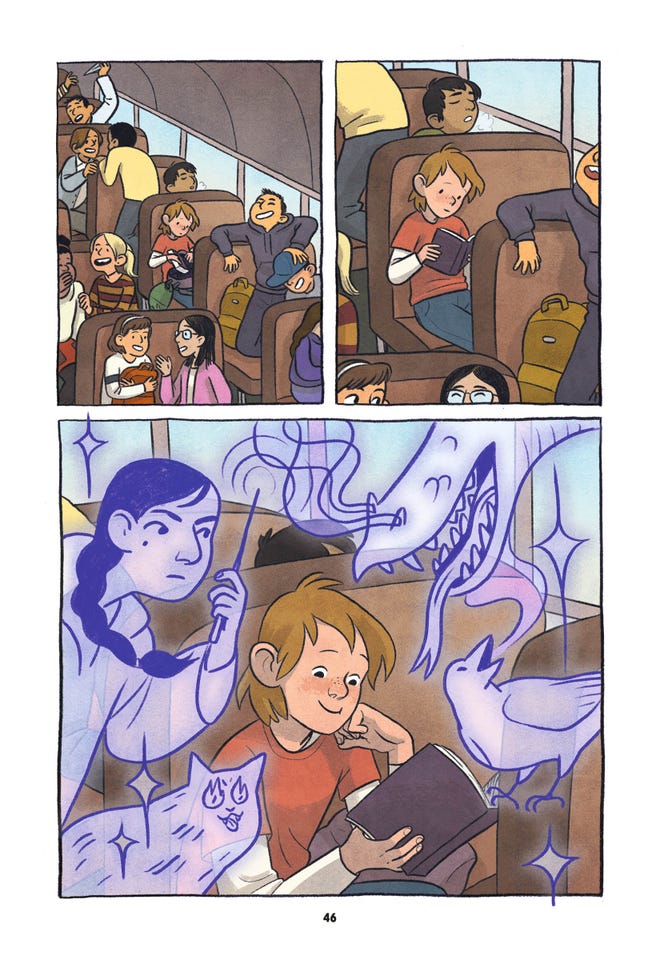 Can you tell me a bit about your writing and artistic process?
I write a synopsis, then chapter summaries, then a script, which is edited by my editor. Then I revise, and put the text into blank panels, allowing for enough space for each idea to get across. Then I will make rough sketches in the panels, before inking it. I use a wonderful colorist [Whitney Cogar] for the Peapod Farm books, so I send her my black and white pages and she sends them back looking 400x nicer.
How has writing fiction for children as opposed to nonfiction for adults changed your process?
I wrote this book for myself as an adolescent, and it doesn't change my process much. I feel like part of me is still 14.
Who are your favorite artists?
Comics: Posey Simmonds. Eleanor Davis. Jen Wang. The Tamakis [Mariko and Jill]. Raina [Telgemeier]. Sarah Glidden. Vera Brosgol. Augh, there are so many! Too many! I love them all.
Painters: Mary Cassat.
Poets: Mary Oliver. Margaret Atwood.
What are your favorite children's books?
I recently read When You Look Up by an Argentinian artist named Decur that absolutely blew my mind. I also love all the books by Carson Ellis.
What comics (or anything else) are you excited about right now
There are tons of amazing comics coming out right now, but I think I'm mostly excited for summertime. I miss swimming and cherries.
---
If you're interested in reading more of Lucy Knisley's work, check out our
reading guide on every Lucy Knisley comic and why you should read each one
.