Every Lucy Knisley comic and why you should read each one
A detailed list of every single Lucy Knisley comic and why you should read it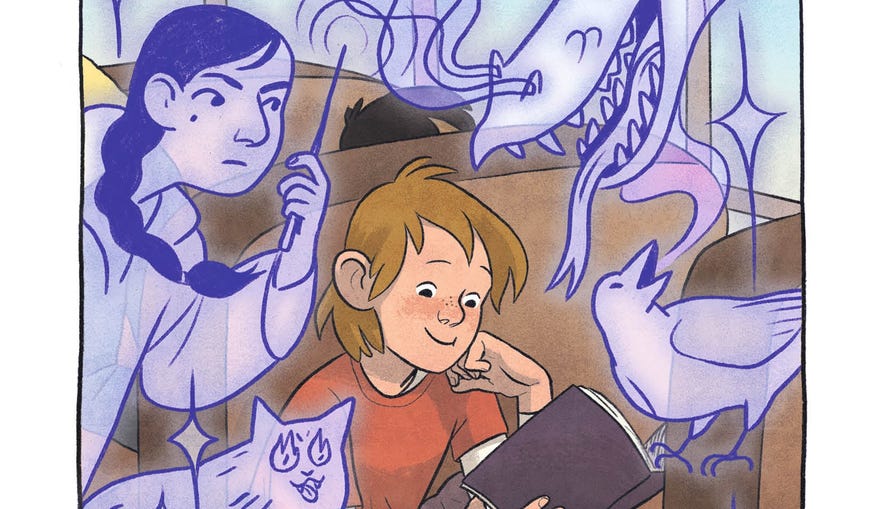 Lucy Knisley has been a preeminent name in non-fiction comics for more than a decade. Her instinct for portraying with style even the most mundane details of her life and her warm confessional tone makes her cartooning intimate and interesting. While she often delves into heavy topics, her books are never intimidating— unless you'd find talking to a friend about their recent troubles intimidating.
Over the years, Knisley's work has reached an even wider audience through her bite sized Instagram comics which document her experiences raising a young child (called Pal in her comics, a pseudonym chosen to protect his privacy and short for "palindrome").
Two years ago, Knisley's first work of fiction Stepping Stones, the first book in a trilogy aimed at middle grade readers, was published by Random House Graphic. As Apple Crush, the second installment, releases this month, we thought it would be a good time to write up a guide for any readers interested in exploring the exciting breadth and depth of Lucy Knisley's comics.
---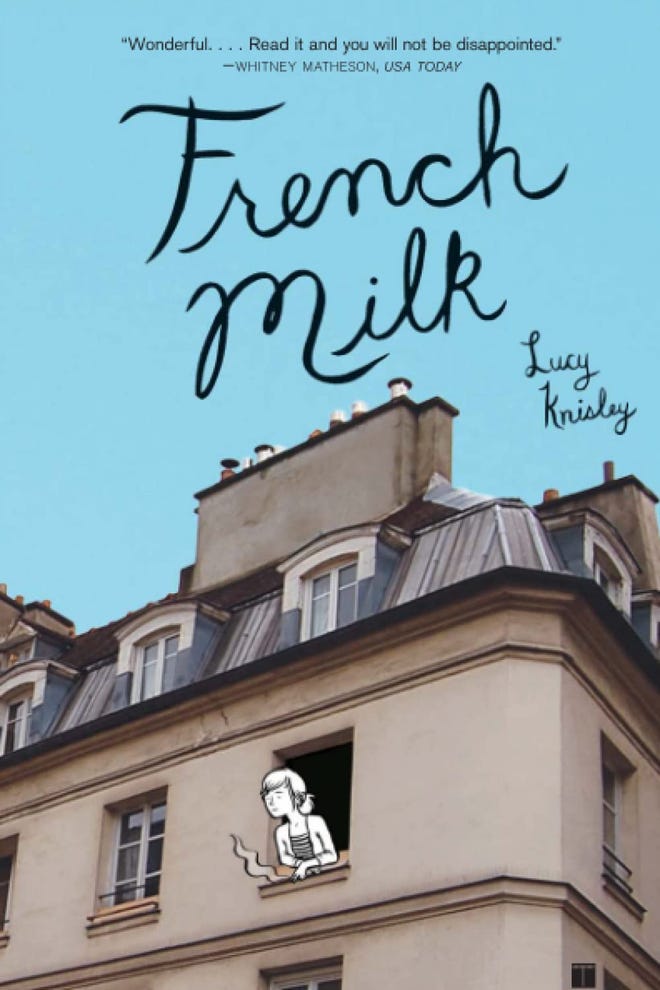 French Milk (2008)
French Milk has the textured feel of an early work, though that doesn't make it any less of a great read. The style Knisley adopts here is looser than what you see in her later books, her brushstrokes heavier and more varied, but the book has a lot of character and a wonderful sense of place.
French Milk is a great introduction to the kind of cartooning that Knisley is best known for, conversational and full of observational insight, serving as a lovely travelogue with a central focus of experiencing French food as an American visitor.
---
Relish: My Life in the Kitchen (2013)
As the daughter of a chef, Knisley has a particularly deep relationship with food, and her passion for eating and cooking comes through vividly in this delightful collection of graphic essays. Thoughtful and specific, Knisley describes her memories of food from her childhood to where she is now, sprinkling in stories about other aspects of her life along the way. Relish is the perfect read for any foodie, and there are plenty of recipes (one at the end of every chapter) for the more hands-on reader to try.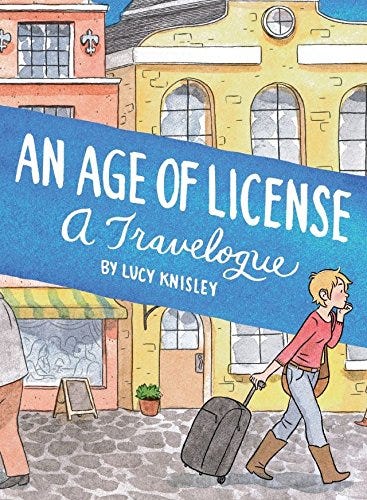 ---
An Age of License: A Travelogue (2014)
The title of this book takes its name from a (supposed) French saying that was shared with Knisley on a trip through Europe. "L'age license" is a period of time when young people have the license to try new things, to fail and experiment, before they've settled down. This saying becomes the theme of her trip through Europe, as she eats delicious food, meets new people, and has whirlwind romance. This is a great read for anyone about to set out on a (hopefully) life-altering trip, whether it's all the way to a new country or just down the street.
---
Displacement: A Travelogue (2015)
In Displacement, Knisley accompanies her ninety-something-year-old grandparents on a cruise that may very well be their last vacation. Displacement is a practical and honest look at aging and how our society tends to treat older people (with confusion, disdain, and often, studied ignorance).
Through her careful observations, we see what it's like to be a caregiver to family members with whom we have a complicated past, and that perspective is further enriched through illustrated excerpts of Knisley's grandfather's memoir about his experiences during WWII.
Displacement is an honest picture of inter-generational connection, ruminating on where the individual actually exists when it comes to caretaking and what it means to be a "good" granddaughter.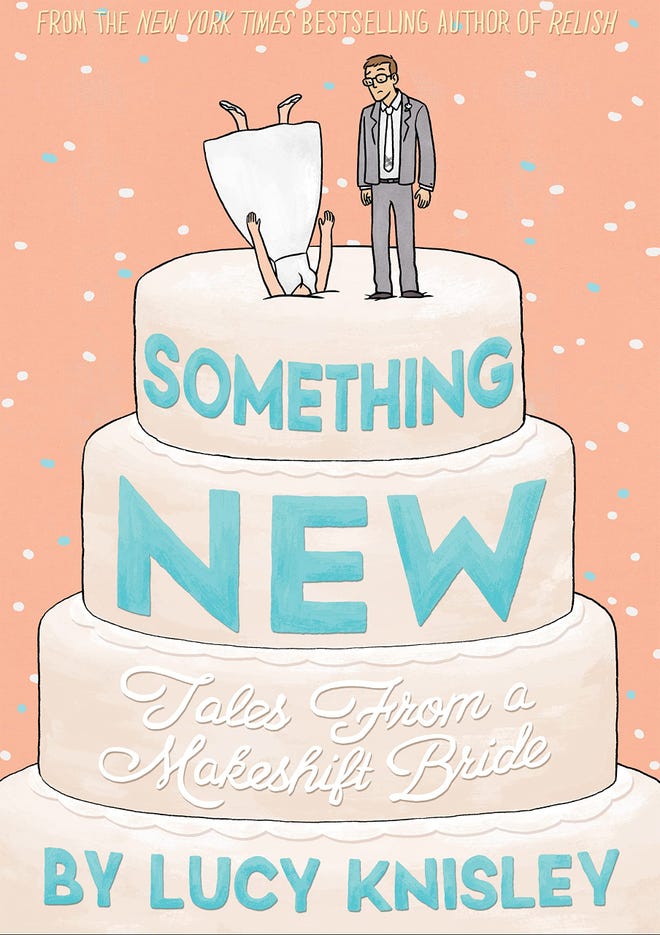 ---
Something New: Tales from a Makeshift Bride (2016)
In this book, Knisley dives deep into the traditions of matrimony. She expresses with humor the trials and tribulations of planning a wedding, the weird expectations that come with the whole shebang, and some of the history behind the rituals that so many of us take for granted. Something New would be a great gift for anyone who is about to walk down the long and winding aisle of planning their own wedding.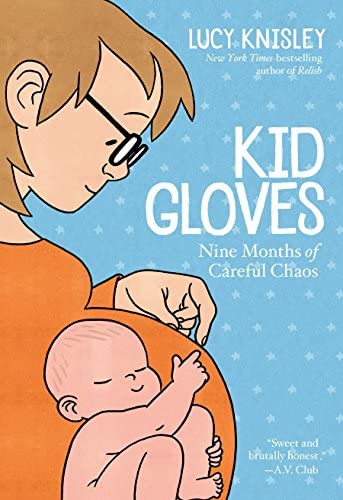 ---
Kid Gloves: Nine Months of Careful Chaos (2019)
Kid Gloves doesn't focus solely on Knisley's pregnancy or the birth of her child, instead charting her relationship from the moment she first learned about pregnancy as a child through her adult experiences of miscarriage to the severe health issues she experienced during childbirth. She is honest and vulnerable as she slices her way through the brutal myths and the truths about having a baby and breaks the silence around the conversation of maternal health.
This book should be read by everyone, whether or not they actually want to have or raise kids. You might just learn something about the miracle of birth that was left out of the sanitized lectures at school.
---
Go to Sleep/I Miss You (2020)
This quasi- follow-up to Kid Gloves, Go to Sleep/I Miss You is a collection of Knisley Instagram comics through which she documented the many contradictions, joys, and pains of new motherhood— like waiting endlessly for the baby to fall asleep, only to miss him once he does.
The collection is easily digestible, full of small bites of relatability. It would serve as a perfect gift for a new parent (who would be able to read a page or two in their few spare moments) who needs to hear that someone else has gone through it too.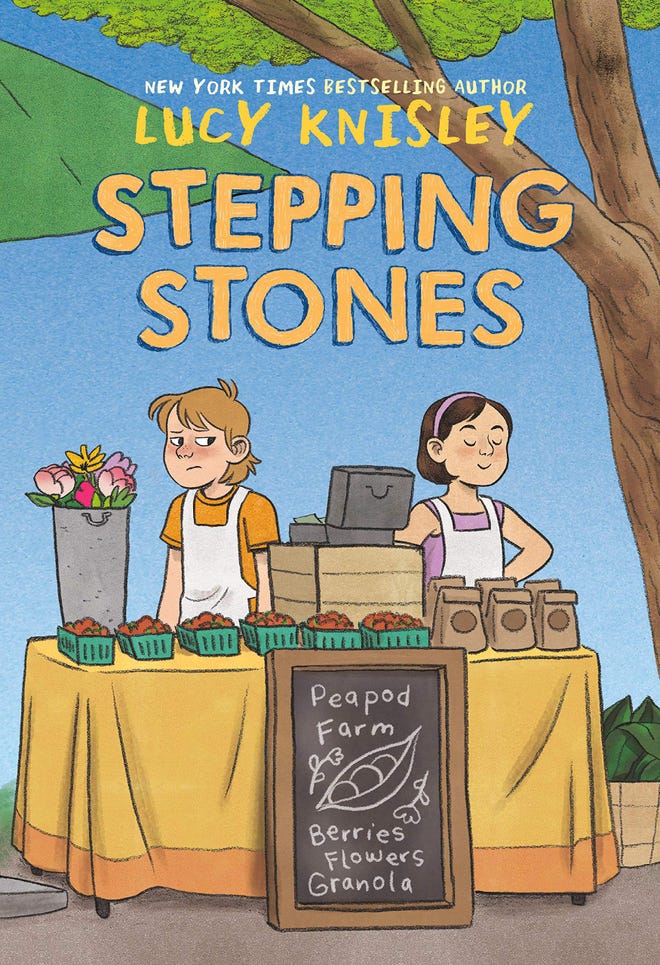 ---
Stepping Stones (2020) and Apple Crush (2022)
Stepping Stones and Apple Crush are Knisley's first foray into fiction and writing for children. When Jen's parents get divorced, she is forced to split her time between her dad in the city and her mom, new stepfather, and stepsister on a farm.
These books serve as a bit of a fish out of water story, but the emotional lines mainly focus on family, friendship, and the turbulent changes that sometimes accompany childhood. These books are a great read for kids who sometimes find it difficult to fit in or who like to read stories about what everyday life looks like for different people.
---
This beautifully designed and illustrated picture book would make a make wonderful gift for anyone with a new baby in their life. With a style that echoes the layered transparent inks of linocut printmaking, this book doesn't really look like Knisley's other work, but it is sweet and charming nonetheless.
---
If you're interested in getting to know more about Knisley, check out
Popverse's interview with her
(we even talk about farm life)!